In Lafayette, Colorado, Champion Charter Bus provides versatile transportation options customized to the unique needs of groups and events. The 56-passenger charter bus is ideal for transporting large groups, such as sports teams, school field trips, and business delegates, particularly for longer journeys or events in nearby Denver. It offers ample space and comfort, making it a top choice for exploring Colorado's scenic beauty. For more intimate gatherings, the 18-passenger minibus is perfect. It's well-suited for family outings, small corporate groups, or friends visiting local attractions like Waneka Lake Park. The 20-passenger minibus, providing more room for comfort, accommodates religious or community group outings. Lastly, the 25-passenger minibus strikes an ideal balance between size and maneuverability. It's great for large family reunions, school groups, or tourist groups wishing to explore Lafayette's local charm and cultural spots.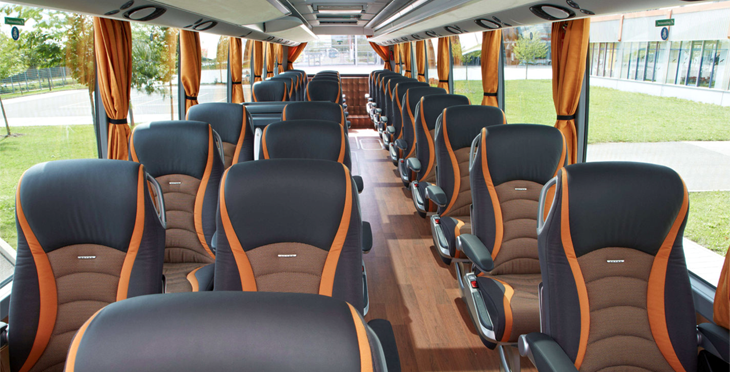 Lafayette Bus Rental Pricing
The cost of renting a Denver-area charter bus with Champion Charter Bus depends on several factors. Key determinants include the travel dates and destinations, with trips during peak seasons or to further destinations like Denver typically costing more. Advance booking is recommended to secure the best rates, especially for busy periods like summer or holiday seasons. The type of bus you choose also impacts the price. Additionally, the onboard amenities you select, whether it's a basic setup or a more luxurious coach, can affect the overall pricing. It's important to note that while we strive for all-inclusive pricing, some costs, like parking fees, tolls, driver tips, and accommodations for overnight trips, are additional. For a customized quote for your specific needs in Lafayette, contact Champion Charter Bus at 303-482-2792.
Lafayette Corporate Event Shuttles
For your next corporate event in Lafayette, Colorado, Champion Charter Bus provides sleek, professional transportation options. Whether it's a minibus for small team gatherings or a full-sized charter bus for larger corporate conferences, we have your transportation needs covered. Our services include organized pick-up and drop-off, shuttle services, and parking logistics, ensuring a seamless experience from start to finish. Ideal for events at local venues like The Gatehouse or for corporate retreats in the scenic areas around Lafayette, corporate bus rentals add a touch of sophistication and efficiency to your corporate events.
Confluence Small Business Collective
Address: 75 Waneka Parkway Lafayette, CO 80026
Phone: 720-484-6095

Lafayette Chamber
Address: 304 W. Baseline Road Lafayette, CO 80026
Phone: 303-666-9555
Lowry Conference Center
Address: 1061 Akron Way Building 697, Denver, CO 80230
Phone: 303-595-1693
Lafayette School Field Trip Charter Bus Rentals
Elevate your school's event transportation in Lafayette with Champion Charter Bus. Move beyond traditional school buses and provide your students with safe, certified bus rentals for field trips and educational outings. Whether it's a visit to a museum, a cultural excursion, or a sports event, our network of buses ensures a comfortable, secure journey for students and staff alike. Choose from a range of buses equipped with modern amenities to make educational experiences both enjoyable and memorable.

Waneka Lake Park
Address: 1600 Caria Dr, Lafayette, CO 80026
Phone: 303-673-9124

Lafayette History Museum
Address: 108 E. Simpson St., Lafayette, CO 80026
Phone: 303-665-7030

WOW Children's Museum
Address: 110 N Harrison Ave, Lafayette, CO 80026, USA
Phone: 303-604 2424
Lafayette Wedding Shuttle Bus Rentals
Plan your dream wedding in Lafayette and let Champion Charter Bus handle all your wedding group transportation needs. We offer elegant, reliable buses perfect for transporting your wedding guests and party to various venues, including enchanting local spots like The Chateaux at Fox Meadows. From rehearsal dinners to the big day, our transportation services ensure your guests travel in comfort and style, making every moment leading up to your wedding day worry-free.
The Chateaux at Fox Meadows
Address: 3600 Xavier Lane, Broomfield, CO 80023
Phone: 303-466-8078

Lionsgate Event Center - Dove House & Gatehouse
Address: 1055 US 287, Lafayette, CO 80026
Phone: 303-665-6525
Roots
Address: 1200 Miramonte Street, Broomfield, CO 80020
Phone: 720-279-0570
Charter Buses for Lafayette Sports Team Transportation
Travel to your next game in Lafayette with Champion Charter Bus's hassle-free transportation for sports teams and fans. Our network of clean, modern bus rentals is fit for champions, ensuring your team arrives at the game relaxed and ready to win. Whether you're a local school team heading to a big match or a group of die-hard fans, sports team buses provide a reliable, comfortable ride for every sports event.
Sports Performance Center
Address: 555 Aspen Ridge Drive Unit F Lafayette, CO 80026
Phone: 303-443-8877/

Bob L. Burger Recreation Center
Address: 111 W. Baseline Road Lafayette, CO 80026
Phone: 303-665-0469

Louisville Sports Complex
1200 Courtesy Rd, Louisville, CO 80027
Phone: 303-335-4735
Visit the Great American Beer Festival with Private Bus Transportation
Discover the fascinating world of craft beers at the Great American Beer Festival with Champion Charter Bus Lafayette. As you and your group plan for this celebrated event, remember that our network of charter buses ensures a worry-free, enjoyable journey. Perfect for groups of beer enthusiasts, corporate outings, or friends looking to take part in this unique beer-tasting experience, festival buses provide comfort, convenience, and style. Travel from Lafayette to the heart of Denver without the hassles of traffic or parking. Onboard, relax in spacious seating, enjoy the company of fellow beer lovers, and anticipate the flavors and brews waiting for you.
Book Your Bus Rental in Lafayette Today
As you plan your next group adventure or event in Lafayette, remember that Champion Charter Bus is here to ensure your travel is as delightful and hassle-free as the city itself. Whether it's a journey through Lafayette's quaint streets, a corporate event, or a scenic trip to the Rocky Mountains, our network of buses provides the perfect blend of comfort and convenience. Let us be part of your story, enhancing every journey with quality and reliability. For all your transportation needs in Lafayette, contact Champion Charter Bus at 303-482-2792.