The cost of your Colorado charter bus rental depends upon various factors unique to your trip, such as the type of bus you rent. Our network of charter buses includes 18-, 20- and 25-passenger minibuses that are perfect for smaller groups, and 56-passenger charter buses with plenty of space for larger groups. We also offer ADA-compliant charter bus rentals in our network at no extra cost. The cost of your rental also depends on factors such as the total distance you're traveling, the size of your group, the time of year you're traveling, and how far in advance you book your trip.
We pride ourselves on offering fair and transparent charter bus pricing, meaning that you won't see any hidden fees down the road. When you call 1-844-693-9330 for your no-obligation price quote, your reservation specialist will work with you to get you the best price possible for your Colorado bus rental.
Once you secure your Colorado bus rental, we'll pair you with a professional, experienced charter bus driver. We only work with the highest rated charter bus companies in Colorado who carefully vet their drivers — each of whom prioritize your safety. All you'll need to do is sit back, relax, and enjoy your ride.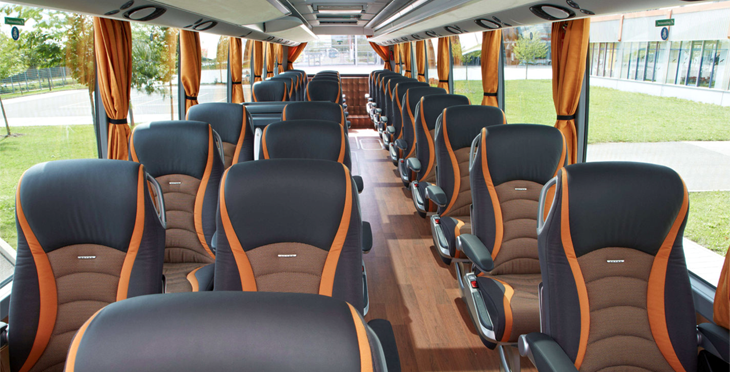 Charter Bus Rental Services in Colorado
Rent a charter bus in Colorado for all your group transportation needs, from corporate events to school trips and beyond. We also service cities like Las Vegas, Phoenix, Sacramento, San Francisco, Santa Monica, San Diego, and more, helping you explore the best of the West. Consider Champion Charter Bus as your go-to partner for the following group transportation services:
To learn more about group transportation services in Colorado and book your charter bus rental, call us today at 1-844-693-9330303-482-2792.
Visit Red Rocks Amphitheatre
Make your Red Rocks Amphitheatre experience unforgettable when you book a charter bus in Colorado. There is no need to worry about coordinating multiple ride-share vehicles or finding designated drivers. Your Colorado bus rental will take all the stress out of transportation for a unique, chauffeured experience. Ride comfortably on reclining seats and in air conditioning to beat the summer heat. Experience convenience and peace of mind as your driver prioritizes your safety on the road and protects your belongings on the bus during the show.
Denver Charter Bus Rentals
The Mile-High City's various attractions and vibrant cultural scene makes it an ideal location for group gatherings, from corporate conferences to sporting events to school field trips. Whether exploring the city's museums or parks, or attending a sports event, renting a charter bus in Colorado's capital city streamlines the travel experience and enhances the overall outing for groups of all sizes.
Get to know Denver when you rent a charter bus. Are you a sports fanatic? Rent a charter bus to see a Rockies game at Coors Field or a Broncos game at Mile High Stadium for your next sports event. Do you love art? Champion Charter Bus will take you to the Denver Art Museum and the Museum of Contemporary Art Denver for your next school field trip or private event. Are you planning a destination wedding? We've got transportation partners across the entire state, including Aurora charter buses and bus rentals in Lakewood. Consider your transportation problems solved when you rent a charter bus in Colorado and prioritize your comfort and safety while riding in style.
Boulder Charter Bus Rentals
Boulder lies just outside of Denver at the foothills of the Rocky Mountains. This desirable college- and family-friendly community is renowned for its natural beauty and outdoor recreational opportunities. A charter bus rental is a convenient and cost-effective way to transport groups to and from all the top sites, such as Chautauqua Park, the Pearl Street Mall, or the Flatirons.
Additionally, Boulder is a home to the world-renowned University of Colorado Boulder and plenty of STEM jobs and startup tech companies. Champion Charter Bus can help you with seamless group transportation for your next corporate event at the St. Julien Hotel and Spa or Sanitas Brewing Company, or to visit corporate headquarters in neighboring Broomfield. You can also rent a Colorado charter bus for your next school outing to the National Center for Atmospheric Research. With the comfort and amenities of modern charter buses, we make the journey enjoyable and stress-free as you take in Boulder's picturesque landscapes along the way.
Colorado Springs Charter Bus Rentals
What do Pikes Peak, Garden of the Gods, and the Broadmoor Seven Falls have in common? They're all based at the eastern foot of the Rocky Mountains in Colorado Springs. Rent a charter bus in Colorado and let a professional charter bus driver take the wheel as you explore these natural wonders. Whether on a school field trip, corporate gathering, or wedding, we've got the right transportation solution to get your group where you need to be, when you need to be there.
We're also here for military-related travel for Fort Carson and the U.S. Air Force Academy. That means discreet, on-time transportation while your group relaxes on reclining seats and cools down in air conditioning after a strenuous day.
Book Your Colorado Charter Bus Rental
Are you ready to book your charter bus rental in Colorado? Call 1-844-693-9330303-482-2792 today. Champion Charter Bus offers a vast network of charter buses and minibuses in Colorado for all your group travel needs. Our 24/7 reservation specialists look forward to greeting you, building your customized transportation solution, and answering all your questions along the way. When you book with Champion Charter Bus rental, we not only meet your needs but exceed them.