Champion Charter Bus can connect you with multiple charter bus rental options in Las Cruces, and there's almost certainly one that's perfect for your group travel needs. Bus options include 56-passenger motorcoaches, offering state-of-the-art comfort for larger groups; and minibuses for small and medium-sized groups of 18 to 25.
Buses feature stylish, modern amenities including plush, reclining seats, WiFi, power outlets, climate controls, and TVs with DVD players. From sports teams to senior groups, quick airport transfers to local shuttles for multi-day tours, everyone can travel in comfort with an experienced bus driver handling all the logistics.
Bus rental prices vary by location, trip length, bus type, and number of passengers, among other factors, so we recommend discussing your budget and needs with one of our expert reservation specialists. Our team can help break down your quote and make sure your group gets the best available services and amenities. Call 1-844-693-9330 at any time for a free quote and consultation on your Las Cruces bus rental.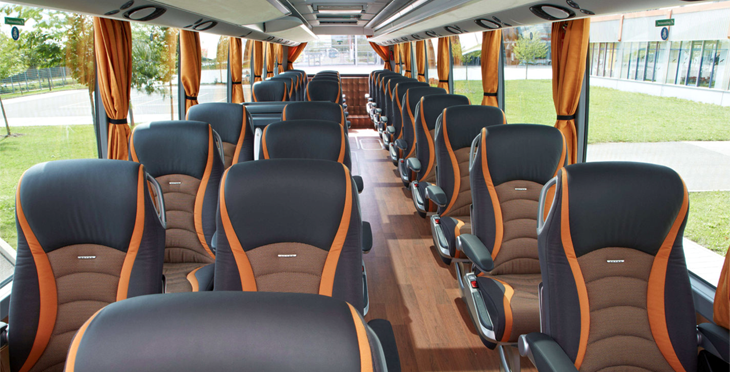 Reliable Shuttle Bus Services for Las Cruces Government and Business Trips
Las Cruces is an agriculture hub with historic origins as a rugged desert border town. However, it's also an important center for aerospace, engineering, military testing, and space exploration. Within the vicinity of Las Cruces are NASA's White Sands Test Facility and White Sands Missile Range, the birthplace of the U.S. missile and space program.
These major employers, plus additional Las Cruces businesses, often require employee shuttle bus transportation for work trips. From daily office shuttles for small groups to weekend transportation for entire offices, charter bus rentals can handle all business-related trips in Las Cruces. Champion Charter Bus frequently works with local businesses as well as military and government organizations, offering confidential, discreet shuttle bus services for employees and other important personnel. Bus rentals are sleek, professional, well-maintained, and only operated by professional bus drivers, so you can book with confidence knowing your group will be in capable hands!
Las Cruces Charter Bus Rentals for School Events
Champion Charter Bus has experience providing group bus transportation for college tours, field trips, sporting events, and other education-related group travel. As home to New Mexico State University, Las Cruces frequently welcomes groups of students for campus tours and other events. With a charter bus rental by your side, students and chaperones can stay comfortable with reclining seats, onboard entertainment features such as WiFi and TVs with DVD players, and even onboard restrooms to eliminate extra pit stops on multi-day class trips. No matter where your travels take you, you can trust us to find the perfect bus rental for school events in Las Cruces.
Where to Go with a Charter Bus in Las Cruces, New Mexico
Anyone visiting Las Cruces for will want to see all the local sights. Be sure to explore the historic downtown area around Main Street, and check out the downtown mall with its farmers market and craft vendors.
Visiting any of the following top attractions is easier with the convenience of your own Las Cruces bus rental. When you book with Champion Charter Bus, you get to follow your own itinerary, not someone else's–so load up your trip plan with only the things you want to see, and leave the driving to us! Call 1-844-693-9330 to book your Las Cruces charter bus today.
Historic Mesilla
Mesilla is a small, historic town just south of Las Cruces, only minutes away by bus. Once the stomping ground of Billy the Kid, the town has a rich heritage and well-preserved architecture, including the circa-1855 Basilica of San Albino. Life in Mesilla still revolves around its central plaza, a vibrant hub lined with art galleries, boutiques, and restaurants specializing in authentic New Mexican cuisine.
New Mexico Farm & Ranch Heritage Museum
Address: 4100 Dripping Springs Rd, Las Cruces, NM 88011
The New Mexico Farm and Ranch Heritage Museum celebrates 3,000 years of farming and ranching in New Mexico. Most of the exhibits on the 47-acre property are outdoors, including gardens, livestock tours and hands-on exhibits of rural skills like blacksmithing and water dowsing.
Branigan Cultural Center
Address: 501 N Main St, Las Cruces, NM 88001
The city is also home to the Branigan Cultural Center. The facility is dedicated to local history and is housed in a building listed on the National Register of Historic Places. There are several additional museums and art galleries on the NMSU campus.
Places to Visit Near Las Cruces Charter
With a private bus rental in Las Cruces, it's easy to visit some of the amazing attractions located within an hour or so of the city.
About an hour's drive northeast of Las Cruces is White Sands National Park, the largest gypsum dune field in the world at 275 square miles. Its stark-white scenery is stunning, and there are lots of fun adventures to plan inside the park. Hit the hiking trails, bring a picnic, go sledding on the dunes, and be sure to bring a camera to capture the unique scenery.
Just 14 miles east of Las Cruces, Organ Mountains-Desert Peaks National Monument is an enticing outdoor destination featuring trails, picnic areas and waterfalls. If your group enjoys hiking and other outdoor recreation, ask your Las Cruces bus driver to take you to one of the monument's day-use areas. For more natural beauty and outdoor recreation, travel a little farther to Franklin Mountains State Park, about 35 miles south of Las Cruces, on the outskirts of El Paso, Texas.
In addition, Champion Charter Bus also services group bus trips all over the west coast, so if you're thinking about planning a big trip to Albuquerque, Tucson, Phoenix, Las Vegas, San Diego, Los Angeles, and beyond, we've got your group transportation covered.
Need a Quote for a Las Cruces Charter Bus?
To learn more about charter bus options and to receive a free, no-obligation quote, call Champion Charter Bus at 1-844-693-9330. Our experts are ready and waiting to help with all your bus rental needs in Las Cruces, New Mexico.