Champion Charter Bus has a full range of Thousand Oaks charter bus rentals available for groups of all sizes. Need a full-size, amenity-packed motorcoach for a traveling sports team, school field trip, or corporate group? Consider a 56-passenger charter bus rental in Thousand Oaks. These spacious, comfortable vehicles with reclining seats, TVs and DVD players, WiFi, and power outlets are perfect for longer journeys (and getting through notorious LA-area traffic).
We also charter various minibuses in Thousand Oaks, which comfortably carry 18 to 25 passengers. These compact bus options are great for wedding guest group transportation and tourist group transportation. You get to sit back and relax while experienced bus drivers handle all the traffic, directions, and logistics for your adventures. Onboard amenities like WiFi, air conditioning, power outlets, and plush seats come standard with minibus rental options–but if you need to make a specific amenity request, just ask our team when you call to book your bus!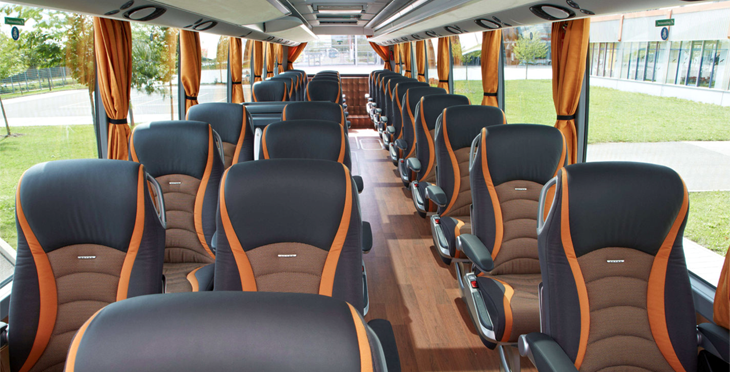 Thousand Oaks Bus Rental Pricing
Anyone planning a group trip has a lot to think about. Let Champion Charter Bus ease your budgeting worries with our transparent bus pricing.
Factors that affect bus prices include how far you plan to travel, pick-up and drop-off locations, and the type of charter bus or minibus you choose to book. A motorcoach round-trip from Thousand Oaks to Disneyland, for example, will have a significantly higher cost than a one-way minibus trip to a local corporate HQ.
For the most accurate Thousand Oaks bus rental quote, call our team at 1-844-693-9330 as early into the planning process as possible. We can discuss all the pricing options, offer ways to help manage your expenses, and offer a plan that fits your unique needs and budget. Our quotes come with no obligations, but when you're ready to check group transportation off your to-do list, you can book within minutes!
Thousand Oaks Corporate Event Shuttle Bus Transportation
Thousand Oaks is home to some major corporations, so Champion Charter Bus has a lot of experience with corporate event transportation in the city. Charter buses and minibuses in Thousand Oaks are ideal for getting your corporate group to and from HQs of companies like Amgen, Bank of America, Verizon, Volkswagen, Anthem Blue Cross, and J.D. Power and Associates. We can also get you to the Los Angeles Rams training site at Cal Lutheran University in T.O. Whether you need a one-way bus ride to a team lunch or an ongoing shuttle bus service between your office and local neighborhoods, your employees will enjoy amenities like WiFi and power outlets to stay connected, reclining seats to stay relaxed, plenty of overhead storage to keep clutter at bay, and a reliable, safe ride to and from work.
School and College Bus Tours in Thousand Oaks
Field trips and college tours are some of the top reasons for renting a charter bus in Thousand Oaks. The city is home to California Lutheran University as well as four local high schools. There's also a local campus of Pepperdine University, and Pepperdine's main campus in Malibu is just 20 miles away. Load your students onto a minibus rental and let a professional bus driver take you to campus tours, meetings, try-outs, and more–you'll be able to relax and explore campus without worrying about navigating or parking.
Where to Go During Group Trips in Thousand Oaks
A suburban city just 15 miles northwest of Los Angeles, Thousand Oaks isn't typically a tourist destination. However, it's within easy driving distance to countless top attractions in Southern California. Whether your stay in T.O. is for business, a school trip, personal event, or just for fun, there are many great things to see and do in and around the city.
Visit Attractions in Thousand Oaks with a Charter Bus Rental
Santa Monica Mountains National Recreation Area
The southern edge of Thousand Oaks is within the glorious Santa Monica Mountains National Recreation Area, which has hundreds of miles of multi-use trails to explore. If you enjoy hiking, mountain biking, nature photography, and other outdoor adventures, ask your Thousand Oaks charter bus driver to drop you at a trailhead or one of the national park's local visitor centers.
Thousand Oaks Civic Arts Plaza
The Thousand Oaks Civic Arts Plaza is a top-notch performing arts venue with two large theaters. It regularly hosts concerts and shows by big-name performers, so check out the schedule while you're planning your trip.
Address: 2100 Thousand Oaks Blvd, Thousand Oaks, CA 91362
Phone: (805) 449-2787
Gardens of the World
Next door to the plaza is Gardens of the World, a botanical garden with distinct areas inspired by diverse parts of the globe. It's a pleasant place to stroll around, with murals, koi ponds, a pagoda, and garden exhibits.
Address: 2001 Thousand Oaks Blvd, Thousand Oaks, CA 91362
Phone: (805) 557-1135
Rent a Bus to Visit Attractions Near Thousand Oaks
Within easy reach of Thousand Oaks are some of Malibu's and LA's best beaches. Ask your charter bus driver to transport your group along scenic canyon roads to the coast. Some of the closest beach destinations to Thousand Oaks include Point Dume, Zuma Beach, and Leo Carillo State Beach. From Ventura Harbor, 27 miles west of T.O., you can take a boat trip to Channel Islands National Park. Whale-watching tours are available from the harbor as well.
Just 9 miles north of Thousand Oaks, in a stunning spot overlooking Simi Valley, is the Ronald Reagan Presidential Library. This popular destination is packed with interesting exhibits, including Air Force One.
Day (or Multi-Day) Trips to Los Angeles with a Private Bus Rental
All of Los Angeles is within reach of Thousand Oaks, and navigating the enormous, sprawling city is much easier when you have an expert bus driver for your group. Just a few LA highlights to consider visiting include Hollywood, Universal Studios, the Getty Center, Griffith Observatory, the La Brea Tar Pits, and LACMA.
Planning a private group trip to Los Angeles can be overwhelming, so call our team at 1-844-693-9330 for expert help with the logistics. We also directly service other cities near LA such as Palmdale, Anaheim, Pasadena, and others.
Ready to Book a Thousand Oaks, California Charter Bus Rental?
Whether you need a charter bus rental in Thousand Oaks several months from now or ASAP, the Champion Charter Bus team can help with all your group travel needs.
Our local charter bus trip-planning experts are available 24/7. Call 1-844-693-9330 today for a free, no-obligation quote on your Thousand Oaks bus rental!