Champion Charter Bus charters a variety of bus rental options in Palmdale, and our team is ready to help you book the best one for your group. Minibuses, which most often seat 18 to 25 passengers, are perfect for small and medium-sized groups. They're compact yet super comfortable and feature high-end amenities like WiFi, power outlets, TVs with DVD players, and plush, reclining seats. Minibuses are a popular choice for family groups, senior groups, and business travelers.
Up to 56 passengers can ride in a state-of-the-art full-size charter bus. These coaches are great for sports teams, school field trips, groups attending conferences, and other large business events. Charter buses are also more comfortable for long-distance travel, especially if you're traveling between Palmdale and downtown Los Angeles or Las Vegas. They also offer substantial luggage space with undercarriage luggage bays.
If you need to request any additional amenities, such as ADA-accessible features or other creature comforts, just let our team know when you call for a quote at 1-844-693-9330!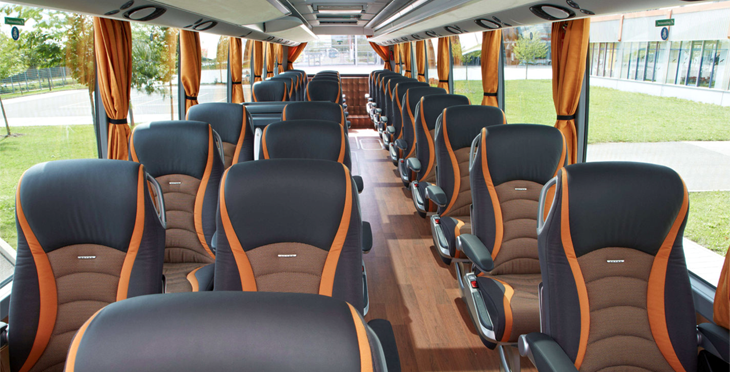 Palmdale Charter Bus Rental Prices
The cost of a charter bus rental in Palmdale varies widely depending on the bus type, trip distance, duration, and other factors. A family wedding party that needs a shuttle to and from Palmdale Airport, for example, will have a considerably lower price point compared to a sports team attending a week-long tournament in LA.
The best way to get a ballpark price range for your particular trip is to call our team, available 24/7, at 1-844-693-9330. Price quotes are always free and come with zero obligations, and a team member can help you find ways to cut costs, if needed. When you're ready to book your Palmdale charter bus or minibus, just give us a call!
Reliable and Discreet Military Bus Transportation in Palmdale
Palmdale, California is the closest large city to Edwards Air Force Base, 37 miles away, and it's home to United States Air Force Plant 42. NASA and major contractors use this aircraft manufacturing plant, including Boeing, Lockheed Martin, and Northrop Gumman. If your business trip requires military and government transportation for a group, know that Champion Charter Bus is approved by the GSA, certified by the DoD, and prioritizes discreet, confidential charter bus services. We're here to help you transport troops, government employees, and more important personnel with ease! Call our team at 1-844-693-9330 with any questions regarding military and government bus transportation.
Secure Business Shuttle Bus Services in Palmdale
Palmdale charter buses and minibuses are also optimal for business trips related to the local wind and solar energy industries, agriculture, and mining. In addition, bus drivers are experienced in transportation to local hubs, including Fairway Business Park, Palmdale Trade and Commerce Center, Palmdale Auto Mall, and Palmdale Regional Medical Center. This makes your business trip logistics in Palmdale even easier to plan.
Set your own route–whether it's a quick office shuttle service to an offsite parking lot or group transportation at your weekend convention–and let a professional do the driving so your group can focus on having a productive and informative business event!
Bus Rentals for School and Sports Events in Palmdale
Need a Palmdale charter bus or minibus for college tours, field trips, or sports team transportation? Bus drivers are ready to transport your team to the Lancaster National Soccer Center or Best of the West Softball Complex. College tours might feature the Palmdale satellite campuses of Antelope Valley Community College, DeVry University, Brandman University, or NASA's AERO Institute at the Palmdale Institute of Technology. No matter where you're headed, your players, students, and chaperones will travel comfortably without having to worry about driving. And with onboard WiFi and TVs with DVD players, all passengers will stay calm and entertained while you ride!
Places to Go in and Around Palmdale with a Charter Bus
Even if your group trip to Palmdale is for work or school, you might be able to fit some local and nearby attractions into your itinerary. For example, the city's proximity to Los Angeles means a day trip to world-famous tourist destinations is possible with a Palmdale bus rental.
In Palmdale
Blackbird Airpark Museum
Address: 2503 E Ave P, Palmdale, CA 93550
Anyone interested in aerospace should check out Palmdale's Blackbird Airpark Museum, an extension of the AFFT Museum at Edwards Air Force Base, as well as the city-run Joe Davies Heritage Airpark next door.
Antelope Valley Mall
Address: 1233 Rancho Vista Blvd, Palmdale, CA 93551
For a few hours of shopping fun, ask your Palmdale bus driver to take you to the Antelope Valley Mall. It boasts over one million square feet of retail and dining space.
Places to Visit Nearby
When you're planning group transportation in Palmdale, California, it's helpful to think of the city and the Antelope Valley region as a geographical crossroads. To the immediate south of Palmdale are the San Gabriel Mountains, beyond which lies the massive, sprawling Los Angeles Basin. To the east, the Mojave Desert stretches all the way across the state and beyond.
Some of the top attractions near Palmdale include Castaic Lake, which offers year-round fishing and a swim beach in summer. Joshua trees and interesting rock formations add to the appeal of Antelope Valley Indian Museum State Historic Park, 20 miles outside Palmdale. Spring is the prime season to admire copious fields of wildflowers at the Antelope Valley California Poppy Reserve, including the beautiful state flower, but the reserve is open all year and just 24 miles from Palmdale.
Day Trips to Los Angeles and Beyond with a Charter Bus
An experienced Palmdale bus driver can take you directly to any tourist destination in the Greater Los Angeles area. A few options include Griffith Park, one of the closer landmarks to Palmdale, which is home to the LA Zoo, Griffith Observatory, and more. Other places to consider include Universal Studios, Museum Row, and the sights of Hollywood. Wherever you want to go for a day trip in LA, you'll be glad you don't have to navigate those famously busy freeways, thanks to your Palmdale charter bus rental!
Champion Charter Bus also provides direct charter bus service to nearby cities like Santa Clarita, Thousand Oaks, Pasadena, Anaheim, and more throughout California.
Need a Charter Bus in Palmdale?
Call 1-844-693-9330 today for a free consultation, a price quote, and the answers to all your questions about booking a charter bus or minibus in Palmdale. We can't wait to get your trip planning started!