There are several factors that will influence the cost of your Denver bus rental. A Champion Charter Bus representative will take all of these factors into account when determining your charter bus price. These factors include but are not limited to:
Travel dates and destinations: When and where you're traveling are the biggest pricing factors for your Denver trip. Traveling during busy seasons and long-distance trips will typically cost more than off-season and short-term rentals.
When you book: We typically recommend that groups book at least 3 months in advance to get the best rental rate. If your group is traveling during busy seasons like summer and around fall/winter holidays, you may want to book at least 6 months in advance, if possible.
The type of charter bus you request: Full-size charter bus rentals will usually cost more than minibus rentals.
Requested onboard amenities: Certain features may only be available onboard specific models of charter buses. Booking a more upscale model of charter bus may increase your Denver bus rental price.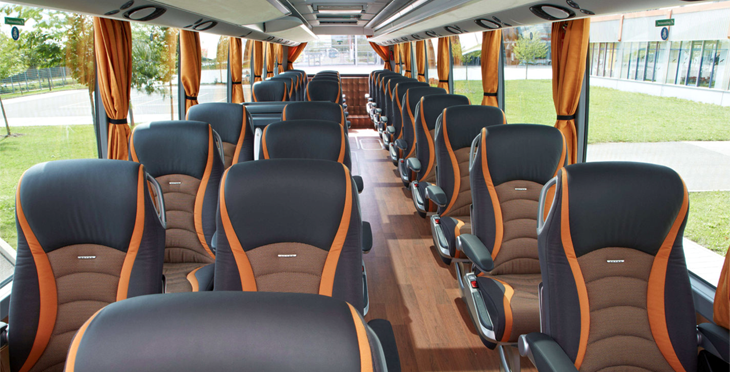 Getting a Quote for A Denver Bus Rental
When you're ready to get a customized Denver charter bus quote, give our team a call at 303-482-2792. We'll need travel information like dates, group size, destinations, and additional travel requests like amenities or ADA accessibility. A Champion Charter Bus representative will take your Denver travel destinations account when building a customized quote. All charter bus quotes are free and there's no obligation to book at the end of the quoting process.
What's Included in Charter Bus Quotes
Your Denver charter bus rental quote will include:
Daily or hourly cost of your rental (5-hour rental minimum required)
Pay for your driver
Fuel and mileage
Full coverage insurance
What's NOT Included in Charter Bus Quotes
We'll always do our best to make charter bus rental pricing as all-inclusive as possible, however, there are some travel costs outside of our control. These include but are not limited to:
Parking fees
Tolls
Driver tip (A ~10% cash tip at the end of your trip is highly recommended and appreciated)
Driver accommodations (It is required that you reserve lodging for your driver during overnight trips.)
If you need a clearer idea of how we may build your Denver bus rental quote, we've got you covered. Keep in mind that these are example rates and you'll need to call our team for an accurate rental quote.
The Private Ski Trip Shuttle from Denver
A group of 12 friends is planning a private trip from Denver to Winter Park Resort for a day of skiing. Rather than taking multiple cars or rushing to catch a pre-scheduled shuttle, they decide to rent an 18-passenger minibus rental for their day. The group books full-day lift tickets for a Saturday and plans to be picked up in Denver at 9 a.m. They plan to arrive at the slopes around 9:30 and spend the whole day at the ski area until closing around 5:00 p.m. The group arrives back in Denver around 6:30 p.m. Since the trip will be well over Champion's 5-hour minimum, the group's Denver charter bus will be charged a daily rate of $1,300 for their minibus rental.
Daily minibus rental rate: $1,300
Oversized parking at the Vintage Parking Area: $35
Driver tip: $130
Estimated trip cost: $1,65
The School Trip to the Denver Art Museum
A Denver private school is organizing a field trip day at the Denver Art Museum. The school decided to book a full-size charter bus rental for its field trip transportation. The group is made up of 40 5th-grade students and 6 chaperones. The group is picked up at 9 a.m. for their educational art day and returns to school at 3 p.m. The school is charged an hourly rate of $165 for a full-size charter bus rental.
Hourly minibus rental rate ($165/hr x 6 hours): $990
Driver tip: $100
Estimated trip cost: $1,090
The Broncos Game Day Shuttle to Empower Field
A group of 20 Broncos fans are looking to simplify their gameday travel experience with a private shuttle. They book a 20-passenger minibus rental to avoid splitting up in heavy gameday traffic and to keep the tailgate rolling with ease. Their sporting event shuttle will pick them up at 3:00 p.m. to head to Empower Field at Mile High. The group plans to tailgate before the 6:30 p.m. game and spend some time hitting a nearby bar after it ends. They plan to leave the Empower Field area and return home around 10:00 p.m. The group of fans is charged an hourly rate of $150 for their minibus rental.
Hourly minibus rental rate ($150/hr x 7 hours): $1,050
Stadium parking: $40
Driver tip: $110
Estimated trip cost: $1,200 or $60 per person
Book a Denver Charter Bus Today
If you have questions about your Denver charter bus rental cost, we're here to help 24/7! Give the Champion Charter Bus team a call anytime at 303-482-2792 with questions about charter bus pricing and to get your free, personalized rental quote in just a few minutes!