When it comes to renting a private charter bus in Oxnard, you may be wondering what your options are. We partner with several charter bus companies in California that each have different vehicle types. This means that we can connect you with any Oxnard charter bus you may need, from an 18-passenger minibus for small groups, all the way to a 56-passenger bus rental for large-scale events. When you call our reservation team and give us your headcount, travel dates, and itinerary, we will be able to connect you with the right bus rental in minutes. Depending on what you are looking for, your Oxnard charter bus can come with amenities like A/C and heating, power outlets and WiFi, a PA system and AM/FM radio, flat screen TVs, an onboard restroom, reclining seats, and luggage bays or overhead storage.
When you call the team, be sure to let them know if you have any special requests in terms of amenities so that they can work with you. For example, we are proud to offer ADA-compliant charter bus rentals within our network that come with accommodations like wheelchair lifts, wider aisle space, and more depending on your needs.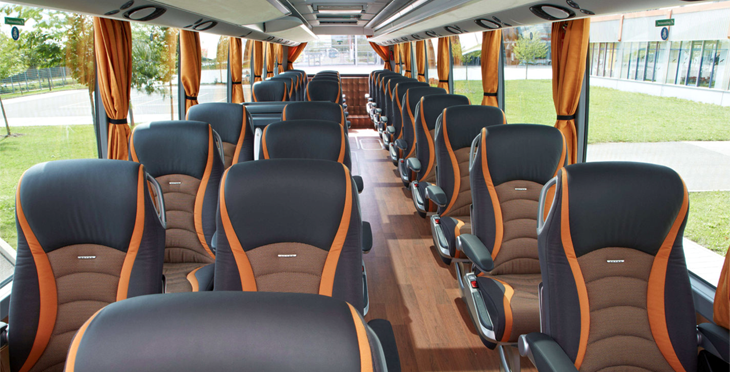 Oxnard Charter Bus Pricing
We know it's important to know what you are getting into when it comes to renting a charter bus, and want a rough idea of what it will cost. While we have a rough guide to charter bus rental costs, the exact pricing will be different based on a few factors: the time of year you are traveling, where you are traveling, the distance you are traveling, the type of bus you book, how early you book, etc.
The great part about booking an Oxnard charter bus with Champion is that our pricing is transparent and has no hidden fees to trip you up down the road. We value your complete satisfaction with your bus rental, and that starts with fair pricing.
Book a Bus to Los Angeles
The City of Stars is only about an hour and a half drive away from Oxnard if you rent a charter bus! And with a professional bus driver behind the wheel, you can enjoy the sights and skip the notorious Los Angeles traffic during your next outing in the big city. A Los Angeles bus rental allows your group to skip the crowded Metro, opt for amenities you want like WiFi or onboard entertainment systems, and plan every stop along the way. Whether you are in LA for a wedding or sporting event, Champion can bridge the gap from Oxnard to Los Angeles with dependable and custom transportation solutions for your group.
Field Trip Charter Bus Rentals in Oxnard
Safety is at the top of our minds at Champion, which is why we work with only the best charter bus companies in California. Each charter bus driver in our network undergoes rigorous background screenings and driving tests and has on-the-road experience. Plus, every Oxnard bus rental is maintained and inspected regularly for safety. Elevate your students' next trip to the Channel Islands Maritime Museum with a charter bus rental! A charter bus rental for school events offers several advantages over a regular school bus, including A/C to beat the California heat, seat belts for safety, a PA system to easily communicate with your class, and ADA-accessible features if needed for no extra cost. Rest assured knowing your students and staff are in safe hands with Champion.
Book a Charter Bus in Oxnard for Corporate Events
Champion is ready to step in and provide timely and professional corporate bus rentals for your next airport pickup, team-building event, company retreat, and any other business venture. We can even help set you up with a shuttle bus service in Oxnard for employees to take them to and from work each day! With a shuttle service to pick them up at a designated spot and take them to the office, your employees will be less stressed in the morning and have a chance to bond with their coworkers. Plus, they can take advantage of onboard amenities like WiFi and power outlets to increase productivity and brainstorm with their team. We can connect you with short or long-term contracts for shuttle bus rentals, along with group transportation for any other business outing no matter what industry you are in, including military or government.
Our Favorite Places to Visit in Oxnard with a Charter Bus
Channel Islands Harbor
Address: 3900 Pelican Way, Oxnard, CA 93035
Channel Islands Harbor is a picturesque waterfront area with plenty of activities for visitors. You can rent a boat, take a whale watching tour, go kayaking, or simply stroll along the boardwalk and enjoy the views. There are also several restaurants and shops in the area.
The Collection at Riverpark
Address: 2751 Park View Ct, Oxnard, CA 93036
The Collection at Riverpark is a popular outdoor shopping and dining destination in Oxnard. There are over 60 stores and restaurants, as well as a movie theater and outdoor amphitheater. The complex also hosts several events throughout the year.
Oxnard State Beach and Park
Address: 1601 Harbor Blvd, Oxnard, CA 93035
Oxnard State Beach and Park is a beautiful stretch of coastline with plenty of recreational opportunities. You can go swimming, surfing, or fishing, or simply relax on the beach. There are also picnic areas and a playground for children for groups traveling with younger passengers.
Murphy Auto Museum
Address: 1930 Eastman Ave, Oxnard, CA 93030
The Murphy Auto Museum is a must-visit for car enthusiasts. The museum features a collection of classic cars, ranging from pre-war antiques to muscle cars from the 1960s and 70s. There are also vintage motorcycles and other memorabilia on display, perfect for any car lovers in your group.
Rent Your Oxnard Charter Bus Today
Join the Champions of group transportation when you book your next Oxnard charter bus rental with us at Champion Charter Bus! Our transparent pricing, network of excellent charter bus rentals and drivers, and 24/7 customer service stand apart from the rest. Give our team a call today at 1-844-693-9330 to book your Oxnard charter bus in only minutes!