In Boulder, Colorado, Champion Charter Bus caters to a diverse range of transportation needs with its fleet of well-equipped Colorado buses. The 56-passenger charter bus is perfect for large groups, such as university sports teams, student groups, and fans attending events at the University of Colorado Boulder. Its spacious interior is ideal for comfortable long-distance travel. For smaller, more personal events, the 18-passenger minibus offers a compact and efficient solution, excellent for navigating Boulder's lively streets for events like birthday parties or small corporate gatherings. The 20-passenger minibus provides additional space, making it suitable for community groups or small business teams attending local workshops or events. Finally, the 25-passenger minibus, blending space with convenience, is an excellent choice for medium-sized groups, such as campus tour groups or medium-sized wedding parties.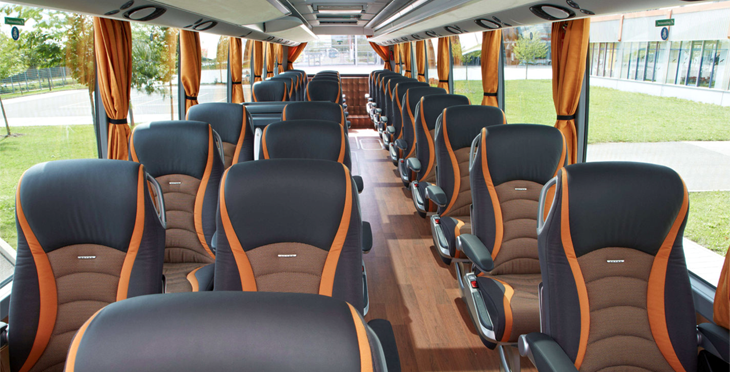 Boulder Bus Rental Pricing
In Boulder, Colorado, the price of Champion Charter Bus rentals depends on various aspects. The major factors affecting your rental cost include the dates and destinations of your travel, with high-demand seasons and longer trips generally being pricier. Early booking, particularly for popular times such as summer and around major events at the University of Colorado, is advisable to ensure favorable rates. While our quotes aim to be comprehensive, some additional costs like parking, tolls, driver gratuity, and accommodations during overnight stays are not included. Get a precise, personalized quote for your Boulder charter bus rental by contacting Champion Charter Bus at 303-482-2792.
Boulder Corporate Event Transportation
Champion Charter Bus in Boulder offers sleek, professional transportation solutions for all your corporate events. Choose from a diverse range of minibuses and charter buses, perfect for company retreats, conferences, and team-building events in Boulder's unique venues like Rembrandt Yard or the Boulder Theater. Our corporate shuttle bus transportation services include streamlined pick-up, drop-off, and shuttle services, ensuring your corporate event runs smoothly from beginning to end so you can impress clients and keep employees organized.
Corporate event venues in Boulder include:
Boulder Marriott
Address: 2660 Canyon Boulevard, Boulder, CO 80302
Phone: 303-440-8877
Hotel Boulderado
Address: 2115 13th Street, Boulder, CO 80302
Phone: 303-442-4344
Colorado Chautauqua
Address: 900 Baseline Road, Boulder, CO 80302
Phone: 303-442-3282
Charter Buses in Boulder for School Field Trips
Upgrade your school event transportation in Boulder with Champion Charter Bus. Educational field trip bus rentals can take you from the Boulder History Museum to outdoor excursions in the Flatirons and beyond, and our network of certified and safe bus rentals offers a superior experience compared to traditional school buses. Trusted by schools throughout the West, field trip buses are equipped with modern amenities to ensure a comfortable, enriching journey for students and educators alike.
Popular destinations for school field trips in Boulder include:
National Center for Atmospheric Research
Address: 1850 Table Mesa Dr, Boulder, CO 80305
Phone: 303-497-1000
Museum of Boulder
Address: 2205 Broadway, Boulder, CO 80302
Phone: 303-449-3464
Fiske Planetarium
Address: 2414 Regent Dr, Boulder, CO 80309
Phone: 303-492-5002
Boulder Wedding Shuttle Bus Rentals
Make your Boulder wedding day effortless with Champion Charter Bus's wedding shuttle bus transportation services. Our network of elegant buses is perfect for ferrying your guests and wedding party to picturesque venues like Chautauqua Park or downtown Boulder's event spaces. We handle all the logistics, from pick-up to drop-off, ensuring that your wedding transportation is seamless, professional, and tailored to the needs of your special day.
Wedding venues in Boulder include:
St Julien Hotel & Spa
Address: 900 Walnut Street, Boulder, Colorado 80302
Phone: 720-406-9696
Boulder Creek by Wedgewood Weddings
Address: 38470 Boulder Canyon Dr, Boulder, CO 80302
Phone: (866) 966-3009
Embassy Suites by Hilton Boulder
Address: 2601 Canyon Blvd, Boulder, CO 80302
Phone: (303) 443-2600
Boulder Sports Team Charter Bus Transportation
For sports teams in Boulder, Champion Charter Bus offers reliable, clean, and modern transportation options. Ideal for teams and fan groups heading to games or tournaments, our network of sports team charter buses provides a comfortable and stress-free travel experience. Whether it's a local school team or a group of enthusiastic fans supporting Boulder-based teams, we help you ensure that everyone arrives at the venue on time, relaxed, and ready to cheer or compete.
Sports venues in Boulder include:
Folsom Field
Address: 2400 Colorado Ave, Boulder, CO 80305
Phone: 303-492-6843
CU Events Center
Address: 950 Regent Dr, Boulder, CO 80309
Phone: 303-492-5221
Boulder Valley Velodrome
Address: 601 Bonnell Ave, Erie, CO 80516
Phone: 303-818-5817
Visit Rocky Mountain National Park
Embark on an unforgettable journey to the majestic Rocky Mountain National Park with Champion Charter Bus. Whether you're organizing a nature excursion, a photography tour, or a hiking trip, our network of buses provides a seamless travel experience, ensuring you can focus on the breathtaking landscapes and wildlife. From the serene beauty of Bear Lake to the awe-inspiring views from Trail Ridge Road, Boulder charter buses offer a spacious and comfortable ride, complete with amenities to enhance your trip.
Book Your Bus Rental in Boulder Today
From corporate events at urban venues to educational trips and outdoor excursions, Boulder charter buses offer the ideal combination of luxury and practicality. As you explore the vibrant culture and natural splendor of Boulder, let us handle the journey, ensuring it's as smooth as the destination is captivating. For transportation that matches Boulder's dynamic spirit, turn to Champion Charter Bus – your gateway to memorable travels in this beautiful Colorado city. Call 303-482-2792 for a free quote.