In order to provide an accurate estimate of your Phoenix charter bus costs, our team needs to know a few important factors about your trip:
Your passenger count — The type of bus rental you book affected the final price of your reservation, and that is dependant on how many passengers need a ride. A full-sized charter bus will generally cost more than a small-scale minibus shuttle.
Number of stops — In the same vein, how far you travel and how many stops fill your itinerary will affect how your Phoenix charter bus will be charged—either by the mile, the hour, or the day.
Time of year — Renting a bus during peak travel seasons (summer and the winter holidays) will mean less availability, which may mean your reservation will cost more than a group trip during the off-season.
When you book — Speaking of availability, how far in advance you book may also affect the cost of your Phoenix bus rental. For the best rates, we recommend reserving your group transportation at least 6 months before your scheduled departure.
Requested amenities — Have a specific accommodation request for your charter bus rental? Our team will be more than happy to find a motorcoach that has it all. Just keep in mind that some features like USB power outlets and leather seats will raise the cost of your charter bus, while other amenities like ADA features and crisp A/C come standard on most bus rentals.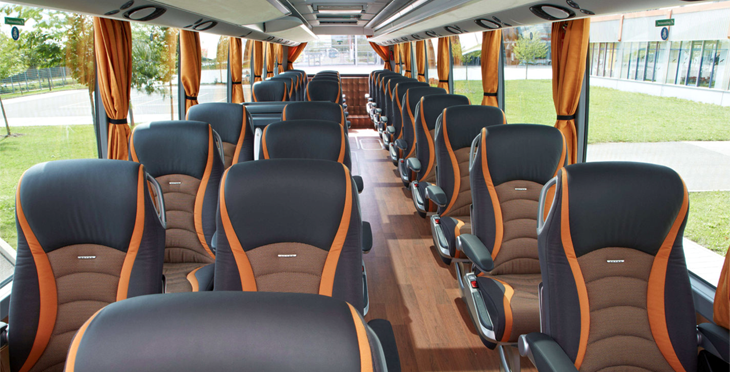 How to Get a Phoenix Charter Bus Quote
When you have all the details of your group trip squared away, call us at 480-257-7734. From there, a reservation specialist will take your transportation specifics and provide a customized, no-obligation estimate. You'll never have to worry about hidden fees. We aim to keep the cost of your Phoenix bus as comprehensive as we can, including the price of hourly/daily/by-mile rentals, the services of a professional bus driver, full-coverage insurance, and fuel.
What's Not Included in Your Phoenix Bus Rental Quote
As we said, we strive to make your Phoenix charter bus estimate as all-inclusive as we can—but there are some factors of group transportation we can't account for before your trip. Your estimate will not include the cost of tolls, parking, driver gratuity, or lodging accommodations for your driver if you're planning a multi-day trip. Keep in mind you will be required to provide room and board for your driver, as by law they are required to rest at least 8 hours for every 10 hours spent at the wheel.
Example: The Field Trip Bus Rental to
A nearby elementary school is planning a field trip to the Phoenix Zoo. To keep all 75 students and 20 chaperones comfortable, the school decides against the traditional school bus and books two 56-passenger charter bus rentals for their Phoenix school outing. The driver is expected to pick everyone up from the school at 10 AM and drop everyone off by 3 PM.
2 charter buses x $140/hour x 5 hours = $1400
~10% driver tip x 4 drivers = $140
Total = $1,540
Example: A Conference at the Phoenix Convention Center
A team leader for a company in Scottsdale is coordinating their team's transportation to a three-day conference at the Phoenix Convention Center. The attendees need a high-end 20-passenger minibus with WiFi to stay connected between their office park and the venue, and they will be charged at a daily rate for their Phoenix corporate transportation.
1 minibus x $1,260/day x 3 days = $3,780
~15% driver tip = $560
Total = $4,340
Example: A Shuttle for a Phoenix Wedding
A couple is planning a wedding at the Desert Botanical Garden and wants to ensure out-of-town guests have reliable rides between the venue and area hotels. With a wedding shuttle bus in Phoenix, everyone will have a professional bus driver as the DD and two 18-passenger minibus rentals all evening long, everyone will arrive on time for the ceremony and safe on the way back to their rooms.
2 minibus rentals x $125/hour x 5 hours = $1,250
~15% driver tip x 2 drivers= $187
Total = $1,437
Example: A Diamondbacks Fan Group Outing
A crowd of 24 Diamondbacks fans are gearing up for a home game at Chase Field. Here's the game plan: depart from a park-and-ride location at noon, grab a late lunch before the game, and celebrate with post-game drinks at a fan-favorite bar before heading back to their cars. A 25-passenger minibus shuttle should do the trick, and a professional driver will navigate the game-day traffic so this Phoenix sporting event outing runs smoothly from beginning to end.
1 minibus rental x $135/hr x 7 hours = $945
~10% driver tip = $95
Bus parking = $40
Total = $1,080, or $45 per passenger
Book Your Phoenix Charter Bus Rental Today
Whether you have a few questions about renting a bus or you're ready to hit the road, Champion Charter Bus is always here for you! Call 480-257-7734 today to receive a transparent, no-obligation estimate, and see how simple it can be to know the cost of your charter bus rental in Phoenix.