A quote for a charter bus in San Francisco will be determined by several factors, including:
The charter bus model you book: You'll be matched with the best type of minibus or charter bus rental for your group size and/or the group transportation services you need.
The time of year you're traveling: Since San Francisco is a major American city with a high travel demand, some times of year are more affordable than others. Bus rentals during busy seasons in the summer, fall, and around winter holidays can cost more than in the off-season.
How far in advance you book your bus rental: We recommend that groups traveling in San Francisco book their bus at least 3 months before the travel date. If you're planning to travel during a busy season, we'd recommend booking at least 6 months in advance.
Onboard feature requests: When you book your bus, be sure to request any special features or amenities you'd like aboard your bus rental, such as WiFi, TV screens with a DVD player, or a restroom. Groups that need an ADA-compliant bus rental will not be charged extra for accommodations, but please notify your reservation representative when you book so that they can find you the type of bus you need.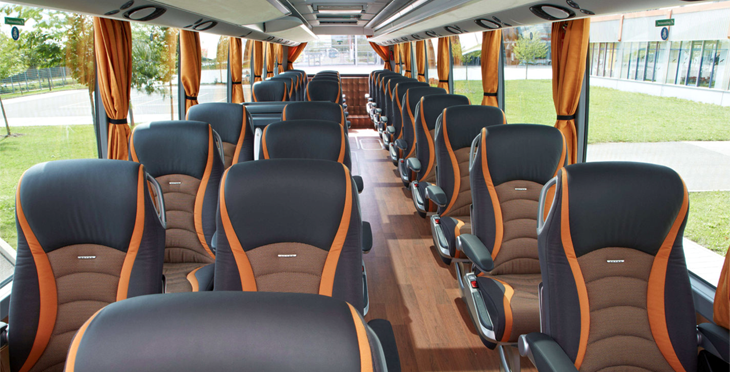 Getting a San Francisco Charter Bus Quote
When you're ready to get a quote for your San Francisco trip, call us anytime at 415-226-7968 to speak with a reservation representative. Your representative will use information like your passenger count, travel dates, pick-up and drop-off locations and times, plus any special amenity requests. Your quote will be as conclusive as possible and account for hourly/daily rental costs, driver pay, fuel, and insurance in order to provide with you an accurate cost estimate.
What's Not Included in Bus Rental Quotes
We will try to provide you with a conclusive charter bus rental quote, but there are some travel-associated costs and fees that can't be included in your total. Costs like parking fees, road tolls, and a tip for your driver will need to be budgeted for and paid for separately. If you're planning a multi-day trip then you'll also be required to pay for a hotel room for your driver. By law, charter bus drivers must rest for at least 8 hours for every 10 hours they're on the road, so they will need accommodations overnight.
The Corporate Event at Mission Bay Conference Center
A San Francisco-based business wants to book private shuttles for a corporate conference they're hosting at the Mission Bay Conference Center at UCSF. They're expecting about 150 people traveling in from all across the country and want to provide easy transportation for employees staying at nearby hotels. The planning team decides to book two minibus rentals to run continuous routes between the hotel and conference center for two days between 8 a.m. and 6 p.m. Each minibus rental will cost $1,920 a day for two days.
Two minibus rentals x 2 days: $7,680
~10% Driver Tip x 2 drivers: $768
Total: $8,548
The Bach Party in San Francisco Wine Country
As Jordan's last hurrah before they get married, they want to book a bus rental service for a bach weekend and tour San Francisco wineries and vineyards. They're interested in a two-day itinerary—including an overnight stay at a hotel—and stops at top wineries in the city, Napa Valley, and Sonoma Valley. They book a 12-passenger minibus rental to accommodate a party of 8. The minibus rental costs $1,740 per day.
One minibus rental x 2 days: $3,480
Overnight accommodations for driver: $200
Overnight parking at hotel: $40
~10% Driver Tip: $348
Total: $4,068
The School Field Trip to Alcatraz Island
A high school in San Jose wants a charter bus rental for a field trip to San Francisco to visit Alcatraz Island. The group will include about 80 students and 10 chaperones, so the school books two 56-passenger motorcoaches to ensure everyone is comfortable and accommodated for the trip to and from the ferry pier. Their charter bus drivers will pick up the group at 9 a.m. for the hour-long drive and drop them back off in San Jose at about 3 p.m. Each charter bus rental is $230/hr for 6 hours.
Two 56-passenger charter buses x 6 hour: $2,760
Parking fee x 2 buses: $40
~10% Driver Tip x 2 drivers: $552
Total: $3,312