The cost to rent an Oregon charter bus varies depending on a few different factors, such as what type of vehicle you rent, distance traveled, any tolls or parking fees, etc. We have a charter bus pricing guide to give you a general idea of what to expect, but the best way to get an exact price quote is to call our 24/7 reservation team at 1-844-693-9330. We pride ourselves on price transparency when it comes to charter bus pricing. What you see is what you get, and there are no hidden fees to trip you up down the road. We also recommend finalizing your itinerary before you call in order to ensure you get the correct vehicle size and calling at least six months in advance for the best availability.
Our reservation team has connected countless groups with group transportation solutions in the Western United States and can get you a free, no-obligation quote on your Oregon charter bus in no time.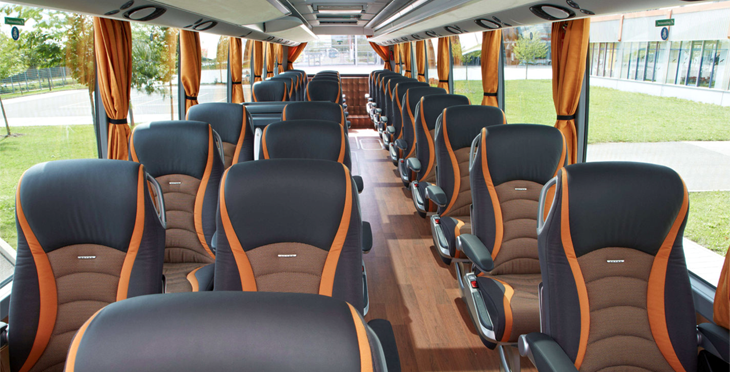 Book a Portland Charter Bus for Any Event
Explore one of Oregon's most up-and-coming cities with ease when you rent a Portland charter bus from our network. Booking a private charter bus rental is one of the best ways to get around with a group in Oregon, offering you complete flexibility with scheduling, fixed fees with no surprises, and amenities of your choosing to ensure a comfortable ride for everyone. We offer amusement park charter bus rentals for family groups, church groups, and school groups interested in visiting Oaks Amusement Park, one of one of the oldest continually operating amusement parks in the country. And for couples getting married at one of Portland's many magical venues, such as Rossi Farms, rent a wedding shuttle bus to fill any transportation gaps during your special day. We work with groups of all sizes to provide seamless transportation for all groups in and around Portland.
Rent a Eugene Charter Bus for School Groups
Academic groups looking for safe and reliable charter bus in Eugene don't need to look any further than Champion Charter Bus. We can connect you to the perfect school trip charter bus rental, whether you need charter buses for field trips to the Cascades Raptor Center or a sports team charter bus rental for collegiate teams at the University of Oregon. Each charter bus comes equipped with amenities that are perfect for students and faculty, such as WiFi to complete last-minute assignments and overhead storage for stowing backpacks.
Charter buses also include safety features that a typical yellow school bus does not, such as GPS tracking and seatbelts, along with ADA-accessible features upon request. Each charter bus driver in our network has on-the-road experience along with a clean background check, and every bus is maintained and inspected between trips to ensure its safety.
Visit Oregon's Capital with a Salem Charter Bus
Oregon's capital city has plenty to offer visitors, and you can rent a Salem charter bus to easily explore this city with a group. For those visiting for business, we can connect you with a corporate charter bus rental in Salem no matter your group size, from fleets of charter buses for conventions at the Salem Convention Center to minibuses for team-building events downtown. Charter buses have great amenities for on-the-go productivity like WiFi and power outlets, and can be rented for one-off events or recurring services. We also offer access to sleek and private charter bus rentals for government and military groups that need to discreetly travel among the city streets, offering plenty of undercarriage storage for any equipment and PA systems to easily communicate with the group. Easily enjoy this city with a group thanks to Oregon charter buses from Champion Charter Bus!
Bus Rentals in Oregon for National and State Parks
See the great outdoors with a group when you rent an Oregon charter bus from Champion Charter Bus. We can get you transportation to some of the state's most scenic routes, including the Crater Lake Rim Scenic Drive and the Mount Hood Scenic Byway. Minibuses and charter buses alike have plenty of space for backpacks and hiking gear, along with bay windows to soak in all the unforgettable views. Utilize onboard WiFi to stay connected to civilization and outlets to charge devices. Your professional charter bus driver can handle all the twists and turns of the road while you enjoy the once-in-a-lifetime sights, and you can even set up stops in nearby towns like Bend for more exploring.
Book a Charter Bus in Oregon Today
At Champion Charter Bus, we have experience helping groups book transportation across the Western United States for all events and occasions. Each charter bus rental from Champion's network comes with a professional and highly vetted charter bus driver, along with amenities of your choice such as onboard restrooms, WiFi, radio, TVs, undercarriage storage, and more. Build your dream itinerary, get together a list of amenities you will need, and give our 24/7 team a call at 1-844-693-9330. We will be available to answer any questions you may have and can get you a free quote on your Oregon bus rental in minutes.