Your LA charter bus cost will be determined by several factors. These factors include but are not limited to:
The type of charter bus you book: Depending on your group size and trip type, you'll be paired with the best type of minibus or charter bus rental. Minibus rentals are typically more affordable than full-size charter bus rentals.
When you're traveling: Los Angeles is a busy city and has high travel demand. Booking a charter bus in busy seasons around summer, fall, and winter holidays can be more expensive than in the off-season.
How far in advance you rent your charter bus: We recommend that LA travel groups book their bus rental at least 3 months in advance. If you're traveling during the busy season, we'd recommend booking at least 6 months in advance, if possible.
Requested onboard features: More upscale models of buses with upgraded interiors may be more expensive than standard charter buses. When you book your bus, be sure to request the features you'll require onboard. Groups that need ADA-accessible features will not incur additional fees for a suitable ride. Just notify your reservation expert well in advance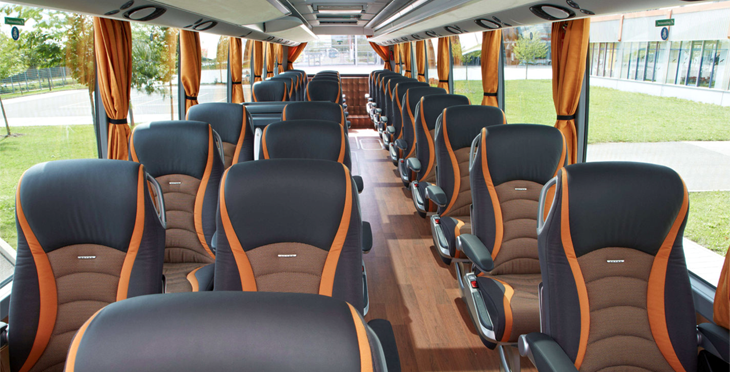 Getting a Los Angeles Charter Bus Quote
Once you have your Los Angeles trip details sorted out, give the Champion Charter Bus team a call at 310-295-9547 to get your personalized quote. We'll just need information like your group size, travel date, itinerary, and special travel requests. Your quote will be as all-inclusive as possible, accounting for your hourly/daily rental cost, pay for your drive, fuel, and full coverage insurance.
What Not Included in Bus Rental Quotes
When we determine our charter bus rental Los Angeles prices, we always do our best to make the process as all-inclusive as possible. However, there are some fees outside of our control that can't be included in your quote. These can include parking, tolls, and a tip for your driver. If you're planning a multi-day trip, you'll also be required to pay for driver accommodations. By law, charter bus drivers are required to rest at least 8 hours for every 10 hours of driving duty.
The School Field Trip to the La Brea Tar Pits
A local Los Angeles school needs a field trip charter bus rental for a day at the La Brea Tar Pits and Museum. The school group will include 65 students and 9 chaperones. The school books two 56-passenger charter bus rentals to safely and comfortably shuttle the school group to La Brea. Their charter bus drivers pickup the students at 9am and they return from their field trip around 3pm. Each LA charter bus rental is $180/hr for 6 hours.
Two 56-passenger charter bus x 6 hour: $2,160
~10% Driver Tip: $220
Total: $2,380
The Corporate Conference at the Los Angeles Convention Center
An event planning team is hosting a business conference at the Los Angeles Convention Center. The team wants to provide a corporate event shuttle around Los Angeles to simplify attendees ' arrival and departure. Around 200 people will be attending the conference and the planning team decides to book 3 minibus shuttles to run along routes across the city. The shuttles will pick up and drop off guests at the convention center, business hotels, and office sparks between 8am and 4pm. Each minibus rental will be $150/hr for 8 hours of rotating shuttle services.
Three minibus rentals x 8 hours: $3,600
~10% Driver Tip x 3 drivers: $360
Total: $3,960
The Waterfront Wedding Shuttle Service
A Los Angeles couple is planning to host their waterfront wedding ceremony at Hotel Casa del Mar in Santa Monica. The couple wants to offer a wedding shuttle service for out-of-town guests who may not have a rental car or other designated transportation. Guests will be picked up at their hotels and shuttles to and from Casa del Mar. The ceremony and reception will last around 6 hours and the couple opts to book one minibus rental to serve their guests. The minibus rental will be $160/hr for the 6 hours.
One minibus rental x 6 hours: $960
~15% Driver Tip: $150
Total: $1,110
The Lakers Gameday Transport
A group of Lakers fans is headed to Crypto.com Arena for a big game and want to upgrade their gameday transportation. They decide to book a sporting event charter bus rental to keep them traveling safely and comfortably for gameday. The group of fans will travel like VIPs during game day while having a built-in DD if they plan to drink during the big game. They opt to book the minibus rental for 5 hours, which includes a post-game dinner and drink. The minibus rental will cost $140/hr for the 5 hours. The group also has to pay to park the rental at Crypto.com Arena.
One minibus rental x 5 hours: $700
~15% Driver Tip: $100
Parking: $40
Total: $840
Book a Los Angeles Charter Bus Rental
If you still have questions about booking a charter bus rental in LA, give us a call at 310-295-9547. A Champion Charter Bus representative will be available 24/7 to answer your questions about charter bus pricing and to get you a free quote!