The cost of renting a charter bus in San Diego depends on a few different factors. Below is a breakdown of the main ones to consider:
Charter Bus Model: Depending on how many passengers you have, an experienced charter bus reservation specialist from our team with either a minibus or a full-size charter bus rental. It's important to nail down your final passenger count before you reserve your San Diego charter bus, as more or fewer passengers could mean a different bus rental with a different price point.
Time of Year: Demand for group transportation services in San Diego is high year-round due to the city's countless museums, restaurants, outdoor recreation activities, and more. Demand is usually the highest during the summer months due to graduations, summer vacations, and other summer-related events. If you need a San Diego charter bus rental during the summer, be sure to call as far in advance as possible to get the best rates.
Amenities and special requests: Before you call, be sure to make a list of charter bus amenities you want, such as WiFi, A/C, power outlets, undercarriage storage, and onboard restrooms. If you are renting a charter bus for assisted living facilities or other groups that may need ADA-accessible features, make a note of that also. Our team will do our best to accommodate your amenity needs. Depending on which amenities you request, some are only available in larger charter bus models. This can affect the overall price of your San Diego bus rental.
Another important thing to consider is how far in advance you are booking. As a general rule, try to book your San Diego charter bus at least six months before your event dates, but the sooner, the better! Booking sooner helps ensure better availability and generally lower rates. We can still provide last-minute charter bus rentals, including emergency evacuation charter buses, if necessary, and encourage you to call us whenever you're ready.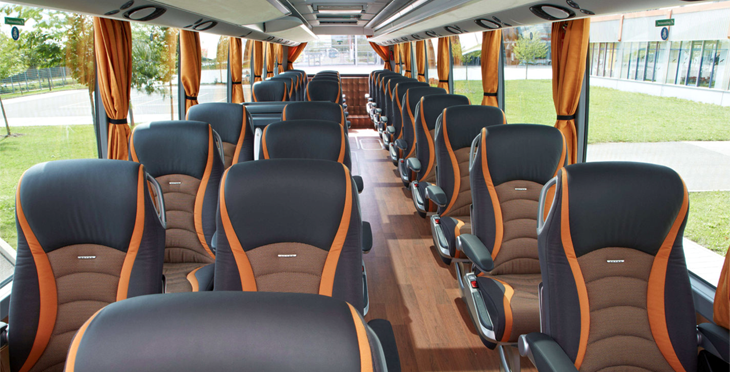 Getting a San Diego Charter Bus Price Quote
When you are ready to get a quote on your San Diego charter bus, give our reservation team a call at 619-629-0453. Be sure to have your passenger count, travel dates, and itinerary (with addresses and pick-up/drop-off times) ready when you call. Your reservation specialist will use this information in order to get you a price quote on your San Diego bus rental and can answer any questions you may have during the process. We pride ourselves on price transparency, which means your charter bus quote will be as conclusive as possible with no surprises.
What's Included in Your San Diego Charter Bus Rental Quote
Your San Diego charter bus quote will include all fees that our team can predict, such as driver pay, fuel, insurance, and hourly/daily rental costs. However, there are some travel-related costs that you will be responsible for. This includes costs like toll road fees, parking fees, and a 5 to 10 percent tip for your charter bus driver at the end of the trip. If you're planning a multi-day trip, such as a week in Los Angeles for a getaway, you will need to book a hotel room for your charter bus driver. Charter bus drivers are required by law to take an eight-hour break after 10 consecutive hours of driving. Hotels may be able to give you a discounted rate for your driver's room if you ask.
A Class Field Trip to SeaWorld San Diego
A local high school teacher wants to take her science class to SeaWorld San Diego. After doing some research on how to get her students there, she decides to rent a San Diego charter bus for a field trip. She teaches a total of 36 students across two classes, and has three chaperones for the trip as well, bringing her passenger count to 40 total. After contacting Champion Charter Bus and giving the details for her trip, she is quoted $1,350 for the day, or only about $38 per student. She's also able to ensure the bus is ADA-compliant at no extra cost, as one of the students has special mobility needs and is in a wheelchair.
After tipping the charter bus driver 10% for keeping their group safe, the total comes out to $1,485 for the field trip charter bus rental.
The San Diego Convention Center Convention
A transportation company is planning a convention for industry professionals at the San Diego Convention Center. They are expecting a total of around 500 visitors for the day. They decide their main needs are a shuttle from two nearby hotels to take visitors to the convention and a private mode of transportation to pick up executives at San Diego International Airport. They choose Champion Charter Bus for their San Diego corporate charter bus rentals due to their extensive network of charter buses across the area and are quoted for three coach buses at $1,300 each for shuttling attendees and one minibus at $1,050 for picking up executives at their airport.
After tipping each bus driver 10%, the total for the transportation ends up being $4,015.
A Bachelorette Weekend in La Jolla
A bride-to-be is marrying the man of her dreams and wants to have her bachelorette weekend in nearby La Jolla. She's built her dream itinerary already and wants to ensure she has reliable transportation, especially once they hit the bars. She decides to rent a San Diego charter bus for weddings from Champion's network. She and her 8 bridesmaids rent a small minibus in San Diego for two days. They are quoted at $1,050 a day. They also rent a room for their driver for each day, getting a discounted rate of $120 a night for each night, bringing the total to $2,240 for the weekend.
The group tips their driver $200 for a job well done, bringing the total for the bachelorette party shuttle bus to $2,440 for the weekend.