To determine how much your Las Vegas charter bus costs, we need to know a few key factors:
Your headcount — The make and model of motorcoach you book will affect your price, and the type of minibus or charter bus you rent is determined by how many passengers need a ride.
Your itinerary — Similarly, the type of group trip you plan will affect the bus you book. Your trip will be charged by the hour, day, or mile—so we need to know if you're planning a long-distance road trip or a local shuttle circuit to offer an accurate estimate.
When you travel — Keep in mind that availability will also influence your overall bus cost. Booking a Las Vegas bus rental during peak summer and holiday travel seasons will result in a higher price than traveling during the off-season.
How far in advance you book — For the best availability (and the best rates), we recommend Las Vegas travel groups reserve their transportation at least 6 months before their desired departure date.
Request bus amenities — Some premium charter bus features like fast WiFi and plush leather seating will cause your bus rental to cost more, while other amenities like ADA-compliant lifts and full-cabin A/C can be provided at no additional charge. Just let us know what your passengers will need ASAP, and we'll work with you to ensure your bus rental in Las Vegas has it all.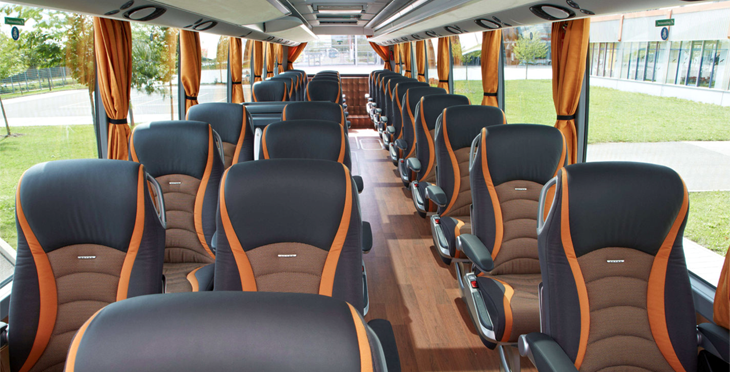 How to Get a Las Vegas Charter Bus Quote
Once you know the basic details of your group trip, call the Champion Charter Bus team at 702-430-8311. From there, we'll factor in all your trip specifics to provide an accurate and personalized estimate with no hidden fees. The cost of your Las Vegas bus will be as all-inclusive as we can manage, covering your hourly/daily/by-mile charter bus cost, the services of a bus driver, fuel, and full insurance. If you like the price you hear, you can lock in your Las Vegas charter bus within minutes!
What's Not Included in Your Las Vegas Bus Rental Quote
While we strive to make the pricing process as stress-free and comprehensive as possible, there are some aspects of group trips we cannot account for when providing your bus rental estimate. Your quote will not include the cost of parking, tolls, and gratuity for your driver. Also, if you're planning a multi-day excursion, you will be responsible for your bus driver's lodging—by law, your driver will need to rest at least 8 hours for every 10 hours spent at the wheel.
Example: The School Field Trip to Discovery Children's Museum
A school in a nearby Nevada county decides to forgo the old school bus and book a charter bus in Las Vegas for a field trip. The school group—a total of 50 students and 5 chaperones—arranges for a 56-passenger charter bus to pick everyone up at the school at 9 AM, an early picnic lunch before an afternoon spent exploring the Discovery Children's Museum, and a final drop-off back at the school by 4 PM.
1 charter bus x $140/hour x 7 hours = $980
~10% Driver Tip = $98
Total = $1,078
Example: The Corporate Event at Las Vegas Convention Center
An event coordinator has booked the Las Vegas Convention Center for a corporate conference event, and they want to offer a shuttle bus service around Las Vegas to ensure every attendee has reliable rides to the action. 300 people are scheduled to attend, so the coordinator decides to rent four 25-passenger minibus rentals to facilitate transfers between hotels, office parks, and the convention center from 8:30 AM to 6:30 PM.
4 minibuses x $130/hour x 10 hours = $5200
~10% Driver Tip x 4 drivers = $520

Total = $5,720
Example: The Luxury Resort Wedding Service
A young couple has set their sights on Las Vegas for their wedding. Since many guests will be flying in from out of town, they want to ensure everyone has safe and secure wedding transportation between the ceremony at the Aria Hotel and their loved ones' various booked hotels throughout The Strip. The couple books a dual 18-passenger minibus shuttle service to run between venues for 5 hours so guests can celebrate as they please.
2 minibus rentals x $110/hour x 5 hours = $1,100
~15% Driver Tip= $165
Total = $1,265
Example: Gameday Transport for a Raiders Fan Group
A Raiders fan group is rallying for a home game at Allegiant Stadium. They've been waiting for this game all season long, so the fans plan to book a sporting event bus rental to keep everything running smoothly between the pick-up point and the stadium parking lot. They opt for a 20-passenger minibus shuttle for 6 hours—which includes grabbing a pre-game dinner and some post-game drinks.
1 minibus rental x $120/hr x 6 hours = $720
~10% Driver Tip = $72
Bus Parking = $50
Total = $842, or $42.10 per passenger
Book Your Las Vegas Charter Bus Today
Still have questions about the cost of your Las Vegas charter bus? Ready to receive your free bus rental quote? Call 702-430-8311 whenever you're ready, and our 24/7 reservation team will be happy to help you get started!