Budget-Friendly, Kid-Friendly Activities in Phoenix
No matter where you travel, finding family-friendly attractions that won't break the bank can be a hassle. Luckily, Phoenix has plenty of itinerary items for groups of younger visitors—many of which are under $10 per person!
If you've already read the Champion Charter Bus guides to field trips in Phoenix and the city's best budget-conscious attractions and still need more inspiration, never fear. We've put together this list of even more relatively affordable destinations your group of kids is sure to love:
Take Advantage of Monthly Museum Free Days
Many of Phoenix's museums offer free admission on specific days throughout the month. While this list is by no means comprehensive, here are some of the more popular museums in Phoenix that your group can visit for free:
Heard Museum
Address: 2301 N Central Ave, Phoenix, AZ 85004
This acclaimed collection showcases the Southwest's American Indian culture through artifacts, stories, and art. Admission is always free for American Indian people who show a tribal ID. Otherwise, groups with younger kids may want to plan a visit on the fourth Sunday of summer months when free admission is offered between 11 a.m. and 5 p.m. Teens and older kids with later bedtimes can stop by between 6 p.m. and 10 p.m. on the first Friday of other months (except for March) for free admission.
Desert Botanical Garden
Address: 1201 N Galvin Pkwy, Phoenix, AZ 85008
Home to thousands of desert plants and plenty of walking trails to explore, this arid botanical garden offers tons of sights and activities to fill a day out with your kids. Your scout troop, science club, or family can gain free entry on the second Tuesday of each month.
Phoenix Art Museum
Address: 1625 N Central Ave, Phoenix, AZ 85004
Here, your young artists can admire the Southwest's largest collection of classic and contemporary art—from the Renaissance period to Latin American abstraction, Frida Kahlo to Claude Monet. The museum offers free admission every Wednesday from 3 p.m. to 7 p.m., as well as every first Friday of the month from 3 p.m. to 7 p.m.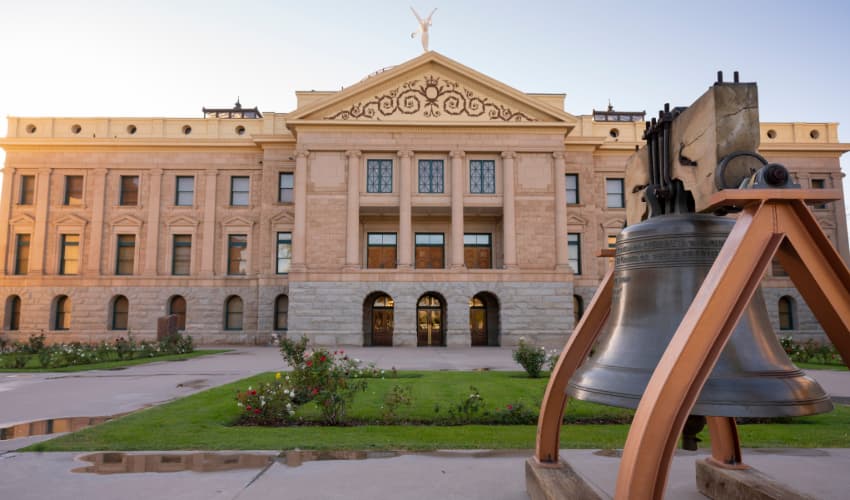 Tour the Arizona Capitol Museum
Address: 1700 W Washington St, Phoenix, AZ 85007
Looking for a fun outing with your civics, government, or history class? This museum ticks all the boxes!
From the time it was constructed in 1901 until the late 1970s, this four-story building housed various branches of the territory's government (all three until the 1930s, the legislature until the 1960s, and the governor's office until 1978). In recent decades, it has been converted into a museum that showcases the state's history, former government structures, and culture. Explore its 20 exhibits to learn more about famous political figures who hail from Arizona, and brush up on the state's history—from the designation of the Grand Canyon as a national park to MLK's 1964 speeches at ASU.
Touring the Arizona Capitol Museum is always free to the public. While groups of 10 or fewer are welcome to explore the exhibits at their own pace, larger groups can reserve a guided tour through the Capitol's website. If you're feeling lucky, you can take a chance on the walk-in tour availability any Friday at 1:30 p.m.—but availability for larger groups is not guaranteed. Your tour will cover the north wing of the four-story building and will last about 45 minutes.
Charter Bus Parking: After your driver drops everyone off in the designated loading/unloading zone at the museum's entrance, they can take the bus south on 17th Avenue, turn left on W Madison Street, then park at the Executive Tower Parking Lot on 19th Avenue.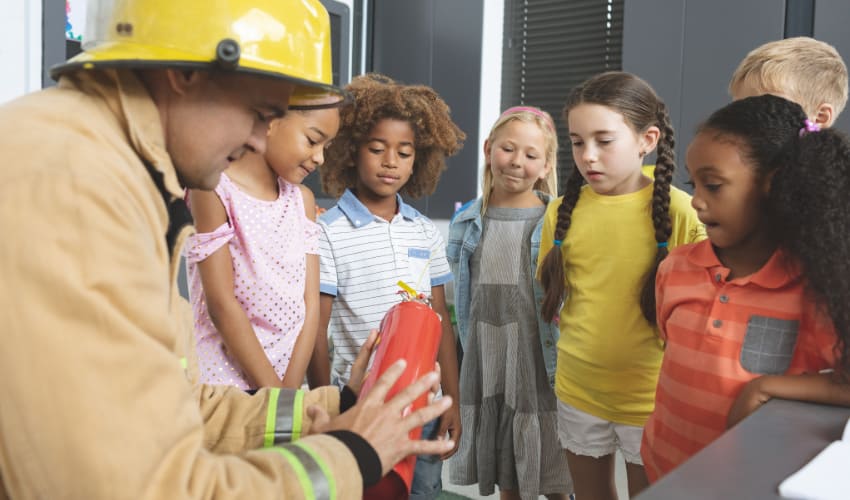 Check Out the Hall of Flame Fire Museum
Address: 6101 E Van Buren St, Phoenix, AZ 85008
Originally established in 1961 in Wisconsin, this private-collection-turned-museum has taught generations of Phoenix kids about fire safety and what it takes to be a firefighter and now stands as the world's largest historical firefighting museum. Across five exhibit galleries, your kids can see a horse-drawn 1725 firefighting apparatus, hear a century-old fire alarm, and even board a modern fire engine!
Entry is normally $10 for students 6-17, $6 for ages 3-5, and free for kids under 3, but educational groups can receive discounted admission (including free passes for educators!) when you call 602-275-3473 to reserve a tour. Keep in mind that group tours tend to fill up in the month of October—Fire Safety Month.
If those admission rates are still outside your group's budget, you can enjoy the Hall of Flame Fire Museum without spending a dime—depending on the time of year. The museum hosts an annual Fire House Open House every fall, and along with free admission to the exhibits, your kids will get the chance to try on firefighter gear, play games, and take a photo with Smokey Bear.
Charter Bus Parking: Unless your visit falls on an unusually busy day, your bus driver should be able to find a spot in the museum's free parking lot. Otherwise, there is plenty of additional parking available at the Phoenix Municipal Stadium across the street.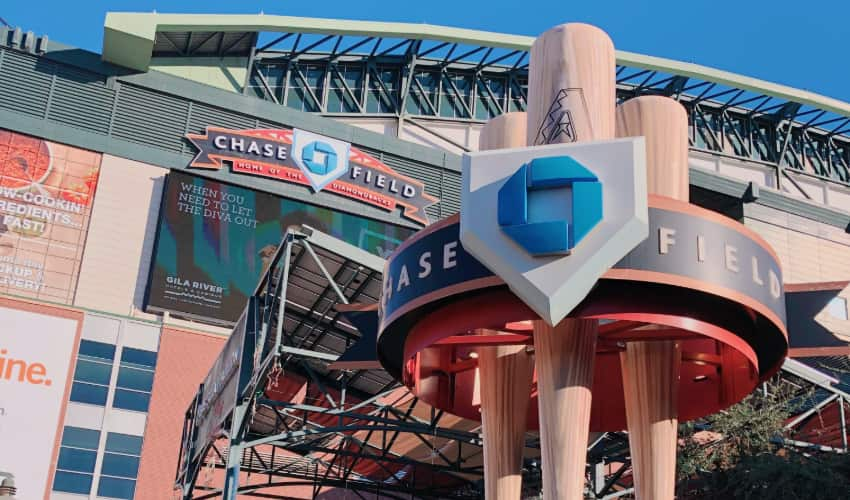 Catch a Baseball Game and Tour Chase Field
Address: 401 E Jefferson St, Phoenix, AZ 85004
If you're in town with your little league team, a traveling team, or just a group of sports fans, you'll definitely want to stop by Chase Field: home turf for the Arizona Diamondbacks. Not only is the stadium considered one of the most tech-savvy ballparks in the states due to its retractable roof—hello, air conditioning!—it's also one of the most price-accessible stadiums for the average baseball fan.
Groups of 15 or more receive discounted admission and complimentary tickets, and concessions are relatively cheap. (But if you want to bring in outside food and drink, that's allowed too. Champion Charter Bus can find you a bus rental that has plenty of room to stash your soft coolers before the game!) If your kids get antsy from sitting still too long, take them to see the Phoenix Children's Hospital Sandlot on the Upper Concourse. There, you'll often find bounce castles, batting cages, and photo ops with D-Backs mascot Baxter Bobcat.
Have a few hours to kill before the game? Or planning your Phoenix trip during the offseason? Chase Field may still be worth a visit! Guided tours of the stadium cost $7 per adult and $3 per kid, though group discounts can be arranged if you call ahead. Your tour will last at least an hour (up to two hours, if your kids are a curious bunch that asks questions) and covers almost every level of the stadium. So bring good walking shoes!
Charter Bus Parking: Depending on the group type and the time of year you visit, Chase Field offers complimentary bus parking. Call 602-462-4600 to inquire about group admission and events, and the field's offices should give a parking address for your driver.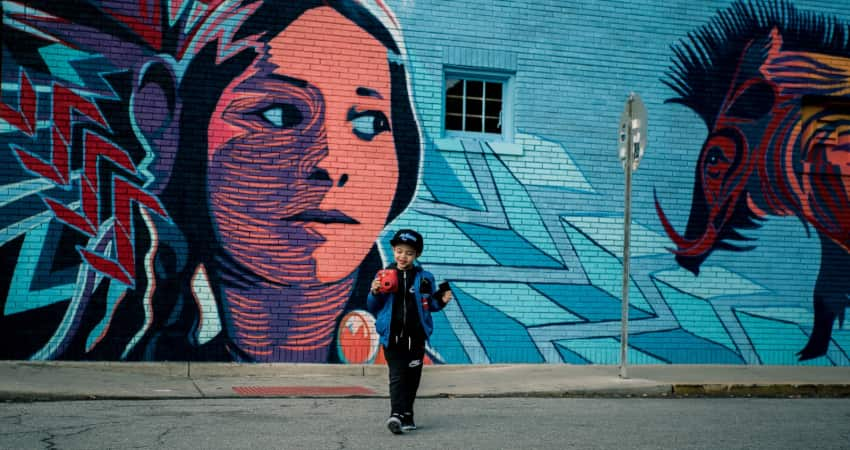 Explore Phoenix's Street Art
Getting cultured doesn't have to cost an arm and a leg—especially when so much of Phoenix's art scene is out in the open.
Roosevelt Row is considered the art district of the city, but you can also see vivid murals and graffiti in some of the city's other trendy neighborhoods, such as The Grand Avenue and Downtown. And keep in mind that Phoenix's street art is always changing! Even if you've lived in the area for years, there's a chance you and your kids will spot something new when your bus driver drops you off in your favorite districts for a street art stroll.
Not sure where to start? Here are just a few local-favorite pieces that your little art enthusiasts will surely love:
"Phoenix"
Artists: Colton Brock, Lalo Cota, Angel Diaz, Pablo Luna, and JB Snyder
What it is: As its name might suggest, this Calle 16 Mural project piece spells out "Phoenix" in bold block letters, with vignettes showcasing different aspects of the city in each letter. This one is a perfect photo op for first-time visitors!
Where you'll find it: 2814 North 16th Street (Behind Barrio Cafe)
"You Are Amazing."
Artists: Kyllan Maney and Jayarr
What it is: A collage of patterned polygons—shades of pink, orange, yellow, blue, and green—with the phrase "You Are Amazing." painted over them in stark white. Great for inspirational photoshoots and brightening up your social feed.
Where you'll find it: across the street from the Phoenix Symphony Hall, on the southwest corner of First and Adams streets
The Oak Street Mini Murals
What it is: Dozens of small murals lined up along concrete fences, painted by various local artists. Keep in mind that this stretch is in a residential area. You'll need to be respectful and keep loud noises to a minimum—so this stop is probably best enjoyed with a crowd of older kids.
Where you'll find it: along Oak Street in the Coronado neighborhood, between 14th and 15th Streets
Make the Most of Phoenix on a Budget
Whether you're coordinating an outing for your summer campers, scout troop, youth group, or afterschool program, Champion Charter Bus can keep your kids and chaperones on time and all together. Our network of thoroughly inspected motorcoaches and experienced drivers is always here to ensure your little travelers arrive safe and sound, no matter the destination!
And did you know that renting a charter bus or minibus can save your group money in the long run? Rather than splurging on airfare or putting wear and miles on your personal vehicles, let the Champion Charter Bus team provide you with a predictable and transparent rental price and a free quote tailored to your transport needs! Once you split your bus rental cost between parents, your ride plan will likely cost as much as (if not less than) hailing rideshares throughout your trip. Plus, you can request amenities like WiFi, TV screens, and extra storage so everyone can ride in total comfort.
Call 480-257-7734 whenever you're ready to get started. Our team is available 24/7 to help you plan your next Phoenix group trip!