Haunted and Spooky Locations to Visit in Los Angeles
Even if Halloweentime is long gone, visiting haunted locations around Los Angeles can be fun any time of year. LA has a long list of spooky spots that are perfect for group trips. Many of these haunted locations are also historic and have wild tales that are sure to pique your group's interest. Whether you're looking to learn about local haunted history or you're in it for some adrenaline-pumping frights, you can leave the tour transportation up to Champion Charter Bus. Dealing with traffic around LA in a multi-car caravan can completely throw off your private tour schedule. Consolidate your big group of friends or team-building group into one spacious vehicle operated by a professional driver.
Call the Champion Charter Bus team at 310-295-9547 to rent a minibus or coach bus to these haunted locations around Los Angeles: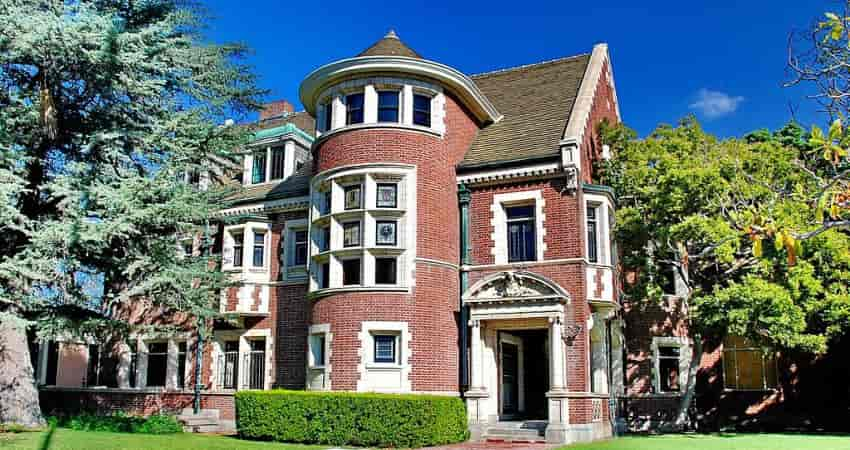 Rosenheim Mansion or the American Horror Story Murder House
Address:1120 Westchester Place, Los Angeles 90019
Popular TV series American Horror Story made this already famous Country Club Park mansion even more popular during its first season. Nicknamed "The Murder House" after the show's neverending line of killings during season one, the Rosenheim Mansion surprisingly doesn't have a dark past (at least not one that we know of). The castle-like mansion was built in 1908 by German-American architect Alfred Rosenheim and served as his family home for over a decade. Ownership has shifted over the years and the mansion has been used as the perfect spooky location for productions like Buffy the Vampire Slayer, Bones, Law and Order: SVU, and of course American Horror Story. Although most of what makes the mansion spooky is all fictional television plots, some guests have reported feeling uneasy in the basement and being lightly touched on the back by unknown forces.
Charter bus parking: When your group visits, keep in mind this is a private property on a residential street. Street parking is available along Westchester Place and on nearby roads. Be sure to advise your charter bus driver not to block driveways and be considerate of residents' privacy.
The Cecil Hotel (Stay on Main Hotel)
Address: 640 S Main St, Los Angeles, CA 90014
Okay, now we're getting into the really spooky stuff (well, allegedly spooky). Unlike the American Horror Story Murder House, the Cecil Hotel has actually seen quite a bit of death. The Cecil opened in 1924 as a budget hotel for business travelers in Downtown Los Angeles. Soon after the hotel opened, the neighborhood began to decline and crime increased… so did unfortunate happenings at The Cecil. As of 2015, at least 17 deaths have been recorded at the hotel, including the highly publicized passing of Canadian student Elisa Lam in 2013. Notable hotel visitors over the years also include Elizabeth Short (known as The Black Dahlia) and serial killers Richard Ramirez and Jack Unterweger. Short was seen at The Cecil's lobby bar just hours before her murder, and Ramirez stayed at the hotel for several weeks during his year-long killing spree.
Several failed rebranding attempts finally led to the hotel's closure in 2017. Some guests who stayed in the hotel before its closure reported seeing apparitions in the halls of upper floors and others have allegedly photographed ghosts jumping to their deaths from the hotel's windows.
Fun fact: The horrible happenings at the Cecil Hotel served as inspiration for American Horror Story's fifth season.
Charter bus parking: The hotel is located on LA's Skid Row, which isn't known for being the safest area in the city. Street parking can be found along Main Street in front of the hotel and along nearby 7th Avenue.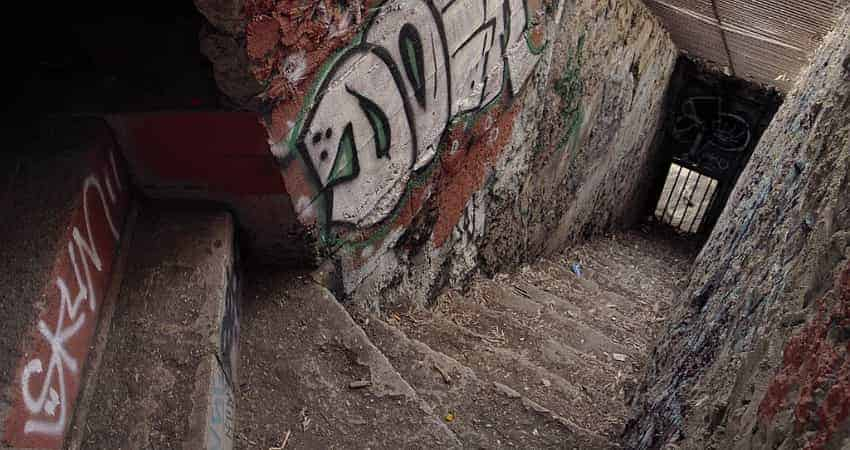 The Old Zoo in Griffith Park
Address: 4801 Griffith Park Dr, Los Angeles, CA 90027
There's something naturally haunting about abandoned buildings. An abandoned zoo with dozens of empty animal enclosures is even eerier. Griffith Zoo opened in 1912 with only 15 animals. At the time, it was standard for zoos to have enclosures that resembled jail cells. The small enclosures with iron-style bars didn't age well, and the zoo came under heavy criticism as Los Angeles grew. City officials developed a budget in 1958 to build a new zoo with better enclosures. By August 1966, the Griffith Zoo was closed and all of its animals were transferred to what is now the Los Angeles Zoo. The zoo's ruins were left as a community space for Griffith Park visitors to explore.
Today, you'll find hiking trails, picnic areas, graffiti, street art, and ghosts. Many visitors have reported hearing the cries of animals who died after severe mistreatment at the zoo. Some guests have even seen and heard the ghostly apparitions of humans from time to time.
Charter bus parking: Depending on how crowded the zoo is, your charter bus driver may need to park further from the zoo. The closest parking lot is the Old Zoo Picnic Area, while alternative parking can be found at the Griffith Park Merry-Go-Round and the Greek Theatre.
Hollywood Roosevelt Hotel
Address: 7000 Hollywood Blvd, Los Angeles, CA 90028
Although The Cecil easily has the scariest history of LA's hotels, the Hollywood Roosevelt Hotel may be tied for the most paranormally active location. The popular hotel is the pinnacle of the old luxury and glamour that the Hollywood area has become so famous for. Since it opened in 1927, the hotel has hosted several famous celebrities, like Marilyn Monroe, Errol Flynn, Carole Lombard, and Montgomery Clift.
Most celebrity guests have checked out and gone about their lives, but a few are rumored to still haunt the hotel after passing on. Hotel guests have reported seeing Monroe touching up her makeup in a mirror in Suite #1200, which she occupied for around 2 years in her early career. Other guests have reportedly heard Montgomery Clift playing his trumpet in the halls, and Carole Lombard has been seen roaming the 12th floor. A few other ghosts have also been seen in the Roosevelt, including Caroline, a 5-year old girl who tragically drowned in the hotel pool. She'll often roam around the Blossom Ballroom searching for her mother.
Charter bus parking: The hotel is located on busy Hollywood Boulevard right next to the Hollywood Walk of Fame. Parking here can be stressful and roads are often congested. Be sure to organize parking at a lot or meter for your bus before arriving. Although buses do often get special treatment at major Hollywood attractions, you don't want to risk getting a traffic ticket.
Hollywood Forever Cemetery
Address:  6000 Santa Monica Blvd, Los Angeles, CA 90038
Seeing ghosts roaming around a hotel is a bit strange, but seeing apparitions around a cemetery may make more sense. The Hollywood Forever Cemetery opened in 1899 and has served as a final resting place for big names in entertainment ever since. Celebrities like Mel Blanc, Johnny and Dee Dee Ramone, Chris Cornell, Judy Garland, Griffith J. Griffith, George Harrison, Jayne Maysfield, Anton Yelchin, and Maila "Vampira" Nurmi are all buried here. Hattie McDaniel, the first African American to be awarded an Oscar, also has a monument in Hollywood Forever Cemetery; however, her body was not buried here due to strict segregation laws in 1952.
A large unused section of the cemetery was sold to Paramount Studios in 1920. Paramount employees have reported seeing apparitions walking in studio buildings and disappearing into brick walls. Visitors have also heard the weeping of a crying woman throughout the cemetery's grounds. A few have even seen the woman crying at a small lake. It isn't clear who she may be, but some speculate she's a young actress who died back in 1921. The cemetery is open to the public for self-guided tours throughout the week.
Charter bus parking: There's limited parking on-site for the cemetery. Have your charter bus driver drop your group off at the cemetery entrance before parking along Gower Street or North Van Ness Avenue.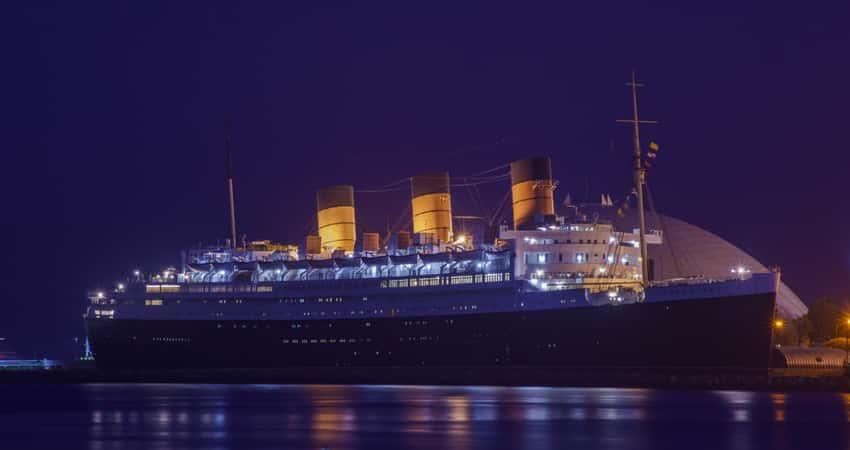 The Queen Mary
Address: 1126 Queens Hwy, Long Beach, CA 90802
The RMS Queen Mary has worn many hats. It has served as a cruise ship and troopship during World War II and is now a floating hotel, museum, and event venue. This retired British ocean liner permanently moored at the Long Beach port in 1967 after Cunard-White Star Line saw a steep decline in business. The Queen Mary has seen many passengers over its time at sea, some who never made it to land alive. According to the ship's logbooks, more than 47 deaths were recorded onboard between 1936 and 1988. Harrowing tales include stories of a military cook who was baked alive in his own oven, troops who died onboard of heat exhaustion while at sea, crewmen being crushed to death, and leisure passengers dying of natural causes like heart attacks.
Today, guests and staff members have reported at least a dozen distinct apparitions on the ship including:
Jackie Torin and Sarah, two young girls who drowned years apart in the same second-class pool. It's said that they haunt the area around the Royal Theater. The girls have been heard calling for their parents and have been known to answer questions when prompted by paranormal investigators.
John Pedder, who was crushed in the ship's shaft alley and still lingers around door 13 where he died. He leaves greasy handprints on walls as he roams the ship.
"The White Lady," whose identity is unknown. But she usually lingers around the first-class lounge wearing a white evening gown. She's thought to be one of the oldest ghosts onboard, with sightings going on for more than 50 years.
John Henry, a man who was mysteriously found dead in the boiler room. His shadowy figure has been seen lurking near the boiler, and he's even been known to communicate with visitors. Just ask him about beer: he seems to enjoy it!
Grumpy, a ghost that isn't very happy and tends to growl at visitors. Grumpy is usually hanging out under the stairs near the first-class swimming pool or in the boiler room with John Henry.
All of this paranormal activity earned the Queen Mary a spot on Time Magazine's list of Top 10 Haunted Places in the U.S. Guided tours, including spooky nighttime options, are available with prior reservation.
Charter bus parking: Oversized vehicle parking is available on-site for $60 per spot. If you're planning to lodge in the ship's hotel (Stateroom B340 is one of the most popular and most haunted rooms), be sure you secure overnight parking and a room for your charter bus driver.
Ready to Get Scared?
Leave the group transportation up to Champion Charter Bus while you enjoy your haunted tour through Los Angeles. Call 310-295-9547 to book a private minibus or charter bus with a pro driver to shuttle you around for a night (or day) of frights!