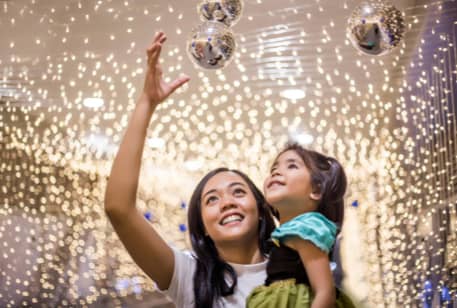 The winter holiday season brings a wide variety of celebrations and events to Los Angeles. From family-friendly light shows for those with kids to seasonal performances for groups of art lovers, celebrating the holidays in LA is jam-packed with things to do. Even with the ongoing health crisis, there are still quite a few ways to enjoy the holidays safely. Enjoy light displays outdoors, performances with limited guest capacity, and socially distanced parades.
If you have a large family, an established pod of friends, or a local community organization, Champion Charter Bus can help you travel for holiday events. Opting for group transportation means you can keep your pod together in one place and ensure you all arrive safely at the same time. Champion Charter Bus offers minibus and full-size charter bus rentals equipped with premium amenities like reclining seats and WiFi, as well as thorough sanitization procedures to keep your holiday revelers comfortable.
Call 310-295-9547 to rent a charter bus in Los Angeles with Champion Charter Bus!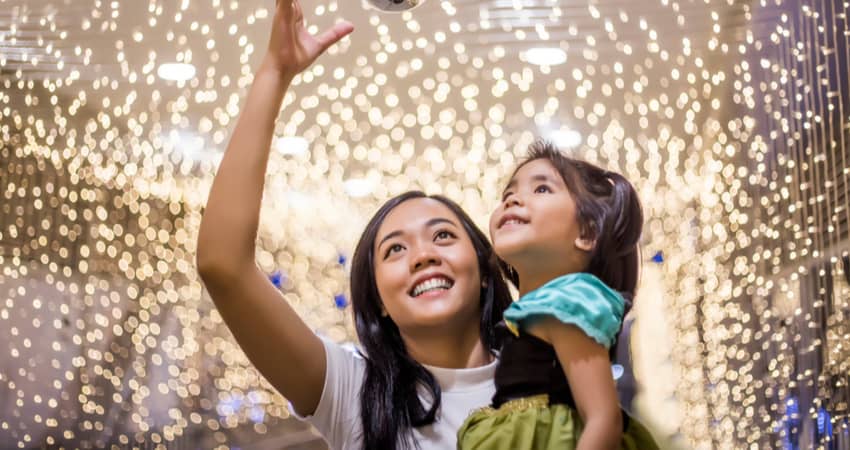 A Quick Travel Note
Holiday events are ever-changing due to the ongoing pandemic. Events may change, so be sure to look up details before planning your trip. Your group should also ensure you're compliant with each event and establishment's safety regulations. This may include providing full proof of vaccination and/or wearing a face-covering throughout your visit.
Holiday Lights
There are several places to stroll and enjoy holiday lights while getting a nice breath of fresh air outside. Here are just a few destinations that usually put on seasonal light displays:
Los Angeles County Arboretum
Address: 301 N Baldwin Ave, Arcadia, CA 91007
Phone: 626-821-3222
The 127-acre LA Arboretum hosts seasonal events in its beautiful green spaces. Events like Lightscape and Moonlight Forest offer guests illuminated journeys through the Arboretum's trails. Timed entry tickets to the Arboretum must be purchased online in advance. Tickets sell out relatively quickly, so be sure to inquire about group tickets well in advance.
Charter bus rental parking: VIP parking for personal vehicles can be purchased online with tickets. Groups traveling by charter bus rental will likely be advised to park in the arboretum's south lot. Consider inquiring about additional bus parking options if the south lot bus parking area is full.
South Coast Botanic Garden
Address: 26300 Crenshaw Blvd, Palos Verdes Estates, CA 90274
Phone: 424-452-0920
Located on a former and converted landfill, the South Coast Botanic Garden truly turned trash into treasure. The botanical garden's special holiday event is GLOW, which takes guests through festively decorated areas with miles of lights and beautiful displays. GLOW also has themed nights where guests can party in a manmade tropical paradise or beachfront locations.
Charter bus rental parking: South Coast Botanical Garden has one main parking lot but oversized vehicles will not be able to park here. It's recommended you organize off-site parking with your driver.
LA Zoo
Address: 5333 Zoo Dr, Los Angeles, CA 90027
Phone: 323-644-4200
Families with young children will love the LA Zoo's holiday celebration! The Zoo lights up a portion of its grounds with thousands of glittering lights and fun animal-shaped lights. Stroll through the zoo and visit some animal exhibits while enjoying seasonal treats like hot cocoa and cookies.
Charter bus rental parking: The zoo has a large parking lot at the main entrance, with oversized parking available in the northernmost area of the parking lot.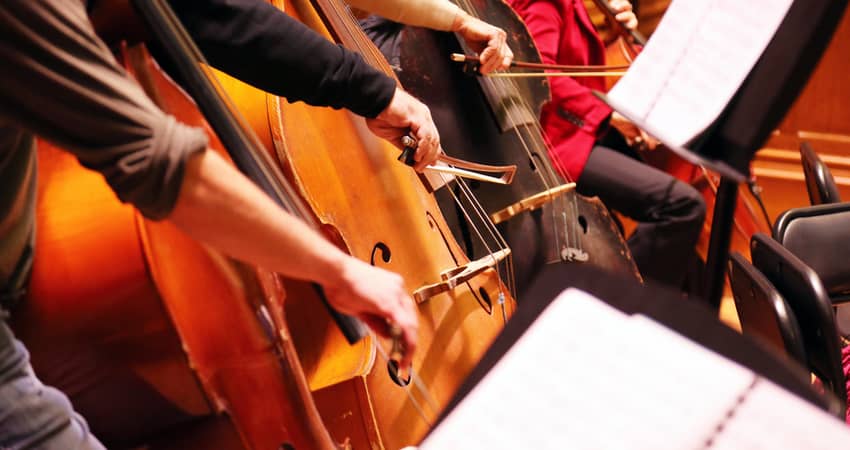 Performances
Getting into the holiday spirit can start with attending a seasonal theatre performance, dance show, or concert. Many of LA's premier arts centers put on beloved shows every year for the whole family to enjoy.
Music Center L.A. County Holiday Celebration
Address: 135 N Grand Ave, Los Angeles, CA 90012
Phone:  213-972-7211
The Music Center hosts LA County's annual holiday celebration at the Dorothy Chandler Pavilion. Performances usually include local choirs, bands, and dance academies. The event also puts emphasis on inclusive and cross-cultural holiday celebrations. Past performers have included the Jung Im Lee Korean Dance Academy, the Le Ballet Dembaya West African drum and dance company, and Infinite Flow, a dance company composed of artists with and without disabilities. The event is free to the community.
Charter bus rental parking: Spacious surface lots can be hard to come by in Downtown LA. Oversized parking is not offered by the center and it is suggested you contact Classic Parking, the Music Center's parking garage operator, at (213) 972-3477.
Walt Disney Concert Hall
Address: 111 S Grand Ave, Los Angeles, CA 90012
Phone: 323-850-2000
LA's Walt Disney Music Hall is one of the biggest cultural landmarks in the city and is actually one of the Music Center's main venues. The famed performance venue offers multiple holiday performances like Home Alone in concert, holiday sing-a-longs, and New Year's Eve concerts. Tickets for each event can be purchased online and group discounts are available for some performances. Usually, large groups must request tickets at least six weeks in advance. Holiday group tickets may need to be reserved even further in advance.
Charter bus rental parking: Passenger drop-off can be found in front of the concert hall on Grand Avenue. The concert hall does not offer oversize parking, so you'll need to organize off-site parking in a nearby lot.
Ahmanson Theater
Address: 135 N Grand Ave, Los Angeles, CA 90012
Phone: 213-628-2772
The Ahmanson Theatre is also part of the Music Center, along with the aforementioned Dorothy Chandler Pavilion, Walt Disney Concert Hall, and several other venues. Ahmanson Theater is home to Center Theatre Group, one of the country's biggest theatre companies. During the winter season, Center Theatre Group or other local companies will put on holiday shows like A Christmas Carol at the Ahmanson. Check out the theatre's season schedule to grab tickets for your group!
Charter bus rental parking: The Ahmanson Theater shares parking garages with the rest of the Music Center's venues. You'll have to organize group dropoff, pickup, and off-site parking with your charter bus rental representative and driver.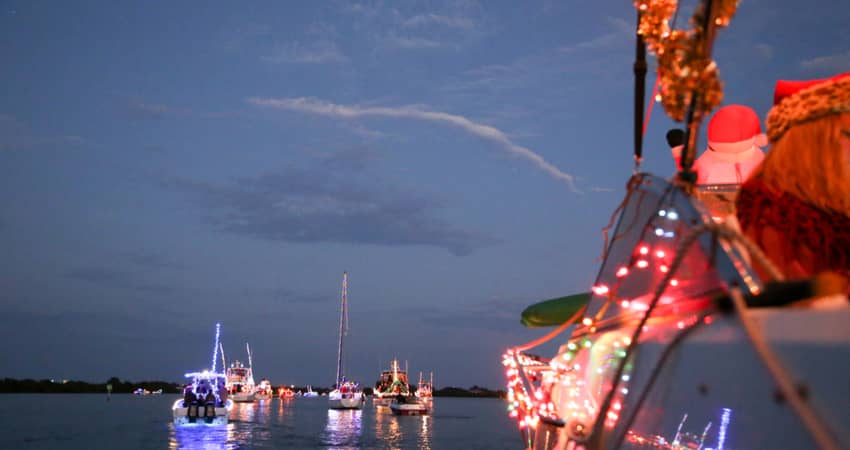 Parades
When you're located in a waterfront city, you get wonderful benefits like gorgeous beaches, amazing ocean views, and boat parades! Yep, boat parades. Attending a boat parade gives groups the option to pick their own viewing areas or grab tickets to outdoor reserved seats. If you're more interested in traditional holiday parades, you'll find a few of those around LA too.
Newport Beach Christmas Light Parade
Balboa Village viewing location address: 600 E Bay Ave, Newport Beach, CA 92661
Phone: 949-729-4400
The Newport Beach Christmas Boat Parade kicked off in 1907 and is the United States' oldest boat parade. Viewing the parade is free to the public, but tickets to the VIP viewing area in Balboa Village can be purchased in advance. The parade runs for multiple nights and additional parade views can be found at local Newport Beach restaurants and establishments.
Charter bus rental parking tip: The parade does not have a designated parking lot. All parking is offered through public city lots or along the street.
Hollywood Christmas Parade
Starting Point (TCL Chinese Theatre) Address: 6925 Hollywood Blvd, Hollywood, CA 90028
Phone:  833-727-2331
The Hollywood Christmas Parade is LA's biggest holiday parade. It starts on Hollywood Boulevard and features celebrity marshalls, massive floats, marching bands, dancers, and local community organizations. The parade also benefits the Toys for Tots charity to provide children with gifts for the holidays.
Charter bus rental parking: Parking on Hollywood Boulevard is notoriously difficult and will be limited during the parade. Most parking in the area will be located in paid public lots.
Holiday Harbor Afloat Parade
Banning's Landing Community Center pre-parade address: 100 E Water St, Wilmington, CA 90744
Phone: 310-549-8111
Each holiday season, the Holiday Harbor Afloat Parade takes place at the Los Angeles Waterfront and the Port of Los Angeles Main Channel. This boat parade has been running for 50 years and brings fun festivities for visitors of all ages. The parade route usually takes around 1.5 hours to complete but there are festivities before and after.
Charter bus rental parking: Lot parking can be found at the Banning's Landing Community Center where the parade kicks off. Additional parking can be found at public lots along the route, as well as street parking on some parts of Water Street.
Enjoy the Holidays in Los Angeles
Celebrate the holidays in LA with your friends, family, colleagues, or community organization and a professional charter bus rental. Relax for the holidays and let Champion Charter Bus take care of the transportation to local parades, shows, and other events. Rent your LA charter bus by calling 310-295-9547 today for a personalized quote!