Your COVID Questions Answered
If you're considering renting a charter bus during the COVID-19 pandemic, you probably have a lot of questions. Champion Charter Bus has listened to what our customers are wondering about and has compiled this list of answers to give you a better idea of what to expect when you call us.
1. Is it safe to take a trip during COVID-19?
No trip is completely safe during a pandemic. If your travel isn't essential, it's probably a good idea to put it off. However, if you're transporting essential workers, trying to get children to school, or visiting family members during a major life event, Champion Charter Bus has taken steps to make charter bus travel as safe as possible. We make sure all of the buses in our network are cleaned and sanitized, allow for social distancing, and require drivers to wear masks. You can find more details about these safety precautions below.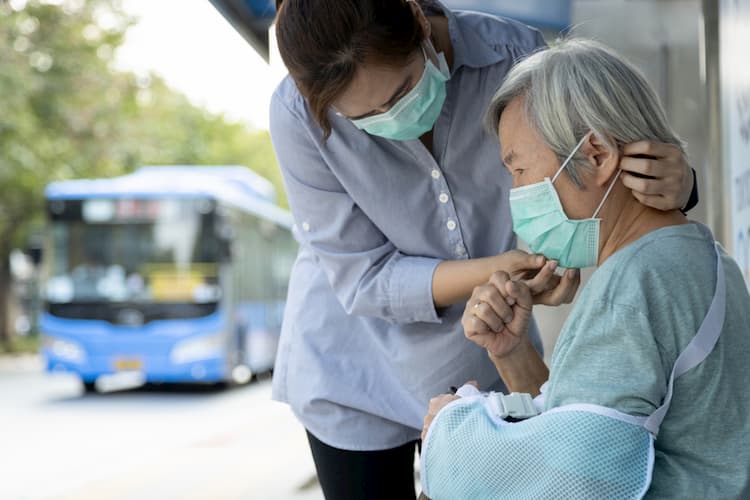 2. How are you keeping your buses clean?
All the buses we work with are cleaned and disinfected frequently, especially on high-touch surfaces. The providers we work with use EPA-registered solutions that the CDC confirms actually kill the coronavirus.
3. What are drivers doing to prevent the spread of COVID-19?
The drivers in our network have received training on what the symptoms of COVID-19 are and how it spreads. If they're sick, they're required to stay home and they will be granted flexible leave. Their employers then thoroughly clean the workplace and ask employees not to return until they've been symptom-free for at least 10 days.
Many of our partners have implemented pre-screening to keep employees from coming to work when they're ill. This may include employees checking themselves for symptoms at home or receiving a temperature check when arriving at the workplace.
Drivers have also received training about the importance of social distancing, wearing cloth face masks, covering coughs and sneezes, washing hands frequently, and not touching their faces as much as possible. We'll talk more about social distancing, masks, and hand-washing below.
4. How do charter buses encourage social distancing?
Charter buses have been arranged to keep drivers and passengers six feet apart whenever possible. Many drivers have strip curtains or plastic barriers around their seats. You'll also find signs on the floor on some buses to encourage distancing while loading.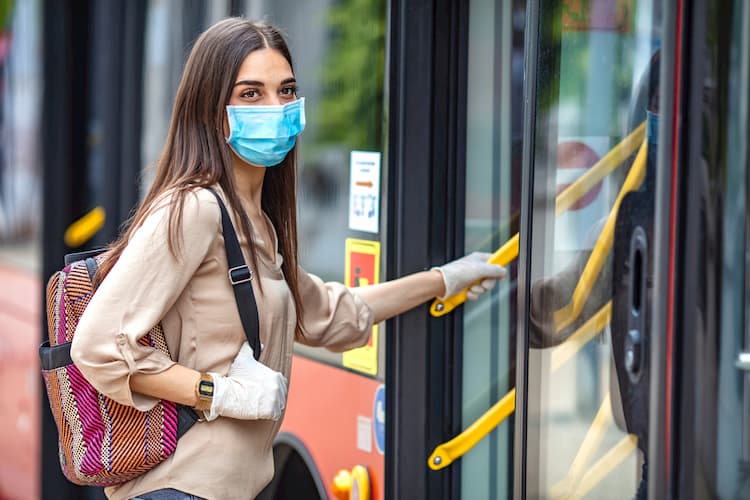 The size of bus you request and therefore how much room people have to spread out is up to you. Even if you're traveling with people you know well, you'll probably want to request a bus that has more seats than the number of people in your group. For example, if you're traveling with 25 people, you could request a full-size 56-person charter bus, so people have room to leave empty seats in between them.
5. Are face masks required on charter buses?
The CDC recommends that drivers wear cloth face masks over their mouth and nose, and most charter bus providers require their drivers to do so. The CDC also encourages drivers to carry a spare mask and wash their mask after each use.
Although public buses often require masks for passengers, charter buses usually leave it up to the passengers' choice. That said, Champion Charter Bus highly recommends wearing them, as it protects you, the people traveling with you, and the driver.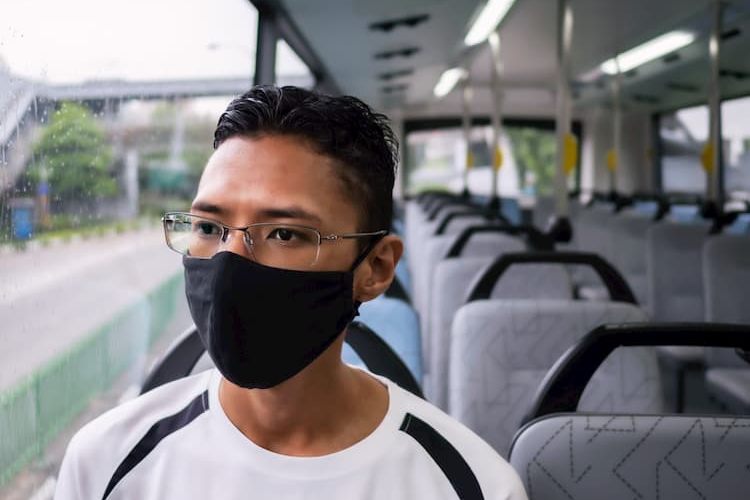 6. How can passengers and drivers keep their hands clean on a bus?
The CDC encourages bus providers to give employees soap, clean water, and single-use paper towels around the workplace when they're not driving. When they are driving, employees should have access to hand sanitizer with at least 60% alcohol.
Most bus providers also put hand sanitizer, including no-touch hand sanitizer, throughout the bus for passengers to use. It's always a good idea to bring your own to ensure you'll have plenty, though.
Many full-size charter buses also have on-board restrooms. If you want to avoid using all your hand sanitizer and there's no line, you can use water, soap and paper towels to clean your hands throughout the trip.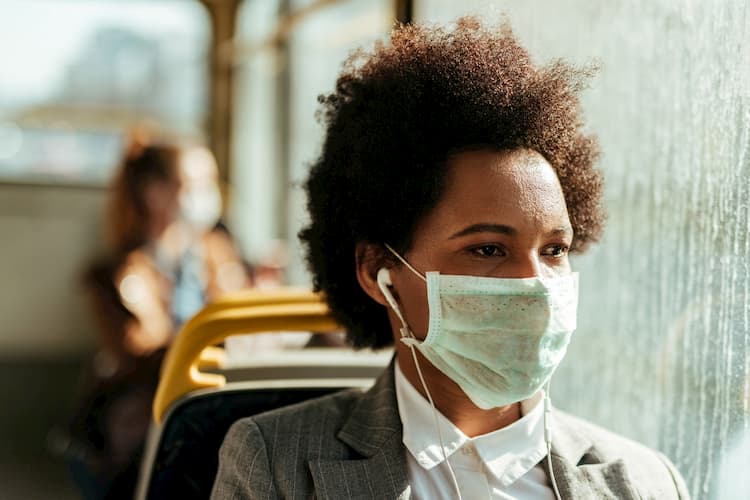 7. Are charter buses well-ventilated?
The CDC has released guidance on how bus providers can ensure better ventilation on buses while not letting the humidity get too high. Bus providers are encouraged to work with their HVAC provider to increase the filter efficiency of their HVAC units. They're also encouraged to provide HEPA filtration units when possible.
That said, you can help with ventilation too. If you're traveling at a time when it's possible to open the windows without making the bus uncomfortable, that can greatly increase the amount of fresh air on the bus.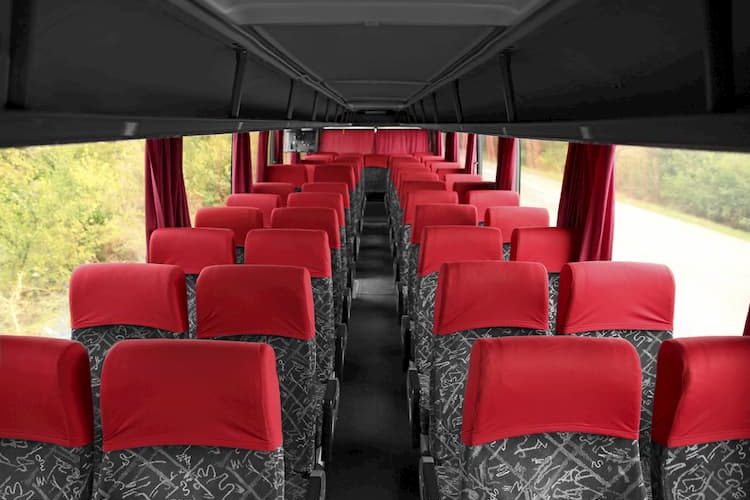 8. What can I do to make riding on a bus safer?
Bus providers are taking a lot of steps to make buses safer during COVID-19, but there are a lot of steps passengers can take as well. Here are some suggestions:
Ask the people you're traveling with to self-screen for COVID-19 symptoms or get tested (if that's possible in your area) before boarding the bus.
Book a bus that's large enough to allow for social distancing. If you have 10 people, consider a minibus that would normally hold 20 or 25.
Require everyone to wear a cloth face mask. 
Ask the bus company to provide a temperature screening for all passengers as they board.
Bring hand sanitizer and cleaning supplies. Although many bus companies provide them, it's always a good idea to have your own.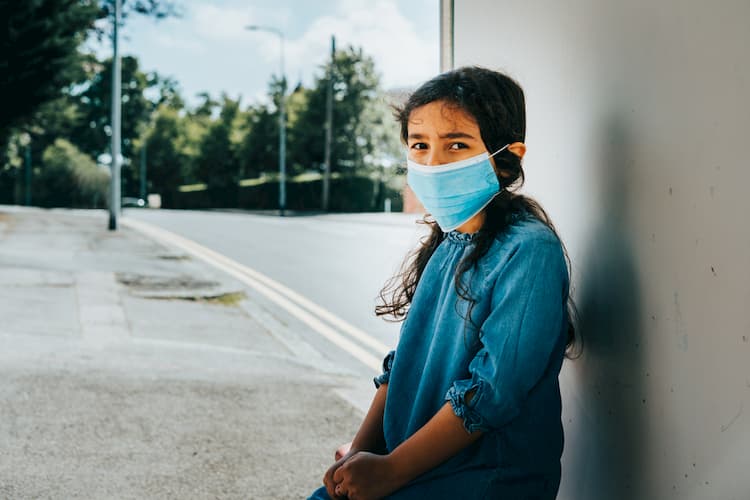 9. Is it safe to go on an overnight bus trip?
It's a good idea to avoid all unnecessary travel, but if you need to travel overnight for work or a major family event, here are some tips to make long-distance and overnight bus travel safer:
Limit pit stops. Try to use the onboard restroom when possible, and consider packing picnic lunches and stopping to eat at outdoor rest stops to avoid going inside restaurants.
Check to make sure hotels are open, wear a mask in all hotel common areas, and clean all high-touch surfaces when you enter your hotel room.
If you want to go somewhere other than the bus, your hotel room, or the place you need to visit, try to stick to outdoor spaces where you can socially distance.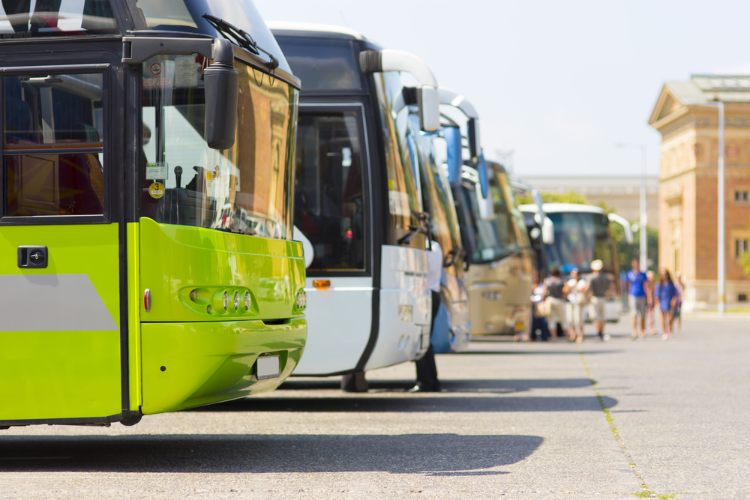 10. Who do I talk to if my question isn't answered here?
We know traveling right now can be scary. If you have any questions we haven't answered, just call Champion Charter Bus at 303-482-2792. We'll do our best to answer them.