The Best West Coast National Parks Groups Should Visit
If you're an avid hiker and live to be outdoors, the West Coast is calling your name. The Western United States has some of the biggest and most beautiful National Parks in the country. Whether you're a West Coast local or you're traveling to California, Washington, and Oregon from across the country—Champion Charter Bus is your go-to transportation service for your trip.
A private bus rental is the best way for groups to see National Parks up and down the West Coast. Families and friends, community organizations, and school hiking clubs can book a comfortable charter bus or minibus to ride to their park of choice. Relax in reclining seats and a climate-controlled cabin while a pro driver handles the road. Call 1-844-693-9330 to reserve a bus rental to National Parks around the West Coast!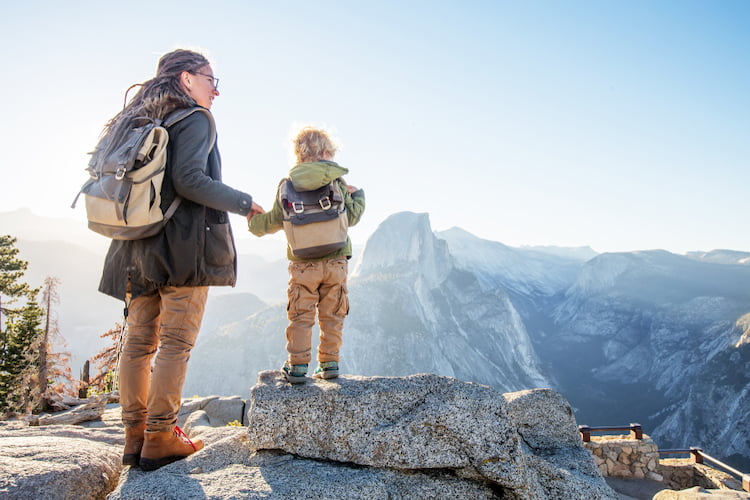 1.   Yosemite National Park
Yosemite Valley Visitor Center Address: 9035 Village Dr, Yosemite Valley, CA 95389:
Phone: (209) 372-0200
Best time to visit: May and September to beat crowds
Bus admission: $20 per person in a non-commercial bus
Highlights: Views from Glacier Point; historic architecture at The Ahwahnee Hotel; hiking trails at El Capitan; waterfalls at Yosemite Falls
Yosemite National Park sprawls across 1,169 square miles, so covering every major point of interest is impossible in one day. Groups traveling for a day trip will get the most bang for their buck in the Yosemite Valley area of the park. Stop by the Yosemite Valley Visitor Center to grab a map, take photos at the Yosemite Falls Vista Points, marvel at the massive rock formations at Glacier Point, and embark on a hike along the many available trails in the valley.
Beginners will love Cook's Meadow Loop or the Lower Yosemite Falls Trail, while groups of experienced hikers and rock climbers may want to opt to visit the Vernal Fall/Nevada Fall trails or the Half Dome Trail. No matter which trails you pick, you'll have plenty of space on your bus rental to pack up hiking and rock-climbing gear.
Charter bus parking tip: All charter buses, minibuses, and tour buses are only allowed to park at the Yosemite Falls parking lot next to the Yosemite Valley Lodge.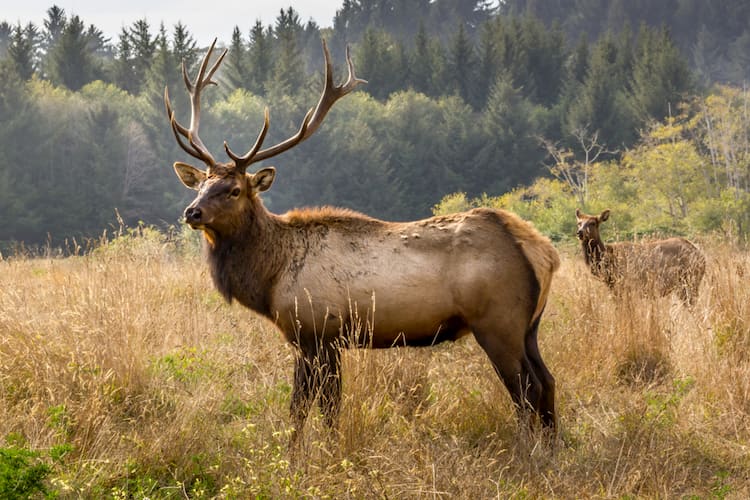 2.   Redwood National and State Parks
Thomas H. Kuchel Visitor Center Address: US-101 & Redwood Hwy, Orick, CA 95555
Phone: (707) 465-7765
Best time to visit: Spring or early fall for smaller crowds and comfortable weather
Bus admission: Free-$5 per person
Highlights: Fern canyon with prehistoric roots; towering redwood trees; easy walking trails; a variety of scenic drives; lush tree groves
San Francisco locals looking to get out of the city for a day or two should travel north to the Redwood national and state parks! Redwood National Park is actually part of a complex of several parks along the coast of northern California. Many visitors often visit several parks in the complex at once to fully appreciate the area's natural beauty. Although admission to Redwood National Park is free, entrance fees are charged at the adjoining Jedediah Smith, Del Norte Coast, and Prairie Creek Redwoods state parks.
The park system has a long list of trails, bridges, and groves for visitors to enjoy. Beginning hikers will have an easy time with the Stout Grove Trail and the Lady Bird Johnson Grove Trail and Bridge. Travelers looking for a challenge should try the 3.3-mile Tall Trees Trail or the 3.5-mile Trillium Falls Trail. There are also flat ADA-accessible trails like the Elk Prairie Trail (keep an eye out for herds of elk!) and Leiffer Loop for visitors in wheelchairs.
Charter bus travel tip: The scenic drives are absolutely worth a visit, but keep in mind that many of these roads may not be suitable for oversized vehicles. If you're traveling by charter bus, the best scenic drive option is the Coastal Drive Loop.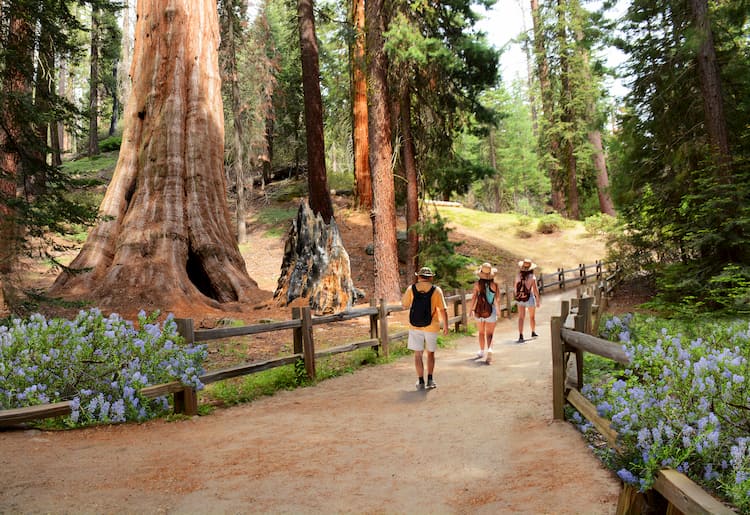 3. Sequoia National Park
Foothills Visitor Center Address: 47050 Generals Hwy, Three Rivers, CA 93271
Phone: (559) 565-3341
Best time to visit: July through September for full access to the park
Bus admission: $15 per person (non-commercial bus rentals with 16 or greater capacity)
Highlights: intense hikes up Mount Whitney; the towering General Sherman Tree in Giant Forest; stalactite-covered Crystal Cave
Angelenos tired of Joshua Tree's desertscape may want to opt for some new scenery instead. Sequoia National Park is a bit further away from Los Angeles than Joshua Tree, but it's well worth the time. When you rent a bus with Champion, you won't need to worry about driving anyway!
Like Olympic, Sequoia National Park has a diverse terrain that creates varying weather conditions across the park. Inclement weather often leaves certain parts of the park closed throughout the year. Summer and early fall may be busy seasons, but they'll offer you better access to every part of the park. Some of the most popular trails that you can visit nearly year-round include the beginner-friendly Big Trees Trail, General Sherman Tree Trail, and the Grant Forest Loop. More experienced travelers who want a real workout can hike the short trail up Moro Rock or try the longer Tokopah Falls Trail. Depending on the time of year, your group should also be sure to not miss guided tours of Crystal Cave. Tickets can be reserved online in advance spring through fall.
Charter bus travel tip: As with most national parks, finding parking at Sequoia can get tricky during busy seasons. Parking can be found at the Foothills Visitor Center, the Cedar Grove Visitor Center, and smaller lots throughout the park. Keep in mind that some scenic roads in this area, like the famous Tunnel Log on Crescent Meadow Road, prohibit oversized vehicles like charter buses.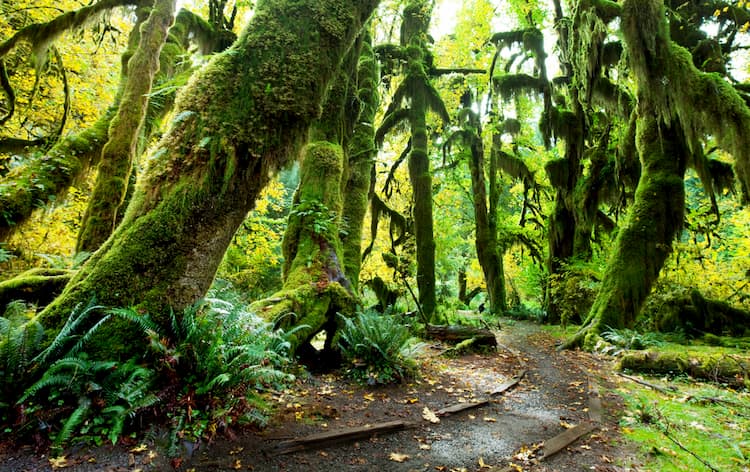 4.   Olympic National Park
Main Visitor Center Address: 3002 Mt Angeles Rd, Port Angeles, WA 98362
Phone: (360) 565-3130
Best time to visit: July through August for best weather conditions
Bus admission: $30 per vehicle or $15 per person (non-commercial bus rentals with 16 or greater capacity)
Highlights: Coastal views at Ruby Beach; moss-covered trees in Olympic National Forest and Hoh Rain Forest; scenic drive through Hurricane Ridge; lakeside trails at Lake Crescent
Whether you're from Seattle, Portland, or another big city on the West Coast, Olympic National Park is a serene getaway in the great outdoors that isn't too far away from home. The park's landscape spans several ecosystems, including towering snow-capped mountain peaks, coastal tidal basins and beaches, and temperate rainforests. With one of the most diverse ecosystems on the West Coast, Olympic National Park is truly a natural gem. Its unique climate makes picking the best time to visit a bit difficult, as the weather is often unpredictable. Although summer usually brings bigger crowds, you're more likely to have clear skies and comfortable temperatures. 
The park covers over 1,400 square miles of land, so your group will need to be selective with where you plan to explore if you'll be here for a short time. Hiking the short trail to Ruby Beach, walking through the Hall of Moss in Hoh Rain Forest, and taking on Hurricane Hill Trail at Hurricane Ridge should be at the top of any outdoorsy group's must-do list. If you have any travelers with mobility concerns, Cirque Rim Trail and Big Meadow Trail in Hurricane Ridge are paved and easily accessible.
Charter bus parking tip: Depending on where your group is headed in Olympic, you'll likely have to ask your bus driver to park in several locations as you move from site to site. You'll find a parking lot at each visitor center throughout the park.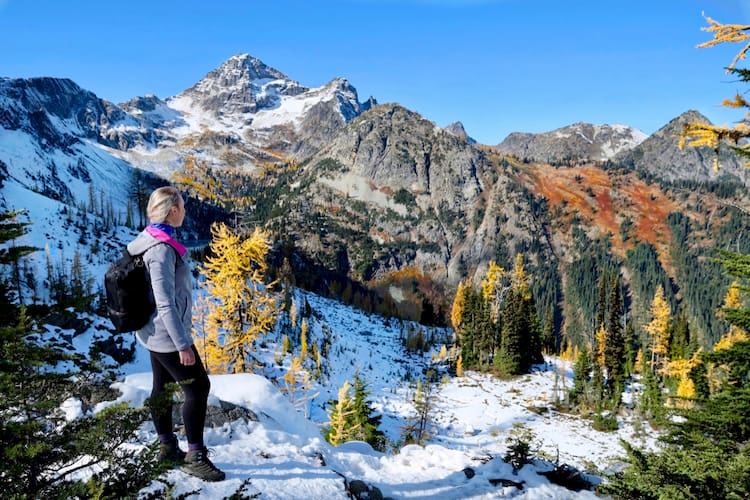 5.   Mount Rainier National Park
Henry M Jackson Visitor Center Address: Paradise Rd E, Ashford, WA 98304
Phone: (360) 569-6571
Best time to visit: June through September for blooming foliage and best weather
Bus admission: $15 per person
Highlights: active glacial stratovolcano; miles of trails with snow-capped mountain views; blooming groves of wildflowers in spring
Hiking around Mount Rainier isn't for the faint of heart. Sure, this national park is absolutely beautiful, but it's also home to one of the most dangerous volcanoes in the world. Mount Rainier is a 500,000-year-old stratovolcano that's due to erupt in the near future (don't worry, scientists have been studying and keeping a close eye on this active Decade Volcano). Although Mount Rainier is considered a dangerous volcano, that doesn't stop dedicated hikers and lovers of all-things-nature from hitting the trails.
The grounds surrounding the volcano are split into five areas, and each is filled with hundreds of miles of breathtaking wilderness for outdoorsy groups to explore. Skyline Trail in the Paradise Area is one of the park's most popular trails, offering experienced hikers tough, elevated terrain with views that are well worth the time and effort. Across the 5.5-mile loop, you'll see snow peaks at Panorama Point, rushing rapids at Myrtle Falls, and lush greenery in Paradise Valley. If you aren't hiking-savvy, don't worry—beginners and casual hikers will enjoy photo ops along the Grove of Patriarchs Trail in the Ohanapecosh area and Tipsoo Lake Loop in the Sunrise Area of the park.
Charter bus parking tip: Mount Rainier National Park has 8 information centers with parking for oversized vehicles, along with additional smaller lots scattered throughout the park. If parking is looking crowded, your group may want to ask your charter bus driver to drop everyone off near a visitor center before parking farther away.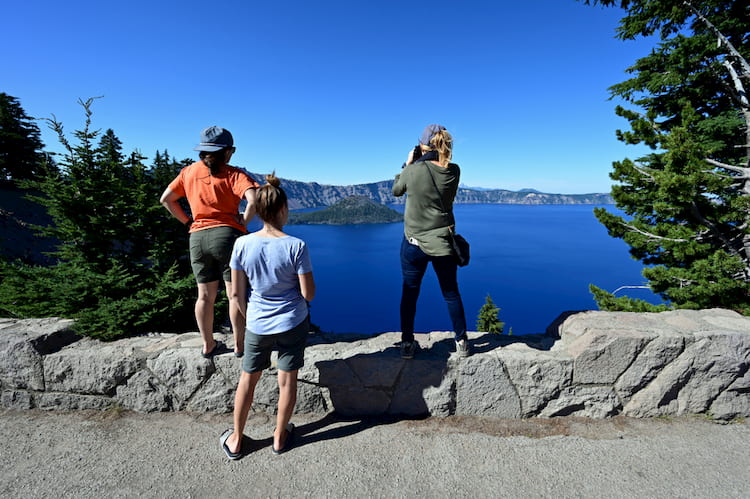 6.   Crater Lake National Park
Rim Village Visitor Center Address: Rim Dr, Crater Lake, OR 97604
Phone: (541) 594-3000
Best time to visit: July until early September for best water visibility
Bus admission: $15 per person
Highlights: scenic Rim Drive; seasonal trails on Wizard Island; views of Phantom Ship Island from the lake's rim; hiking trails with waterfalls
Have you ever wondered what the deepest lake in the U.S. looks like? Well, maybe not. If you are curious though, Crater Lake is where you'll want to visit. This massive 1,949-foot deep lake was formed around 150 years ago after the eruption and collapse of Mount Mazama. Today, the national park offers a 33-mile scenic drive with 30 overlooks of the lake, a variety of hiking and climbing trails, and aquatic activities like fishing and boating.
Groups staying on land should check out Sun Notch Trail to get views of Phantom Ship Island and Cleetwood Cove Trail and to access swimming areas. (Be sure to bring a swimsuit!) Depending on the season, boat tours embark from the dock on Cleetwood Cove Trail. Tickets can be reserved online in advance. Travelers with mobility concerns who can't hike the strenuous trails can still get amazing views of the scenic Rim Drive through the panoramic windows of a charter bus. Have your bus driver pull off at one of the overlooks to snap photos and enjoy the view!
Charter bus travel tip: There aren't road restrictions for charter buses in Crater Lake National Park. However, many roads in the park are narrow and can be difficult for full-sized buses to navigate. Groups are encouraged to travel by smaller methods of transportation like a fleet of minibuses instead. These minibuses can be equipped with premium amenities you'd get on a full-sized charter bus and can also accommodate those who need an ADA-accessible motorcoach.
Travel Across the West Coast with Champion Charter Bus
Whenever you're ready to hit the trails, Champion Charter Bus has your back. Call 1-844-693-9330 to talk to one of our rental experts about your trip to national parks anywhere on the West Coast. We'll be happy to get you a free quote and get your group in a comfortable bus rental for your entire trip.