Top Field Trip Destinations in Los Angeles
With its beautiful beaches and Hollywood glitz and glamour, Los Angeles is undeniably one of the coolest cities in the US. LA's wide selection of museums and learning centers makes it that much cooler! From ancient art to space exploration and dinosaurs to local wildlife, the city has locations to educate and inspire curious minds of all ages. School groups, summer camps, and community organizations have plenty of options to choose from when organizing a field trip in Los Angeles.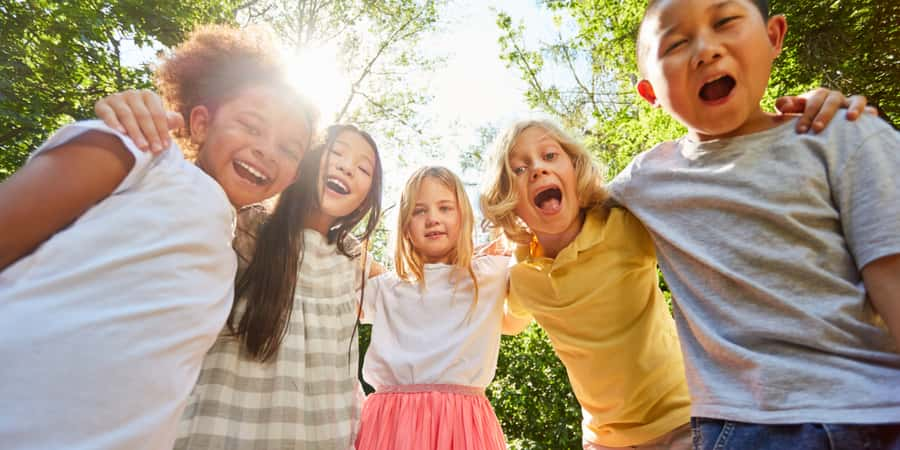 How to Get Around Los Angeles
If you're an Angeleno, you know LA traffic can be an absolute nightmare. You also probably know that public transportation around the city is a less than efficient travel option. So carpooling or taking public transport anywhere can be tough for any type of group trip. School buses are usually a great option for groups traveling for school trips and camp outings, but they can quickly get uncomfortable in SoCal heat. This is when a charter bus rental can come in handy! Champion Charter Bus services the entire West Coast with minibuses and full-sized charter buses for a variety of events.
A charter bus can come with additional amenities to keep students, campers, and chaperones comfortable and entertained if stuck in LA gridlock. Each rental from Champion Charter Bus will include plush seats and a climate-controlled cabin for optimal comfort. Worried about kids getting bored or rowdy on the bus? Request a motorcoach with WiFi for students to play games, stream music, or work on digital assignments. Are you traveling with younger kids? Book a charter bus with TVs and DVD players to put on a popular movie to pass the time. Just ask your Champion Charter Bus reservation expert about available amenities when you call 310-295-9547.
Students and chaperones can sit back, relax, and enjoy the ride as a professional driver safely transports you to one of these educational destinations in LA: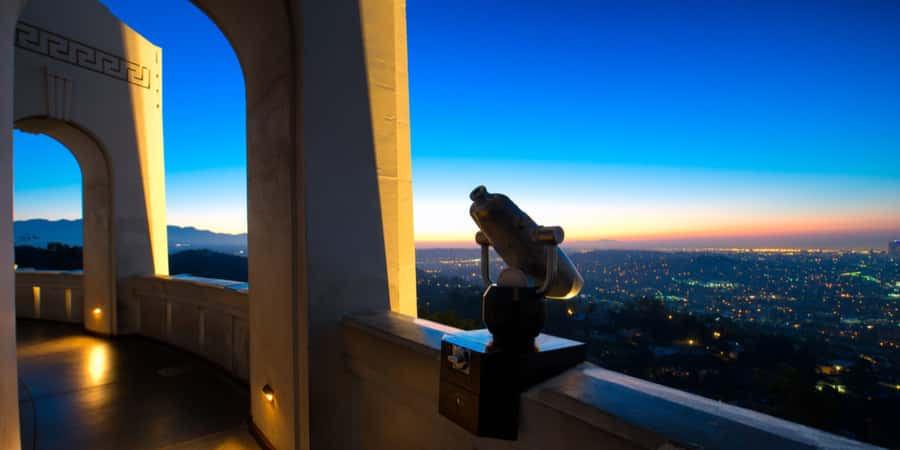 Griffith Observatory
Address: 2800 E Observatory Rd, Los Angeles, CA 90027
Phone: 213-473-0800
Located on a peak of Mount Hollywood in sprawling Griffith Park, Griffith Observatory is the premier Los Angeles educational spot to learn about the cosmos. The observatory has interactive exhibits about the solar system, planetarium shows, a variety of telescopes that are publicly accessible in the evening, and even a Tesla coil. The grounds also offer amazing views of the LA cityscape and the famous Hollywood Sign on nearby Mount Lee.
Griffith Observatory welcomes visitors of all ages, but organized school programs are only available for fifth-grade students. Summer camps, community organizations, or privately organized school groups from other grades can still visit the observatory for a free self-guided tour. The program is absolutely free for California fifth-grade students with an advanced phone reservation. You'll need one chaperone for every ten students, and supervised groups can freely explore the observatory after the guided program.
Charter bus travel tip: Students attending the Griffith Observatory School Program must arrive by bus to keep everyone together and the program running according to schedule. Your charter bus driver will drop your group off at the end of the observatory's driveway before parking elsewhere in Griffith Park. Nearby parking is available at the Greek Theatre (as long as there isn't a show or event) and in the Ferndell Section 9 lot.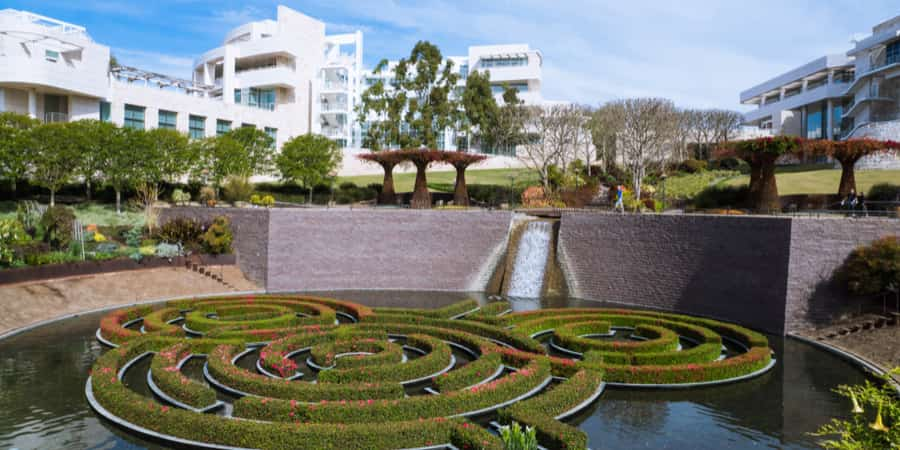 The Getty Center
Address:1200 Getty Center Dr, Los Angeles, CA 90049
Phone: 310-440-7300
The Getty Center (often just referred to as "The Getty" in conjunction with the Getty Villa in Malibu) is among Los Angeles's top art museums. It has an impressive American and European art collection that includes more than 1,000 works from Vincent van Gogh, Claude Monet, and Paul Cézanne. Along with its art collection, The Getty is also known for its perfectly-manicured gardens and the modern architecture of its six buildings. Guests from young to old can learn about art, history, and architecture and marvel at the gorgeous greenery outdoors.
Admission to The Getty is always free, and student groups are welcome to visit Tuesday through Friday. You'll just need to request a visit time online and specify whether your group will need a guided visit or if you'll be doing a self-guided tour. Guided tours will last about one hour, and groups will need at least one chaperone per 15 students. The museum can accommodate groups of up to 120 students. Larger groups will need to submit two visit requests for separate days.
Charter bus travel tip: Garage parking at The Getty is free for everyone. School groups traveling by charter bus will be notified of where to park when their trip is confirmed. If any chaperones plan to drive their own vehicles, you'll need to let the museum know ahead of time so parking can be reserved.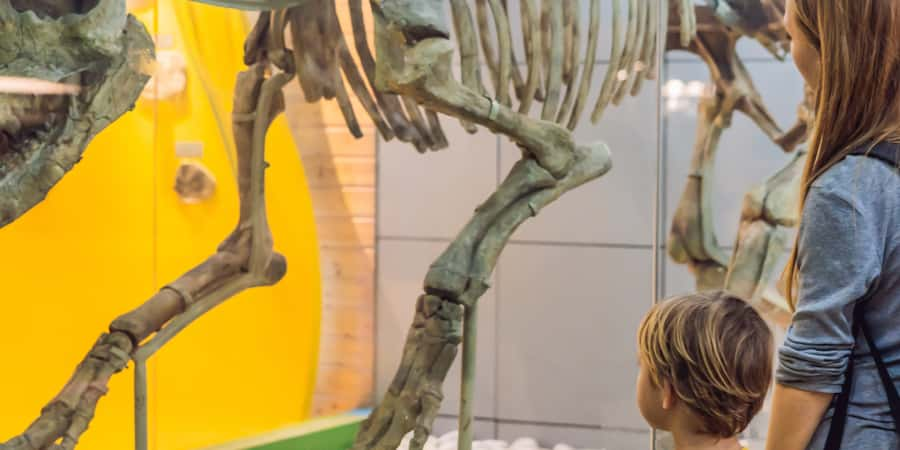 Natural History Museum of Los Angeles County (NHM)
Address: 900 W Exposition Blvd, Los Angeles, CA 90007
Phone: 213-763-3466
From dinosaur fossils to live critters, The Natural History Museum of Los Angeles (NHM) has plenty to capture the interest of young minds. The NHM is the largest natural history museum on the West Coast. The most popular exhibit at the NHM is Dinosaur Hall, a newly-opened section filled with more than 300 dinosaur fossils like well-preserved bones and full-scale models of the T. rex and triceratops. Other prehistoric exhibitions focus on mammals and sea creatures that roamed the planet more than 60 million years ago. Are your students more interested in live animals? Visit the museum's butterfly pavilion and Nature Lab with live insects, arachnids, rodents, snakes, and frogs.
The NHM has educational programs for youth, adults, and families. Schools visiting for field trips can explore self-guided options at no cost. Guided programs can be added to your field trip but may cost a fee depending on your group size and program of choice. School groups will need at least one chaperone per five students (any additional chaperones beyond the 1:5 ratio will have to pay for admission.) Submit your field trip request at least three weeks in advance to secure your school's spot.
Charter bus travel tip: Parking for school buses and charter buses begins at $12. Have your driver drop your group off at NHM before parking at Exposition Park Lot 6. This lot is cash only most of the time, so be sure to give your driver enough money to cover parking fees.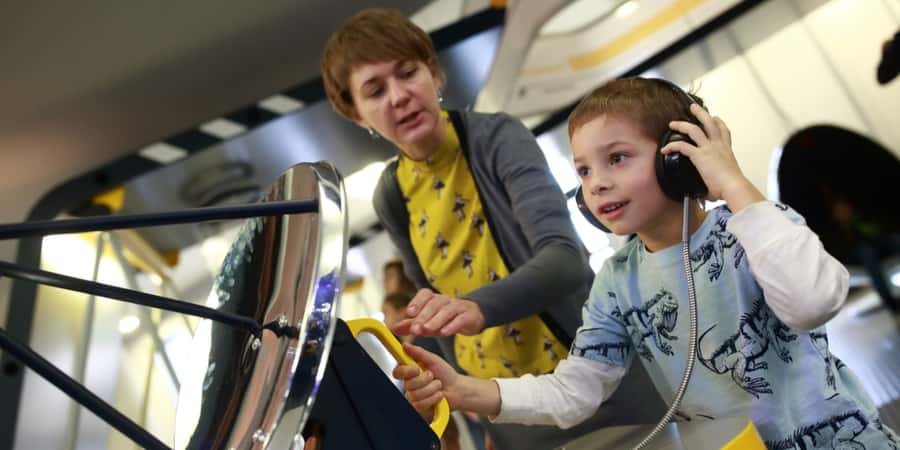 California Science Center
Address: 700 Exposition Park Dr, Los Angeles, CA 90037
Phone: 323-724-3623
The California Science Center is actually right next door to the NHM! If your group is filled with science lovers and you have plenty of time to spare, consider visiting both of these museums. This science center is filled with more than 100 interactive exhibits about everything from aerospace science to exploration of the world's many ecosystems. The museum's most popular exhibit introduces visitors to the retired Space Shuttle Endeavour and its 19-year history as a NASA orbiter. Guests will also learn about manned space travel, missions to other planets, and how tools like the Hubble Space Telescope came to be.
Once you get your fill of outer space, explore seven different zones in the museum that represent different ecosystems. From the familiar urban jungle of the L.A. Zone to the deepest depths of the ocean in the Extreme Zone, you'll learn plenty about the planet's varied terrain and the creatures that live there.
The above exhibits are free for schools, but additional special exhibitions and IMAX film showings may require admission fees. Groups of 15 or more are required to make a reservation before visiting the California Science Center. A $25 booking fee is required for every group, and discounted admission will be charged per person if your reservation includes additional experiences.
Character bus travel tip: Parking for your charter bus will cost $30, while parking for cars is $12 if any chaperones plan to drive separately. Since the California Science Center is located next door to the NMH, you'll be using the same Exposition Park Lot 6 for oversized vehicles.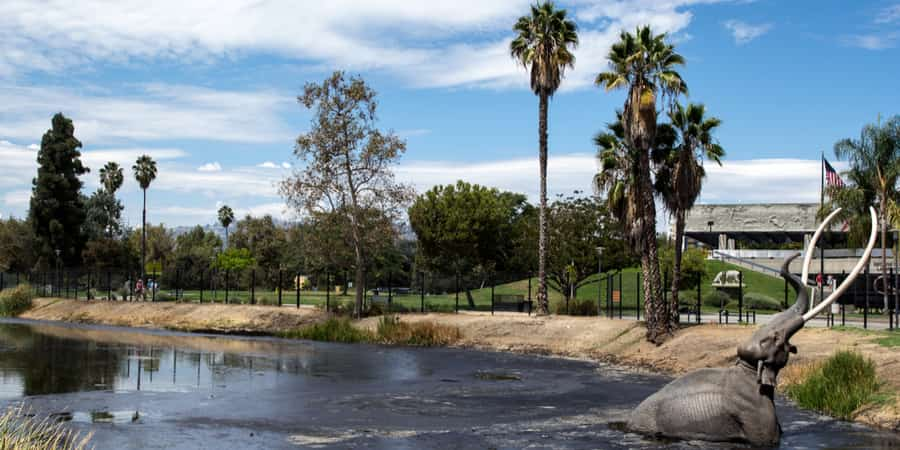 La Brea Tar Pits and Page Museum
Address: 5801 Wilshire Blvd, Los Angeles, CA 90036
Phone: 213-763-3499
Los Angeles has several unique museums with exhibits you won't be able to experience anywhere else. The La Brea Tar Pits are the only active Ice Age excavation site in the world, and California students can see it all for free! These tar pits have produced prehistoric fossils of dire wolves, wooly mammoths, sabre-tooth cats, and even humans that date back as far as 50,000 years ago. More than 3.5 million fossils have been excavated from the pits, and teams of archaeologists are still working today to uncover more wonders hidden beneath the tar. Guests can watch scientists excavate active pits, explore interactive exhibits inside the museum, and marvel at full-scale models of towering mammoths and ground sloths.
Self-guided visits at La Brea are free for California schools, and guided programs can be added on for no additional cost. Student groups will need at least one chaperone for every five students (additional chaperones will be required to pay $12 for admission.) Your school will need to make a reservation for your self-guided visit at least three weeks in advance. Keep in mind that some guided add-ons are available during select times throughout the year and are limited to one program per visit.
Charter bus travel tip: There's always construction going on somewhere in LA, and the area surrounding La Brea is no different. A loading zone and bus parking area is usually available on Curson Avenue, but this road is periodically closed for long-term construction. Groups can be dropped off at the main entrance on Wilshire Boulevard or at the north entrance off of 6th Street. Bus parking is also available along 6th Street right outside of the museum.
Ready to Learn and Explore Los Angeles?
Booking your Los Angeles field trip transportation will only take a few minutes with Champion Charter Bus. The rental team is available around the clock at 310-295-9547 to help you organize safe and comfortable transportation for your educational outing. Have information like your field trip dates, destination, a headcount, and any additional requests on hand for a quick and accurate rental quote!