The Top Field Trip Destinations in San Francisco
As the epicenter for nearly all things tech in the U.S., it should come as no surprise that San Francisco has no shortage of science-based interactive museums. But there's also tons to see and do for your young artists, inquiring minds, future creators, and all learners in-between!
Need help narrowing down your SF field trip itinerary? Never fear: we've put together this list of the city's top educational and kid-centric attractions just for you. Keep reading to learn more about them and how you can get there, safe and sound.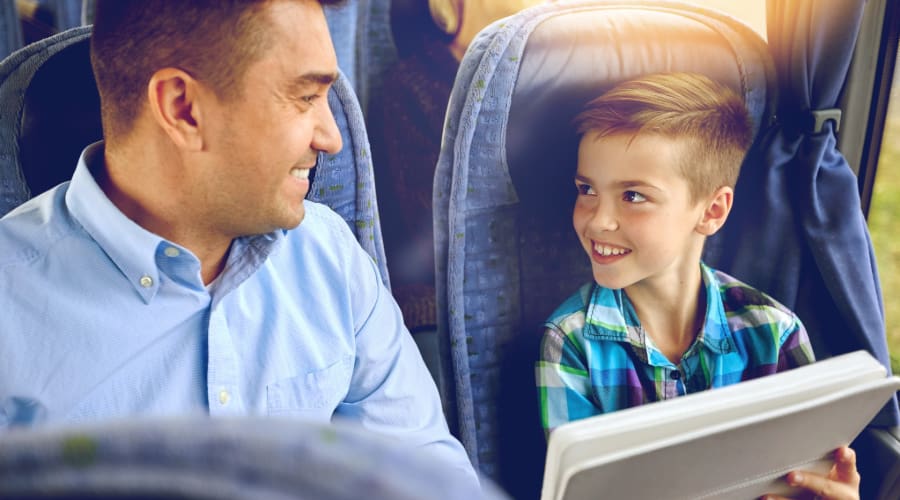 Getting Around San Francisco
What's the best way to traverse the city with a group of school-aged children? We at Champion Charter Bus may be a little biased, but we'd definitely recommend reserving a motorcoach
Renting a charter bus in San Francisco not only keeps your kids together in one vehicle, but also offers comfort and peace of mind you just won't find on your traditional school bus. Entertain them between stops by requesting a DVD player and TV screens—everyone will be so busy watching Magic School Bus or Bill Nye, they'll forget to ask you "are we there yet?" over and over.
And teachers and chaperones, we haven't forgotten you. Easily check your email or scroll through Facebook with free onboard WiFi, or relax in a plush reclining seat and catch a quick nap between stops (you deserve it).
Call (415) 226-7968 today to reserve a school shuttle service tailored to your group's needs. Whether you need an ADA-compliant fleet or onboard restrooms, we'll work with you to deliver reliable transportation at a predictable price point, no matter what.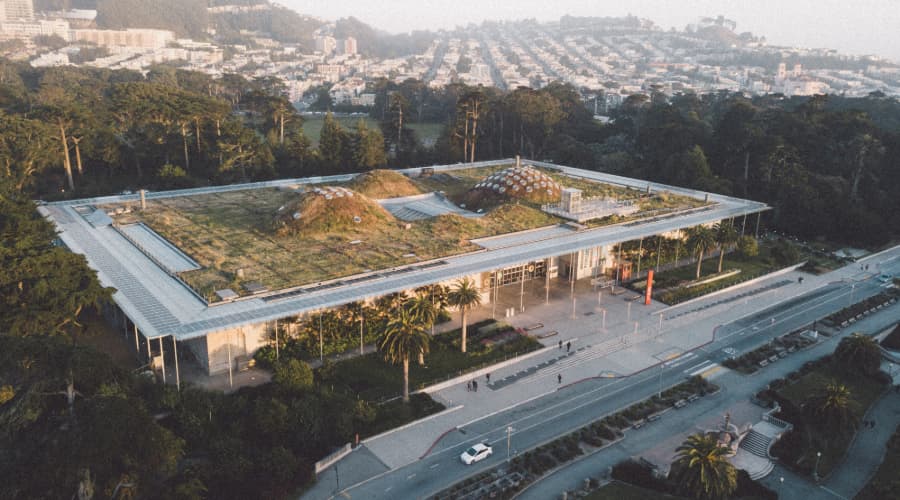 California Academy of Sciences
Address: 55 Music Concourse Dr, San Francisco, CA 94118
Phone: 415-379-8000
If you're looking for a comprehensive showcase for your natural science students, you've come to the right place. This museum of natural history is California's oldest still in operation and one of the world's largest, with over 46 million specimens archived.
Here are some of the highlights:
The Steinhart Aquarium—considered one of the most biologically diverse and interactive aquariums around, and home to more than 900 species. Observe over 40,000 live animals—from residents of the California coastline to venomous predators from around the world.
 The Morrison Planetarium—completely digital planetarium with films and lecture series geared toward learners 7 years and older. Explore your students' burning questions about the cosmos through a "Tour of the Universe" or a full-throttle simulated drive-by of Jupiter and Saturn.
The Osher Rainforest—four-story glass dome housing hundreds of tropical plants and exotic reptiles, amphibians, butterflies, and free-flying birds. Wander through jungle-esque pathways and admire the rainforest canopy towering 90 feet overhead.
The Kimball Natural History Museum—all the exhibits that are not the aquarium, planetarium, or the rainforest dome. Exhibits cover a range of subjects, from California's native megaflora and megafauna to 400 specimens of  gems and minerals, and so much more
Discounted tickets to the museum are available for groups of 10 or more, but the exact rate depends on who you're traveling with:
School groups from San Francisco receive free admission, and academic groups from other parts of California pay a flat rate of $11.25 per student or chaperone.
California-based non-school-affiliated youth groups (after-school clubs, summer camps, etc.) are offered a discount of $18.25 per person.
All group ticket bundles—school groups, youth groups, or otherwise—must be paid for at least two weeks before you arrive (no one can purchase tickets at the entrance), and everyone must arrive at the same time in order to claim your tickets.
If you're running on a tight schedule and worried about some students or chaperones arriving late, we definitely recommend reserving a charter bus rental. That way, everyone arrives all at once, in one vehicle, right when you want them to. Your driver can drop you off in the designated loading zone in front of the Academy and park in the coach-friendly spaces behind the Music Concourse Bandshell.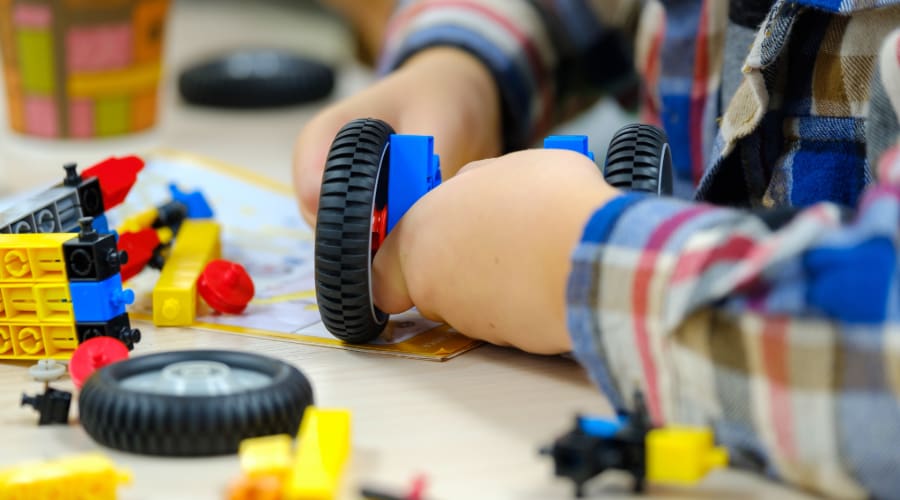 Children's Creativity Museum
Address: 221 4th St, San Francisco, CA 94103
Phone: 415-820-3320
Where can your group of little creators program their own robots, engineer their own music, and craft their own claymation masterpieces under one roof? You must be at the Children's Creativity Museum!
Located in the South of Market (SOMA) neighborhood, this interactive museum is dedicated to building children's confidence in their voices and creative abilities—whether they are aspiring artists or tomorrow's tech gurus. Exhibits here include Sketch City (where visitors can put their city infrastructure ideas to paper and upload their creations into a collaborative virtual city), the Innovation Lab (where problem-solvers fix a range of wacky problems, like "What if your school flooded with JELL-O?"), and much more.
The museum can accommodate groups of up to 35 students and offers discounted group rates at $12 per visitor for both kids and adults. Just know you'll need to reserve your spots a couple of weeks before your visit and pay a non-refundable $50 deposit to reserve your 2-hour afternoon tour. Those arriving by charter bus are encouraged to load and unload at the museum's back entrance along Folsom Street or outside the next-door San Francisco Visitor Information Center on Howard Street.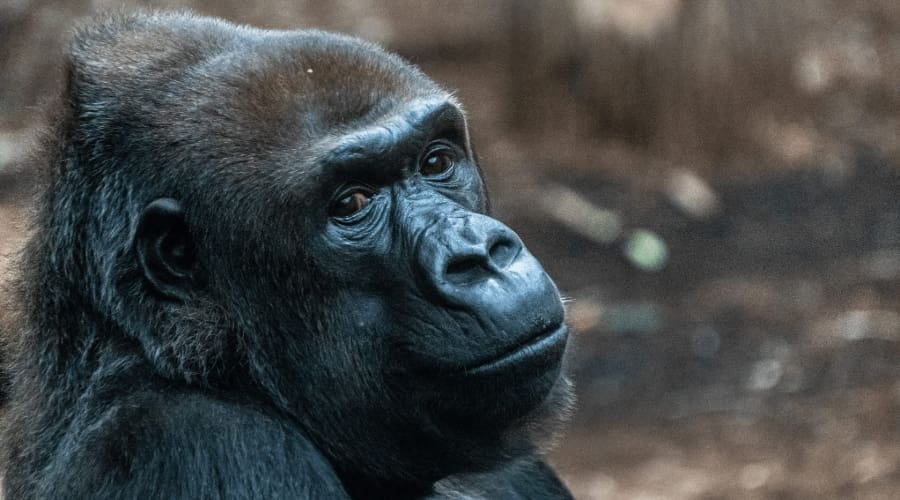 San Francisco Zoo
Address: Sloat Blvd &, Great Hwy, San Francisco, CA 94132
Phone: 415-753-7080
This attraction has delighted and educated the masses for nearly a century! Since transferring from Golden Gate Park to its current location on the southwest side of town in 1930, the Zoo has housed its fair share of animal celebrities—including Koko, the western lowland gorilla who could communicate through American Sign Language, and North America's oldest black rhino, Elly. Nowadays, visitors will find over 1,000 animals here, representing more than 250 species, including a variety of primates, big cats, residents of the Australian Outback, and more.
The San Francisco Zoo offers free admission to organizations associated with the San Francisco Unified School District and reduced admission for all other SF-based school groups.
All group visits should be arranged at least 3 weeks prior to arrival, and students and chaperones included in your given headcount must be present to receive their tickets.
Buses can enter the Zoo parking lot, but only to drop off your zoo-goers. Once everyone disembarks, your driver can find a spot in the free lot on the intersection of Sloat Boulevard and Highway 35 and meet back up with your group for pick-up at 2945 Sloat Blvd.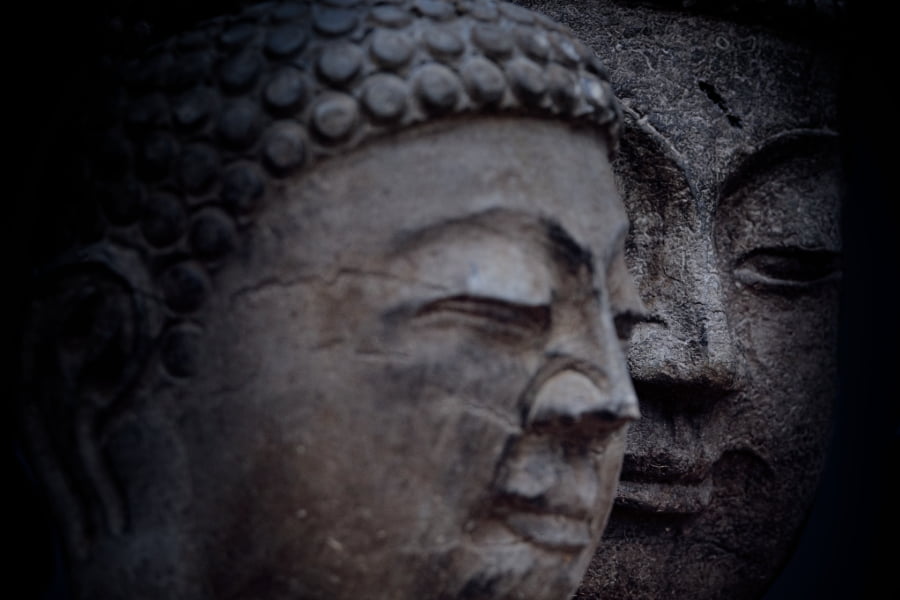 Asian Art Museum
Address: 200 Larkin St, San Francisco, CA 94102
Phone: 415-581-3500
Come explore a wide range of Asian cultures, art traditions, and histories in this Civic Center landmark! This museum covers a lot of ground and subjects in its pan-Asian collection of over 18,000 pieces, ranging from ancient ceramics and jade sculptures to contemporary multimedia projects. If you're in a hurry, you can probably skim the highlights within an hour. But to make the most of the exhibits, you should set aside at least 2.5 hours to see everything.
Those visiting with youngsters—you're in luck. Kids 12 and under get in free, teens and college students pay $9 per person, and school groups and California college groups receive free admission—as long as you pre-register your tour in advance. When you book your session 8 weeks before you plan to visit, you'll have your choice of teacher-led or docent-led guided tours of the exhibits.
Those traveling by motorcoach—you're also in luck. Normally, finding a parking spot with a standard vehicle (or multiple parking spots with a caravan of standard vehicles) in bustling Civic Center is no easy feat. However, this neighborhood has plenty of designated parking and loading zones for tour buses and oversized vehicles, including spaces right outside the Asian Art Museum's entrance on Fulton Street.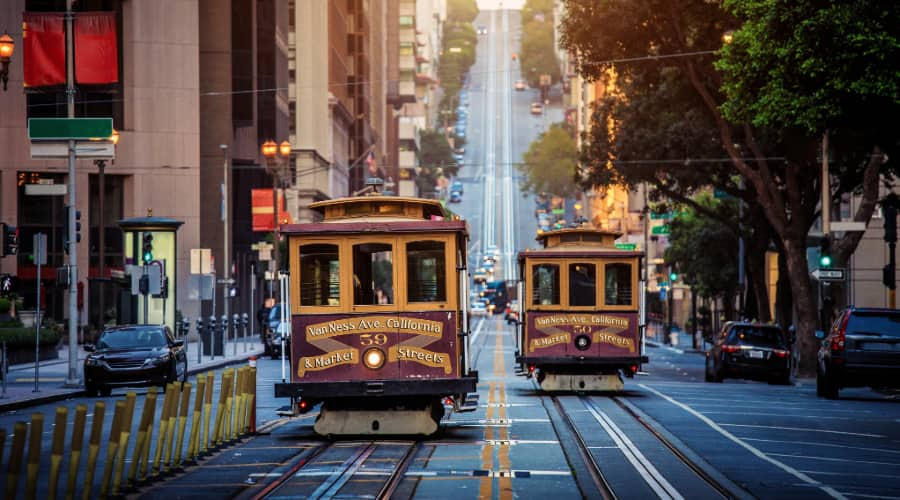 San Francisco Cable Car Museum
Address: 1201 Mason St, San Francisco, CA 94108
Phone: 415-474-1887
While this museum is on the smaller side and shouldn't take too long to explore, it's still a great stop for aspiring machinists or anyone interested in SF history. Here, visitors can see a variety of antique cable cars and learn how San Francisco's cable car system works from the same building that powers all 17 lines.
Also, it's free! Well, wandering through the museum itself is free, anyway. Many veteran visitors recommend hopping on a cable car after your tour to round out the experience—which will cost $7 per person, cash only.
The Cable Car Museum lies on the Powell-Hyde and the Powell-Mason lines, which run north and south between Fisherman's Wharf and SoMa. Have your bus driver drop you off at the museum and meet back up with you at your cable car's final dropoff point. While you explore the exhibits and ride the rails, your driver can find metered tour bus parking (near Pier 39 if you're heading north or along Terry A. Francois Boulevard if you're heading south). That way, your private coach will be ready and waiting when you're ready to load up and roll out to your next destination.
Rent Your San Francisco School Trip Bus
Ready to secure your San Francisco field trip transportation? Champion Charter Bus is always here to help you travel, any time of the day or night.
You can trust our network of professional drivers and well-kept motorcoaches to get your students and chaperones wherever they need to be—no matter what adventures you have in store. Put together a headcount, a schedule of events, and a list of amenities everyone is sure to love, and then give us a call at (415) 226-7968. Our dedicated reservation team will take it from there, and you'll receive a free, no-obligation quote within minutes. Get in touch today to get started!