The Top 5 Field Trip Spots in Las Vegas
When you think of Las Vegas, "field trip destination" probably isn't the first thing that comes to mind. But beyond the bright lights and casinos, the city has a lot to offer for your class field trip, after-school group outing, or scout troop day trip!
Whether you're searching for a fun outing for your virtual schooling pod or you're planning ahead for safer, non-pandemic times, Champion Charter Bus can help. Call 702-430-8311 and our team can set your educational group up with a rigorously maintained, sanitized bus rental and an experienced, well-vetted driver to handle all your transportation needs. Request amenities like a DVD player, TV screens, and WiFi, and you won't even need to worry about keeping your kids preoccupied between stops!
Just let them stream their favorite music and games on their personal devices, pop in an episode of Magic School Bus, relax in a plush, reclining seat, and let your private Las Vegas charter bus rental take you to any of these top field trip destinations: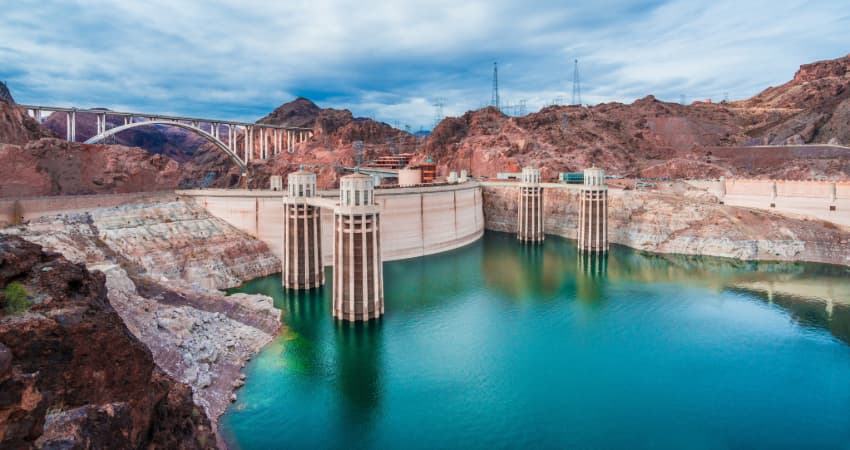 Hoover Dam
Address: 81 Hoover Dam Access Rd, Boulder City, NV 89005
Great for: history classes and aspiring civil engineers
Sure, the big neon signs and flashing lights are some of the more conspicuous parts of Vegas history. But have you ever wondered what powered Las Vegas?
This is it—or, at least it was for a very long time.
When construction of the Hoover Dam was completed in 1936, it was an engineering marvel. And while the dam no longer processes hydroelectric power due to falling water levels, taking a tour of the place is still a great way to teach kids about renewable energy and hydrodynamics.
Tour reservations are accepted on a first-come-first-served basis and should be made at least 90 days in advance. Educational groups can have up to 80 people (students and chaperones combined) touring per day. Aim to have one chaperone per every 10 students, because if you have any more adults tagging along, they'll have to pay the full admission price.
Due to the high volume of school group tours that pass through here, the Dam encourages school groups to use name tags that include the name of the school or organization. That way, if anyone gets separated, it will be easier to reunite them with the right people.
Oh, and print off some learning activity packets before you hit the road to accompany your tour!
Charter Bus Parking: There is a parking lot on the Hoover Dam Access Road, across the street from the visitor center. When you fill out a tour reservation form, be sure to let the Hoover Dam office know how many charter buses you'll be taking there so they can ensure there is plenty of parking for you.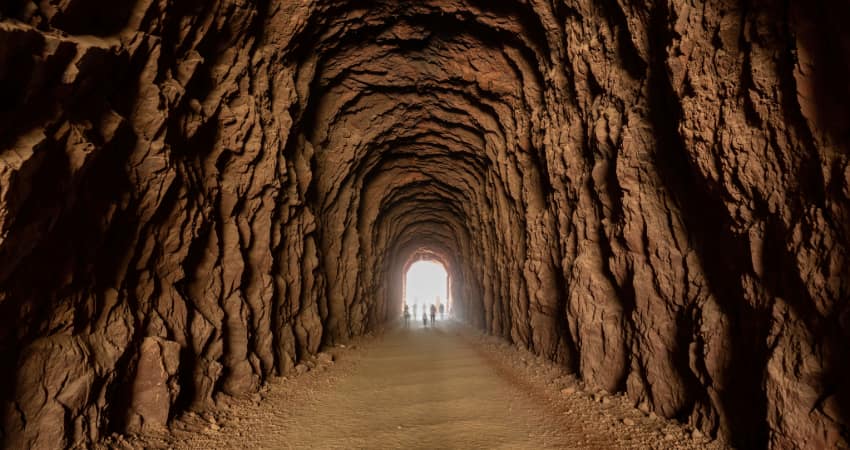 Historic Railroad Hiking Trail
Address: 10 Lakeshore Rd, Boulder City, NV 89005
Great for: train lovers and hikers of all mobile abilities
If your students wrap up their Hoover Dam tour but still need to burn off some energy before loading back onto the bus, this trail is a great place to do so. And it's educational to boot!
Before it was a public recreation area, Historic Railroad Hiking Trail was (unsurprisingly) a railroad line used to transport massive machinery to the Hoover Dam construction site. Now, the trail is the last remaining stretch of the railway system that hasn't been torn up or flooded. Hikers and bikers are invited to follow the trail from the Hoover Dam to Alan Bible Visitor Center as it winds through five cavernous tunnels and Nevada hillsides.
The trail is a 4-mile out-and-back, but it's very flat and smooth—it's a favorite among local wheelchair users.
That being said, if you don't want to do the whole thing, that's fine too. If you're starting near the Hoover Dam Visitor Center, the closest tunnel is 2 miles away. If that's still too far or you're on a time crunch, there's always the Hoover Dam Boneyard just a quarter-mile up the trail. There, students can see defunct pieces of engineering from the original dam, read about how they worked, and pose for pictures next to machine parts that are twice their size!
Charter Bus Parking: Depending on which side of the trail you want to start on, your bus driver can drop everyone off and park at either the Hoover Dam Visitor Center or the Lake Mead Visitor Center. Both have bus-friendly parking accommodations available.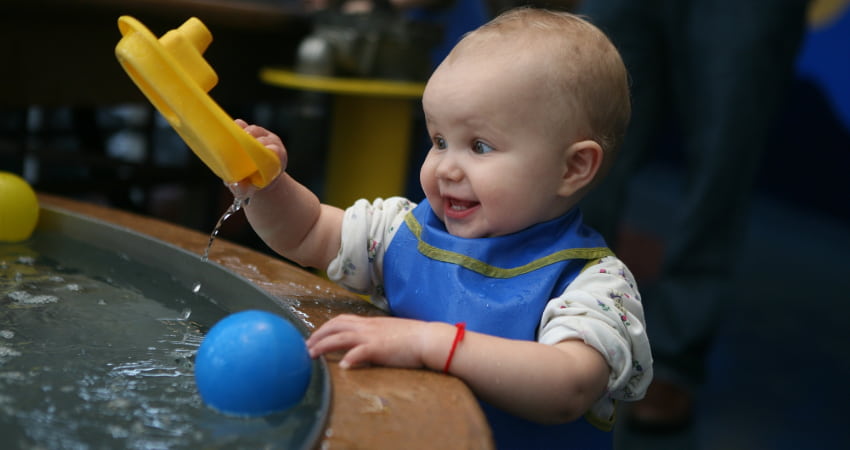 Discovery Children's Museum
Address: 360 Promenade Place, Las Vegas, NV 89106
Great for: tinkerers, inventors, and creators
Want to let your little artists run wild with their imaginations? At 58,000 square feet and three stories, the Discovery Children's Museum has plenty of room and activities to keep your kids busy and engaged.
In addition to the rotating seasonal exhibits, visitors of all ages can enjoy interactive exhibits like:
Patents Pending—an eclectic lab environment where kids can solve problems with inventions
The Summit—a 70-foot system of tunnels and slides
Solve It!—a series of investigation activities, puzzles, and riddles
Young at Art—a Dr. Seuss-themed house that explores the elements of art
Eco City—a pint-sized grocery store setting to teach the interconnectedness of business
In addition, field trip groups can arrange personalized workshops and presentations that align with Nevada State Content Standards for kindergarten through 12th grade.
Normal admission for everyone (aged 1 to 99) is $10.50, but the museum offers special $7 admission for field trips groups of 10 or more people. Reservations must be made at least two weeks in advance to lock in this rate, and you'll need to have one chaperone for every five kids in your group.
Charter Bus Parking: Parking at the museum is free for up to 8 hours—visits usually last about 3 hours, so you'll have plenty of time to explore everything and grab a picnic lunch in Symphony Park before you leave. Direct your driver to park in the big lot east of the museum, along South City Parkway.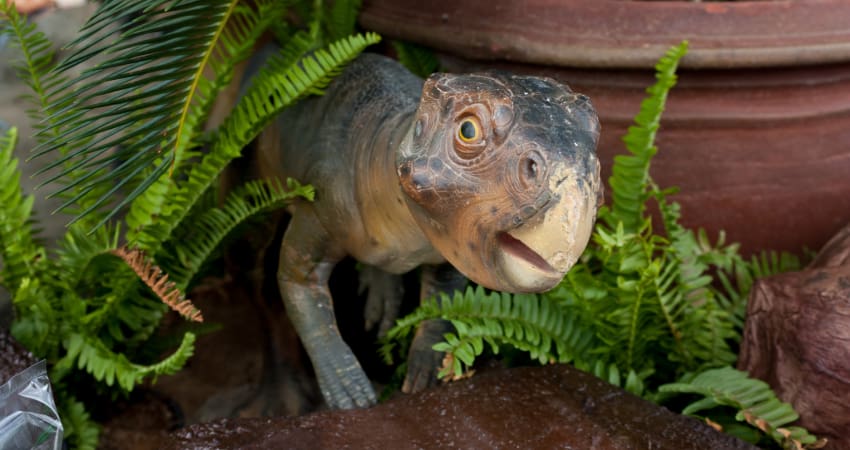 Las Vegas Natural History Museum
Address: 900 Las Vegas Blvd N, Las Vegas, NV 89101, USA
Great for: dinosaur enthusiasts and biology classes
Two words: dinosaur mummy.
As the best-preserved dinosaur remains in the world, Leonardo the mummified dinosaur has provided paleontologists tons of insight into these ancient creatures' skin and muscle-makeup, as well as their diet. Come pay him a visit at the Dinosaur Mummy CSI: Cretaceous Science Investigation exhibit!
There's also a gallery of mechanical dinos that lift their heads and roar at guests, a "living history" hall dedicated to the lifestyles and structures of ancient Egypt, and the Geology Gallery (an exhibit full of rocks is much cooler than it sounds—many in this collection glow in the dark!).
To book a tour for your science club, home-schooling group, or scout troop, request a time slot on the museum's website.
Charter Bus Parking:  When you arrive, your bus driver can drop everyone at the front entrance. Parking spots directly adjacent to the museum are limited, so your charter bus will likely need to wait for you in nearby Heritage Park until you wrap up your tour.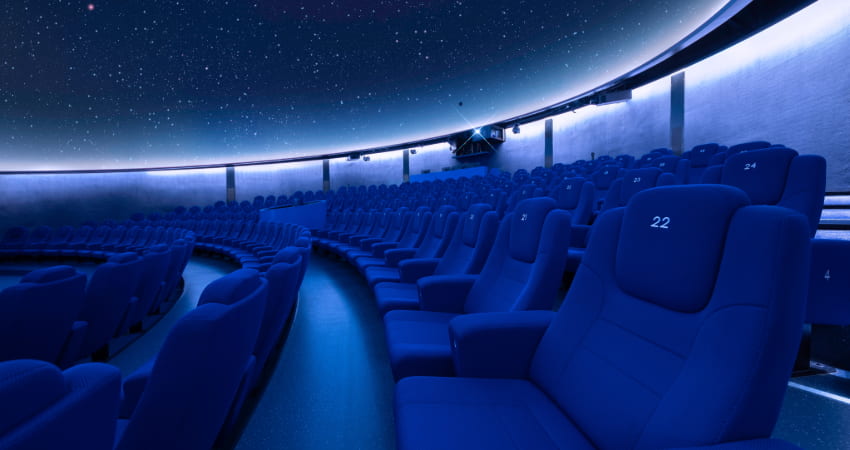 College of Southern Nevada's Planetarium
Address: 3200 E Cheyenne Ave, North Las Vegas, NV 89030
Great for: stargazers and future astronauts
Because nothing piques a kid's interest quite like deep space! And considering that CSN's planetarium is the only public one in southern Nevada, this place offers one of the best opportunities to learn about the cosmos and the planets, stars, and comets in it.
In normal times, the CSN Planetarium offers private shows at 9:30 and 11 a.m. on weekdays throughout the year. Currently, however, the planetarium is closed until further notice due to COVID-19. But once regular hours resume, your class can arrange an itinerary tailored to your curriculum needs or your group's interests. You'll have your choice of presentations and shows screened in the planetarium dome, as well as additional stargazing time and a Q&A session with a CSN Planetarium astrophysicist.
Plan to spend about an hour here—or longer, if you're visiting with a curious bunch. The admission price for private shows is $2.00 per person for both students and chaperones. The planetarium itself has a maximum capacity of 66 people, so if your group is bigger than that, consider visiting across multiple days.
Charter Bus Parking: Parking on the CSN campus is free, so your bus driver shouldn't have a problem finding a spot in the large lot along East Cheyenne Avenue, adjacent to the planetarium and observatory.
Reserve Your Las Vegas Field Trip Transportation
Ready to hit the road? Even if you're not, Champion Charter Bus would love to help you start planning. Our 24/7 reservation team is always here to help you hash out the routes, recommend the perfect minibus or charter for your needs, and offer a free price quote personalized to your trip! Give us a call at 702-430-8311, and we'll ensure your Vegas field trip goes off without a hitch.