Spooky Places to Visit in San Francisco
If you love haunted or just creepy destinations, San Francisco has plenty to offer, from the infamous Alcatraz to the Presidio and the Sutro Baths. And since haunted places usually come with a ton of history, you can learn about San Francisco's past while you take your group on a spooky Halloween tour.
Gather your after-school students or closest friends and rent a minibus to explore the coolest creepy spots in the Bay Area. With a bus and professional driver from Champion Charter Bus, you won't have to worry about navigating the busy streets of the Castro or trying to park around Presidio Heights. Just give us a call at 415-226-7968 and then check out our list of haunted destinations that can turn any season into spooky season.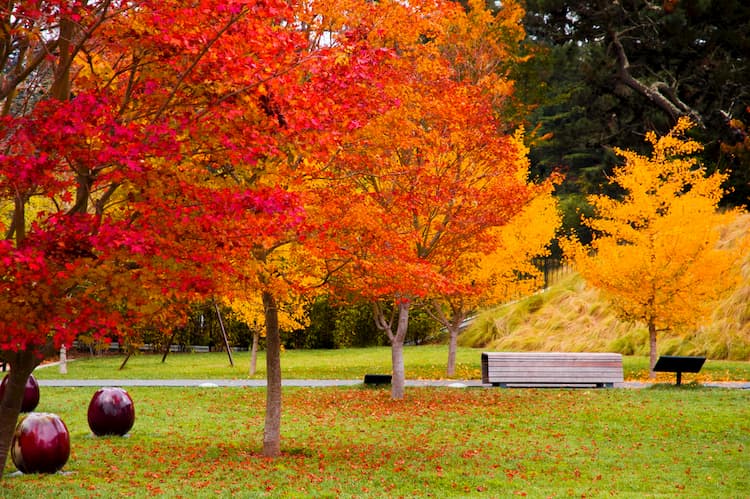 The Presidio
Although it's now a spacious park, The Presidio holds some of the oldest still-standing buildings in SF, including structures that date back to the 18th century. Its long history as an army base means people have reported seeing ghosts of Spanish, Mexican, and American soldiers wandering around the park and even going about their regular duties. Visitors have also experienced cold spots and odd noises at night.
The Presidio is always a fun place to visit thanks to its scenic views and many walking paths, but if you're ghost-hunting, you'll want to put The Letterman Digital Arts Center at the top of your list. Though it's now the home of Industrial Light and Magic and Lucasfilm, this building lies on the site of a former Army hospital and is named after Dr. Jonathan Letterman, who was the medical director for the Army of the Potomac during the Civil War. In other words, a lot of soldiers died here, which is why it's reportedly so full of ghosts.
Address: 1 Letterman Dr # B, San Francisco, CA 94129
Charter bus parking: There are several paid parking lots and garages throughout the Presidio. Charter buses typically won't be able to fit in the garages, so you'll want to look for a lot close to your destination (if you choose to visit the Letterman Center, you'll find a lot nearby.)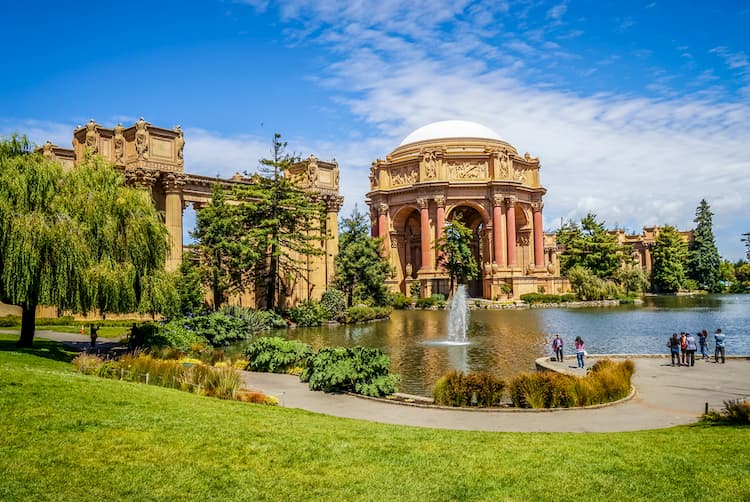 Haskell House at Fort Mason
Leonidas Haskell, a wealthy San Francisco resident, built this home in the 1850s, but it wasn't haunted until 1859, when U.S. Senator David Broderick scheduled a duel with State Supreme Court Justice David Terry near the house. Broderick had a reputation for being a great shot, but Terry got to pick the weapon and chose a pair of Belgian pistols he'd been practicing with in private. When the two dueled, Terry won and an injured Broderick was rushed back to his friend Haskell's house, where he eventually died.
During the Civil War the house became part of Fort Mason and was used as lodging for Union soldiers. Many soldiers reported seeing strange shadows, feeling like they were being followed, or even seeing a ghostly apparition they believed to be Broderick. After serving soldiers during World War I and II, Fort Mason was converted into the Fort Mason Center for Arts & Culture, home of theaters, restaurants, art displays, and music performances. But that didn't get rid of Broderick's ghost, who supposedly still haunts the area.
Address: 3 Franklin St, San Francisco, CA 94123
Charter bus parking: Fort Mason has its own parking lot that you can pay to park in. Just note that the parking lot can get crowded during events, so if you're on a bus, you may want to visit when no major event is happening.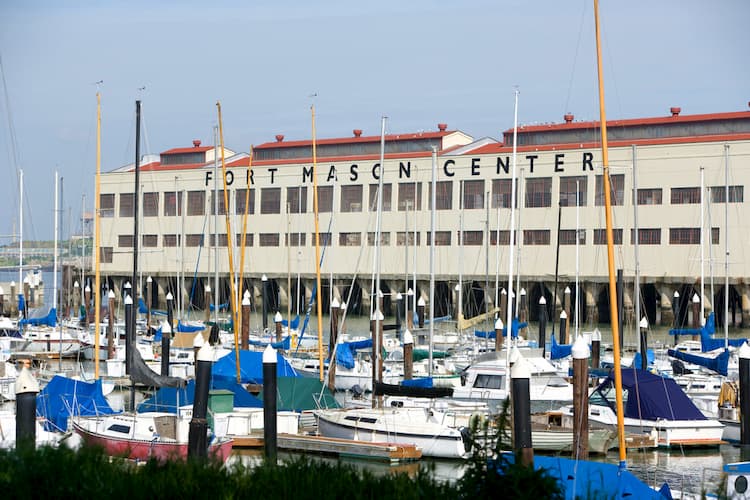 Alcatraz
It shouldn't come as a shock that America's most famous historical prison is rumored to be haunted by its former inmates. While you take a tour to learn about the building's history, you may hear voices, screams, whistles, footsteps, and clanging doors. Some visitors have also reported feeling chills (especially in the Dining Hall), smelling foul odors, and seeing a spirit with glowing eyes nicknamed "The Thing."
The most specific story of hauntings at Alcatraz comes from a park ranger who said he heard banjo music coming from the former shower room. Although he found nothing when he went inside, the only inmate who was allowed to play his banjo in the shower was infamous gangster Al Capone.
Address: Alcatraz Landing, Pier 33, San Francisco, CA 94133
Charter bus parking: Since Alcatraz is on an island, you'll need to take a ferry operated by Alcatraz Cruises from Alcatraz Landing. The landing is on Pier 33 on Fisherman's Wharf. There are 15 paid parking lots nearby, with the closest lying at 80 Francisco at Kearny.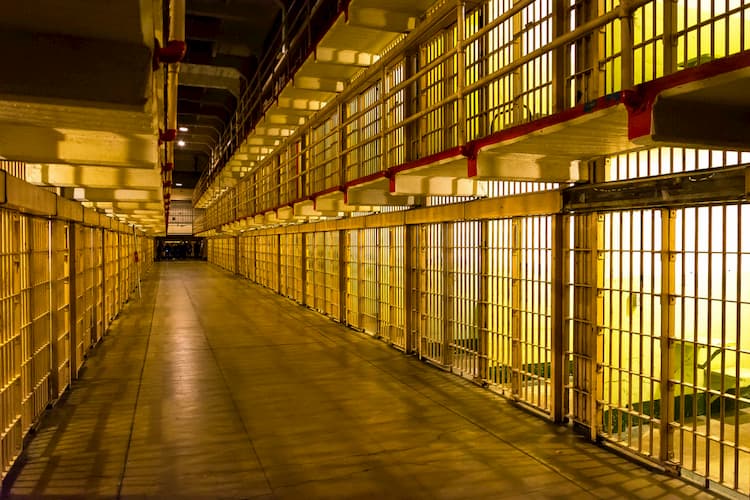 Queen Anne Hotel
If you're traveling with kids or scared adults who prefer a friendly ghost, check out the Queen Anne Hotel. Originally built in 1890, this Victorian mansion once served as a boarding school called The Mary Lake School for Girls. Supposedly the school's headmistress, Mary Lake, was devastated when she couldn't afford to keep the school open anymore and still haunts her former room, room 410.
Since this is an active hotel, guests can book Mary Lake's room. While staying there, some visitors have reported an unseen force picking up items they've dropped, tucking them in at night, and even helping them unpack. If you don't want to stay at the hotel, you can drive by the outside or ghost-hunt in the event spaces and outdoor courtyard.
Address: 1590 Sutter St, San Francisco, CA 94109
Charter bus parking: There are multiple paid public lots near the hotel where your bus can wait for you.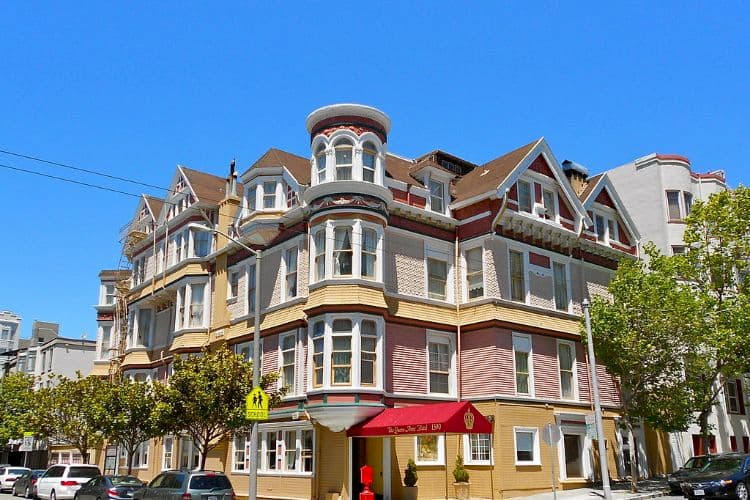 Stow Lake in Golden Gate Park
Golden Gate Park is one of San Francisco's can't-miss attractions, but even people who have visited multiple times may not know that it's rumored to be haunted. According to legend, shortly after Stow Lake was completed in 1893, a young mother went for a stroll around the lake with her baby in a stroller. She sat down to talk with another woman and then realized her baby was missing. Thinking the stroller must have rolled into the lake, she ran in after it and drowned as well.
Now guests claim that if you go for a walk around Stow Lake at night, an apparition of a woman may appear to you and ask if you've seen her baby. On a less tragic note, some visitors have also reported being followed by the ghost of a police officer who insists on giving you a ticket for an unclear traffic violation. But don't worry—rumor says he can't follow you out of the park, and if you took a charter bus, you'll know you didn't park your car in the wrong place.
Address: 50 Stow Lake Dr E, San Francisco, CA 94118
Charter bus parking: Golden Gate Park has limited parking, so there's a good chance your bus will need to park in a public lot just outside of the greenspace. Your charter bus driver can drop you off and pick you up at a park entrance near Stow Lake so you don't have far to walk, though.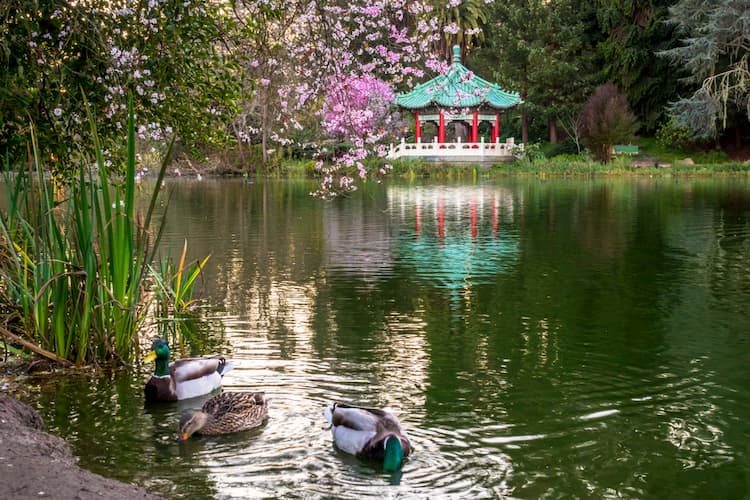 Sutro Baths
Although the Sutro Baths are now just ruins, the place was once home to an enormous bathhouse with seven indoor swimming pools. When the baths opened in 1896, they included slides, diving boards, and restaurants and were considered a state-of-the-art attraction. However, they burned down in the midst of being demolished in 1966, and the ruins are now haunted by ghosts of people who drowned in the pools.
If you'd like to meet the spirits, local ghost hunters recommend following the Sutro Baths Trail until you see a tunnel leading into the ruins. Then, set a lit candle down at the entrance of the tunnel. If a ghost is present, they will toss the candle out into the ocean. The ghosts are believed to be a young girl who accidentally drowned in the pool and an old man who died at the pool and now wanders around whistling.
Address: 1004 Point Lobos Ave, San Francisco, CA 94121
Charter bus parking: The parking lot for the Sutro Baths is located at the Lands End Lookout. Your charter bus will wait for you here while you follow the path to the Baths. Because a lot of walking is required, this may not be the best stop for those with mobility concerns, but you can request an accessible charter bus to take you to other locations on this list.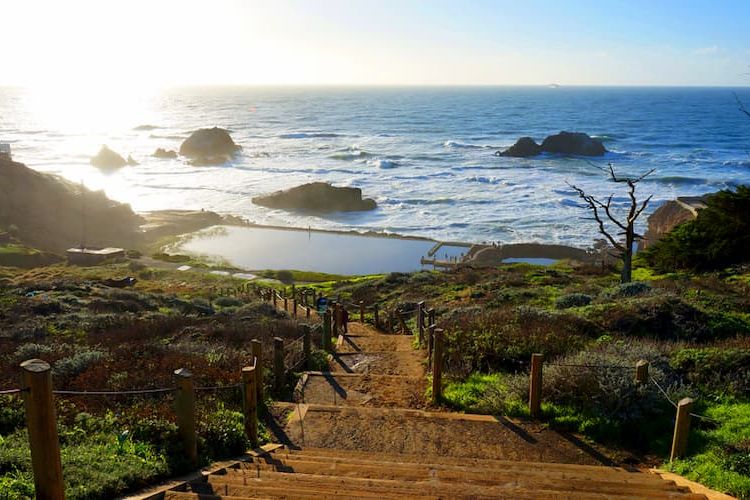 Neptune Society Columbarium
Since it was built to hold urns containing people's ashes, it's not surprising that many ghost hunters claim the Neptune Society Columbarium is haunted. Designed in 1898 by Bernard J.S. Cahill, a renowned architect, the Columbarium building includes an elaborate dome and an atrium as well as four stories of niches holding urns. There are 8,500 niches total, and each floor has a balcony and stained-glass windows.
The Columbarium is open for self-guided tours, where you can see the urns of Edward Robson Taylor (a former SF mayor), Carlos Santana's parents, and John Backus (a computer programmer.) If you're looking for spirits, you may see the ghost of a young girl or feel a small hand brushing against you.
Address: 1 Loraine Ct, San Francisco, CA 94118
Charter bus parking: There are multiple paid parking lots around the Columbarium, with several within walking distance.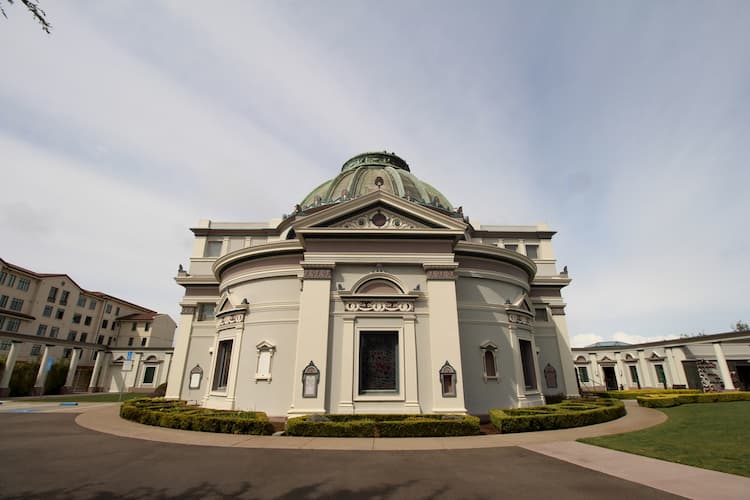 Curran Theatre
Originally built in 1922, the Curran Theatre continues to host live plays and musicals today. Many visitors also claim it has its own ghost. In 1933, a ticket taker named Hewlett Tarr was killed during a robbery. Guests have reported still seeing him in the lobby, but don't worry—he's friendly and just likes seeing the visitors at his old workplace.
Some people also claim the theater has a second ghost, a little girl who was killed by a streetcar just outside the theater in the 1950s. You can look for her and Tarr when your group attends a performance here (once it's safe to do so, of course).
Address: 445 Geary St, San Francisco, CA 94102
Charter bus parking: Because the Curran is located in the crowded Nob Hill area, you'll need to leave your bus in a public paid parking lot, but your driver can drop you off near the theater.
Plan a Spooky Tour of SF
When you're ready to explore San Francisco's most haunted lakes, hotels, and theaters with your small group, give Champion Charter Bus a call at 415-226-7968. We can provide you with a professional driver and a safe, sanitized bus to take you on your creepy and historic tour.