The Most Haunted Locations in San Diego
By day it may be a beloved destination for sun and surf, but by night, San Diego offers no shortage of haunts and frights. Spooky season may be coming to a close, but that doesn't mean your group's thrilling and chilling adventures have to end! Besides, haunted places are often rich with history, and San Diego is no exception. Whether you explore the dark mystique of the Gaslamp Quarter's Victorian architecture or the bay's storied naval history, your family and friends are sure to bump into a spirit or two—if you know where to look.
Whenever you're ready to face your fears and learn a thing or two, round up your paranormal investigators and call Champion Charter Bus at 619-629-0453. Our team will connect you with a reliable minibus or charter bus rental with comforting amenities like free WiFi, TVs with a DVD player, and reclining seats so everyone can share their favorite photos to their social feed, watch scary movies, and decompress between these haunted San Diego destinations: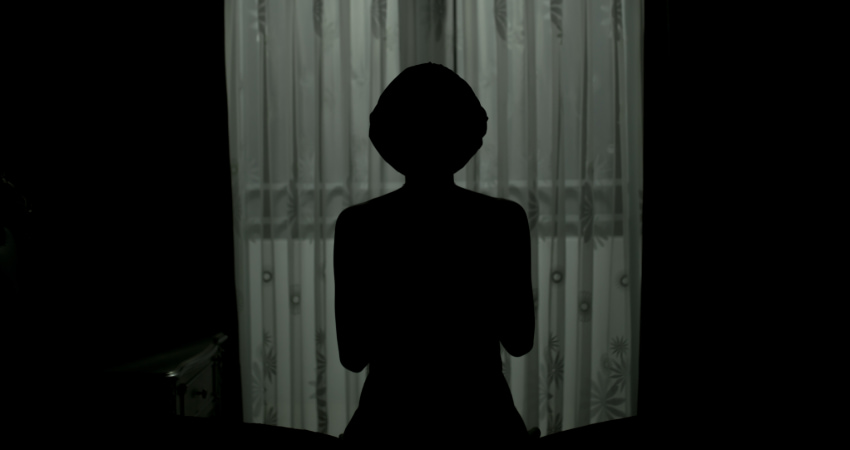 The Whaley House
Address: 2476 San Diego Ave, San Diego, CA 92110
For many first-time visitors, this property is their introduction into the city's dark past—and for good reason. Many consider the house to be the most haunted place in San Diego.
Before the house we see today was even built, it was the site of the public hanging of James "Santiago" Robinson, a grand larcenist. Thomas Whaley was there to watch it happen but still decided to buy the land anyway and build his family home there. Once they had settled in, visitors and even Whaley's children reported hearing heavy footsteps around the house—possibly those of old Jim himself.
But perhaps the most tragic story associated with the Whaley House is that of one of Thomas's daughters, Violet. She married in 1882, and two weeks into her marriage, on a trip eastward for the honeymoon, Violet awoke to find her husband missing. She learned he was a con artist and only wed her for the substantial dowry he expected to receive. She returned home, heartbroken, to judgement from her neighbors and community for returning unchaperoned and without her husband. Unfortunately, the ridicule and heartbreak drove her to take her own life in her upstairs bedroom. Even since then, visitors have reported seeing a wispy woman in white drifting throughout the halls, looking forlorn.
The house is temporarily closed due to the COVID-19 pandemic, but once regular hours resume, you can take a self-guided tour of the house for $10 per person or an after-hours tour for an additional fee. Groups of 12 or more are asked to reserve a tour time slot by calling (619) 297-7511.
Charter Bus Parking Tip: The Whaley House is located a block away from the Old Town San Diego State Historic Park. Have your charter bus driver drop everyone off at the Old Town Station or in the designated unloading zone along Congress Street. From there, your driver can drive north along the Pacific Coast Highway and street park anywhere past Taylor Street.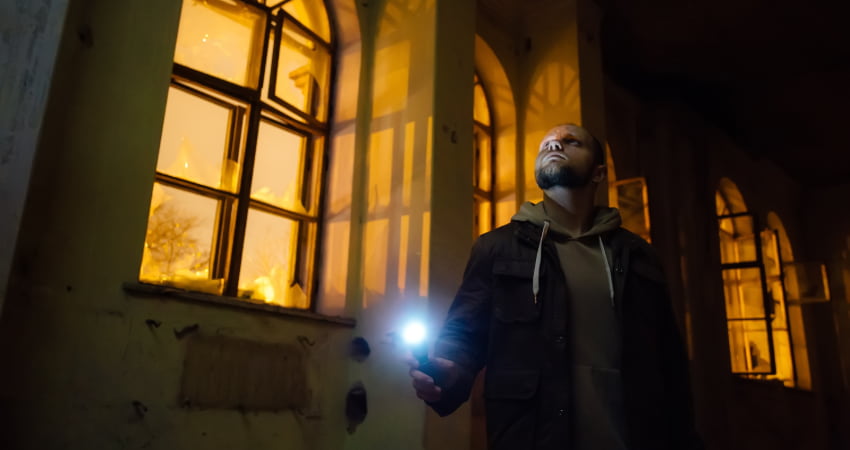 The Davis-Horton House
Address: 410 Island Ave, San Diego, CA 92101
Welcome to the oldest still-standing structure in downtown San Diego, formerly known as the William Heath Davis House. Over the years, many folks from different walks of life have called the house home: from the "Father of San Diego" Alonzo Horton to hundreds of local patients as the house was temporarily converted into a county hospital in the 1870s.
Many say the storied history of the house is reflected in the diverse set of spirits spotted here. During your visit, keep your eyes peeled for an angry presence dressed in 1940s garb. Many believe this is the spirit of a German spy who was captured in the home during World War II, and the betrayal drives him to lash out from beyond the grave!
Other sightings include a woman in Victorian clothing—perhaps Alonzo Horton's wife, Sarah, or even a patient who died in the hospital during a tetanus outbreak. Visitors also report hearing a cat meowing throughout the house, even though no felines reside on the property—could it be the pet of a former tenant?
If you want to learn more about the history and former residents of the house, your group can arrange your own self-guided tour for $5 per person, an audio tour for $8 to $10, or a private guided tour (price varying on the group size and weekly availability).
Charter Bus Parking Tip: The nearby B Street Pier is frequented by visiting cruise ships, but on days there are no ships at the dock, its public parking lot offers 12 large spaces for $20 per every 4 hours. Otherwise, your charter bus driver may need to search for a street parking spot along the Pacific Highway.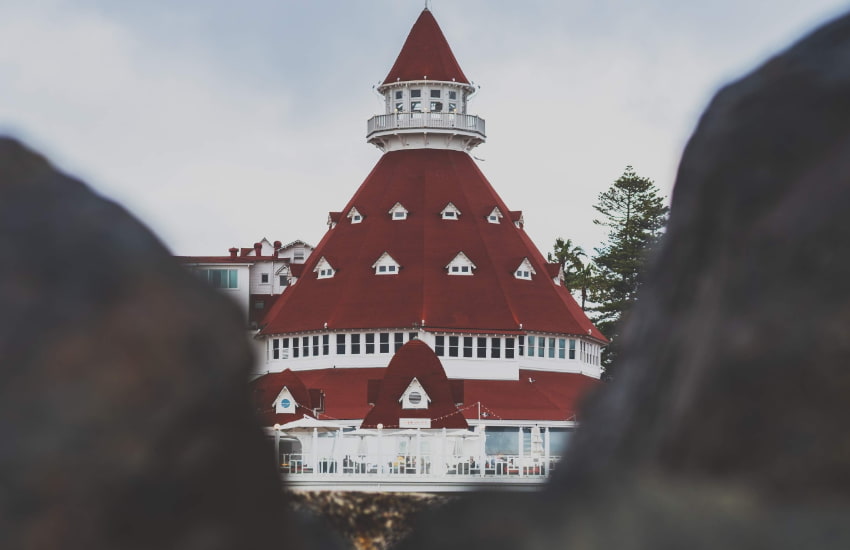 Hotel del Coronado
Address: 1500 Orange Ave, Coronado, CA 92118
Film fanatics will recognize this Victorian beachfront resort as the backdrop and setting of Marilyn Monroe's classic Some Like It Hot. And while some of the hotel staff say Monroe's spirit comes to visit on occasion, many more say another spirit steals the show.
Kate Morgan checked into The Del under a fake name on Thanksgiving Day, 1892. She insisted to hotel staff that a man would be accompanying her shortly, but after spending 5 days alone and wandering around the hotel looking miserable, she was found in the third-floor stairwell with a self-inflicted bullet wound in her chest.
Stories conflict as to why she took her life—was she abandoned by a lover? did she learn she was pregnant with an illegitimate child?—but one thing is certain: hotel guests have reported a lot of unexplainable phenomena since her death.
Many say the room she rented, now suite 3327, is haunted. The television is known to turn on and off without warning, and some guests have even heard loud knocking, only to reveal no one is at the door. Reserve a room block for your group, and you may even catch a dark silhouette of a woman roaming the third-floor halls and the hotel's popular beachfront.
Charter Bus Parking Tip: The hotel offers bus parking for groups who stay here, available for $40 per vehicle per night. Also, be sure to reserve a room for your charter bus driver as well! Drivers in our network must have an 8-hour break for every 10 hours they are on the clock, and many hotels are willing to offer discounts for your driver's room and board.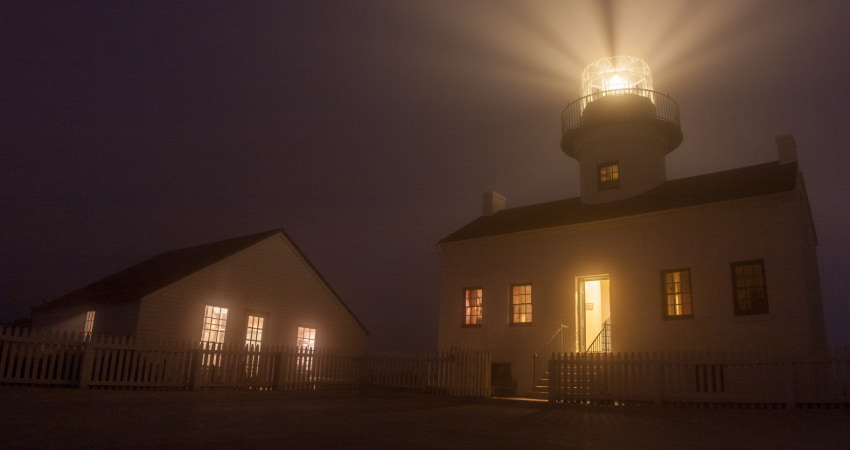 Old Point Loma Lighthouse
Address: 1800 Cabrillo Memorial Dr, San Diego, CA 92106
This quaint, two-story lighthouse was only in operation for 36 years—1855 to 1891— but its short tenure is not due to a dark history. As it turns out, this site is a terrible place for a lighthouse. Between the building's high elevation and the bay's propensity for thick fog, sailors often failed to see the light in time. In fact, the house's last lighthouse keeper, Captain Robert Decatur Israel, would often have to fire a shotgun into the sky to warn oncoming ships.
Since the lighthouse reopened as a tourist site in 1913, visitors, tour guides, and paranormal investigators alike have sensed the presence of a lone spirit here. Common reports include heavy footsteps coming from upstairs when standing in the kitchen, sounds of breathing in both bedrooms, and frigid cold spots throughout the lighthouse.
Don't worry if you're visiting with a group of kids who are easily spooked, though. If the presence is the spirit of Captain Israel, he likely isn't carrying negative energy or ill will. He and his large family led a happy life in the 18 years they lived here, and the lighthouse has seen some of the captain's fondest memories—including the birth of his first grandson.
That being said, the paranormal activity won't necessarily end once you leave the lighthouse grounds. From the building's front steps, many visitors have reported seeing ominous, looming figures and an unnatural mist—thicker than any fog—emanating from the nearby cemetery.
Charter Bus Parking Tip: The Old Point Loma Lighthouse is located with Cabrillo National Monument—meaning you'll need to need a pass for every vehicle you bring into the park. Once you get here, everyone can disembark your bus rental at the traffic circle near the lighthouse and your charter bus driver can park in any of the 6 designated spaces in the parking lot's middle bay.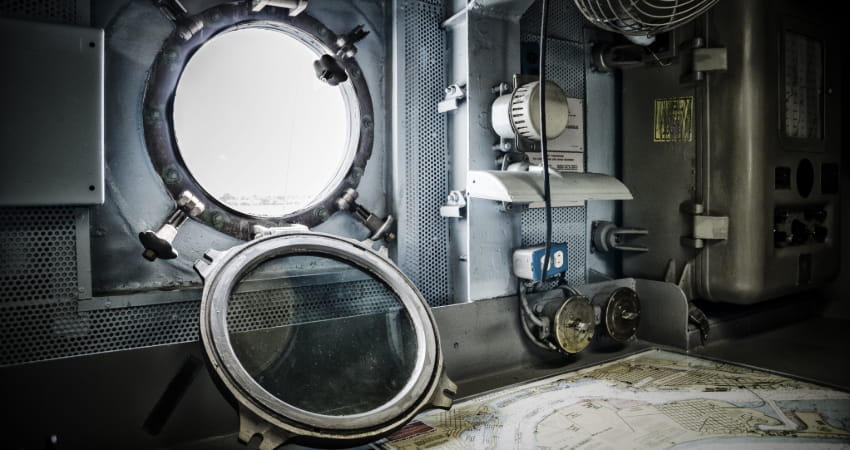 USS Midway
Address: 910 N Harbor Dr, San Diego, CA 92101
A popular San Diego destination (even when ghost hunting isn't on the itinerary), the USS Midway is an aircraft-carrier-turned-navel-museum docked in San Diego Bay, near downtown. This restored vessel features exhibits about U.S. naval aviation history and the ship's role in the Vietnam War that draw thousands of visitors every year—and according to some, not all of them are among the living.
While the carrier is now closed to formal paranormal investigations, previous ghosthunters have recorded EVP readings of spirits asking "What is the name of this ship?"—indicating they're here for a history lesson.
Besides the occasional wayward tourist, other reported specters aboard the USS Midway are seemingly spirits of former crewmen. Only two men have died aboard the ship (both in an accidental explosion in 1990), so many speculate these sailor spirits passed away after retirement and returned to the ship out of a sense of duty. When you're here for your museum tour, keep an eye out for wispy figures around the cold food storage locker and near the Career Guidance Counselor's office—there might be someone waiting there for you.
Charter Bus Parking Tip: Your charter bus driver can drop everyone off at the museum's ticket booth but is not permitted to park your motorcoach on Navy Pier. Instead, have your driver park in one of the metered spaces along Pacific Coast Highway—as long as your driver doesn't leave the vehicle unattended, they should be able to stay there until it's time for pickup.
Explore the Spooky Side of San Diego
A Champion Charter Bus rental will ensure your haunted San Diego tour runs as smoothly as possible! Whether your group needs an ongoing shuttle service for your next spooky event or an ADA-compliant vehicle with a lift and wider aisles, our team is here to make it happen—all at a transparent bus rental price with no hidden fees.
Call 619-629-0453 whenever you're ready to get started, and we'll offer you a free, no-hassle quote for your ghostly San Diego adventures!