The Best Budget-Friendly Group Activities in San Diego
San Diego may be one of the most expensive U.S. cities to live in, but it can be surprisingly affordable to visit. Aside from theme parks like LEGOLAND and SeaWorld and the iconic Zoo, most of the city's major attractions are free. Beaches? Free. Parks? Free. Cool neighborhoods? Free, of course. Because they're located outdoors, many of these destinations are also ideal for large groups.
But big, beautiful beaches and parks take up a lot of space. If you want to explore all that San Diego has to offer, you'll need an easy, fast way to travel long distances up and down the coast. You could call multiple rideshares for all of your coworkers or beg a bunch of parents to drive a carpool for your youth basketball team—or you could save yourself the stress of splitting up and hire a charter bus big enough for your entire group.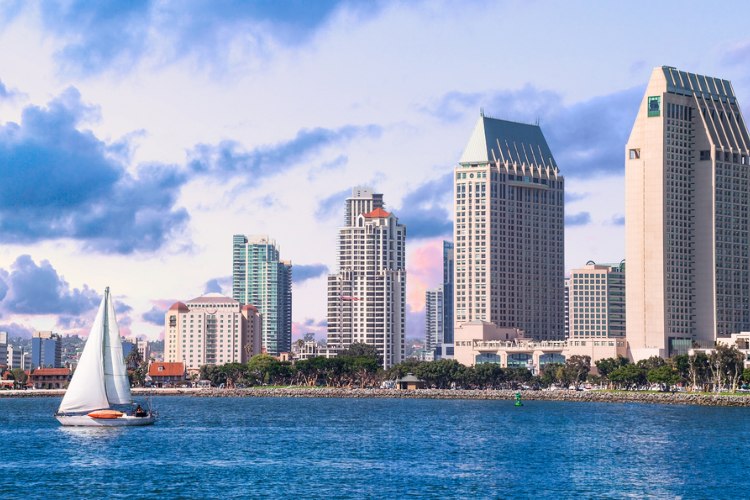 If you choose the third option, Champion Charter Bus would love to help. When the time comes for your next San Diego trip, we can find a comfortable, air-conditioned charter bus with reclining seats and free WiFi to take you around San Diego. Just give us a call at 619-629-0453 when you want to start planning, and in the meantime, keep reading to discover all of the fun and cheap activities your group can do in America's Finest City.
The Beaches
Cabrillo National Monument on Point Loma
There's a cost to enter this national park, but the fee is per vehicle, so you won't have to pay individually if you all share a minibus or charter bus. You'll also get great value for your money—the island has an abundance of activities for groups of all sizes.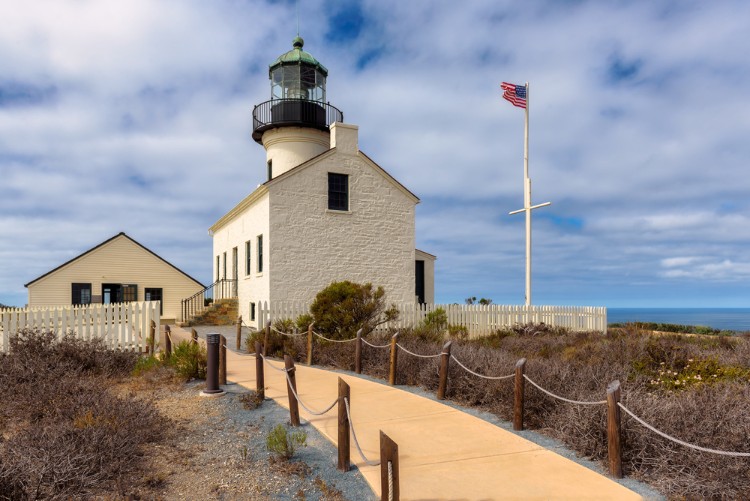 Point Loma is famed for its tide pools, where you can see anemones, crabs, and dead man's fingers all living in their natural habitats. You can also stroll along the sand or the top of the rocky cliffs to take in breathtaking views of crashing waves. If you're leading a field trip, check out the Old Point Loma Lighthouse, which was built in the nineteenth century and offers a fascinating glimpse into San Diego's history.
Address: 1800 Cabrillo Memorial Dr, San Diego, CA 92106
Coronado Beach & Dog Park
Known for its clean white sand and calm, peaceful water, Coronado Beach is popular with families who have young children and people seeking a relaxing day of swimming and sunbathing. The north end of the beach features a dog park, so you don't have to leave any loved ones behind (charter buses can accommodate dogs in crates as well as service dogs outside of crates).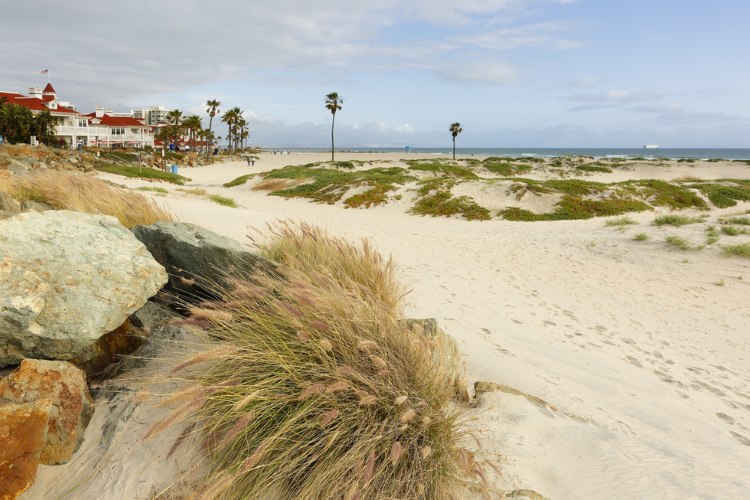 If your tour group is into turn-of-the-century architecture, stroll up the beach to the Hotel del Coronado, built in 1888. You'd have to pay to reserve a room at this Victorian-style resort, of course, but you don't have to pay anything to look at its historic buildings during your beach day.
Address: Ocean Blvd, Coronado, CA 92118
La Jolla Cove
With its ocean views, white sand, and towering cliffs, La Jolla Cove easily ranks as one of the most beautiful spots in Southern California. It's also famous for its large numbers of sea lions and seals. Though you can definitely walk around and take pictures of these adorable animals sunbathing on the sand, be careful not to frighten them—it's their habitat first, after all!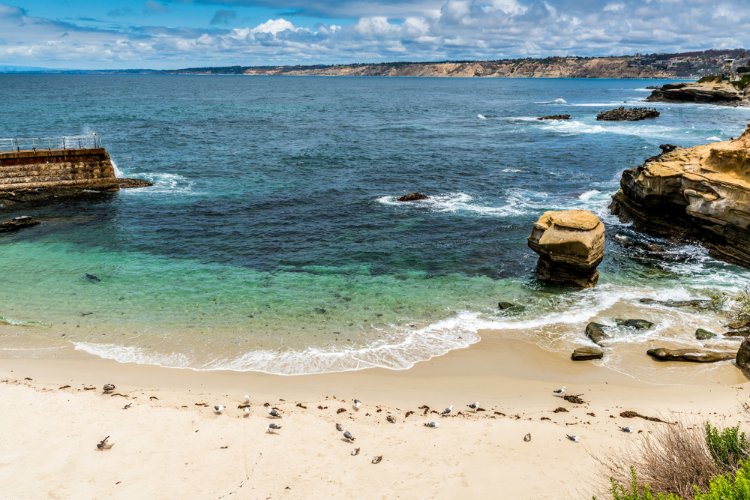 If you're in the mood to swim, walk down from the cove to Shell Beach, La Jolla Beach, or The Children's Pool Beach. The Children's Pool was created by Ellen Browning Scripps, who funded the construction of a seawall in 1931. Her seawall led to a spot of calm water where kids can swim without worrying about large waves or strong tides.
Address: 722 Coast Blvd S, San Diego, CA 92037
Mission Bay Park
Another beautiful place to swim, this 4,200-acre park has 27 miles of shoreline along Mission Bay. Visit one of the beautiful beaches, or check out the walking paths, the sand volleyball courts, the horseshoe games, and the children's playgrounds.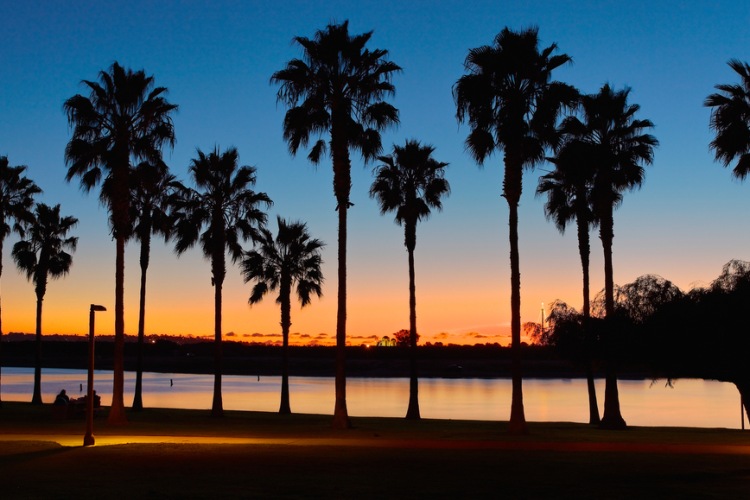 You'll also frequently see people flying kites here, and the bright bits of fabric floating through the air add a beautiful touch to the scenery. Want to get away from crowds and experience the natural world? Mission Bay Park houses several wildlife preserves where your group can see indigenous birds and other creatures.
Address: 2688 E Mission Bay Dr, San Diego, CA 92109
Mission Beach
Nestled in between Mission Bay and the Pacific Ocean, Mission Beach features a 3-mile boardwalk dotted with shops and restaurants that you can explore when you're done swimming and boogie boarding. If you're willing to spend a little bit of money, you can also take your after-school group or wedding party to Belmont Park. This old-school amusement park is much cheaper than LEGOLAND or SeaWorld but is still packed with fun rides.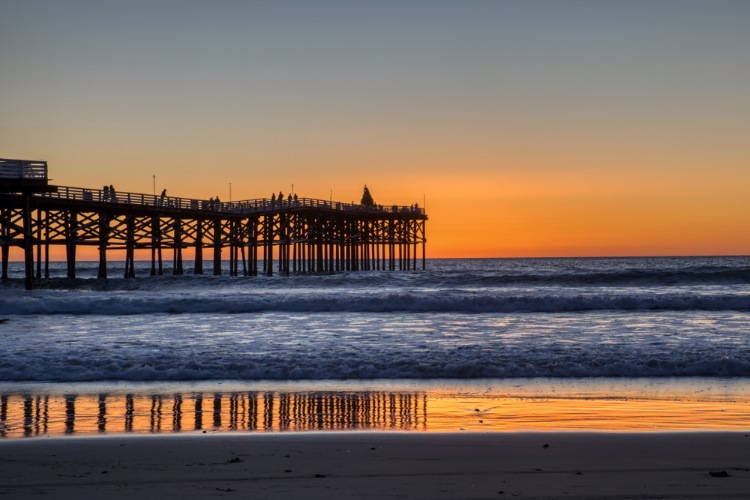 Because Mission Beach is popular with families, it's often crowded. In order to avoid the stress of searching for parking, you may want to ask your charter bus driver to drop you off, return to your hotel, and then come back to pick you up at the end of your beach day.
Address: W Mission Bay Dr, San Diego, CA 92109
Torrey Pines State Beach
Torrey Pines State Beach lies just north of the Torrey Pines State Reserve, a 1,750-acre haven for pine forests and native wildlife. You can hike at the reserve or spend the day on the beach to sunbathe, swim, and catch one of the area's famous sunsets.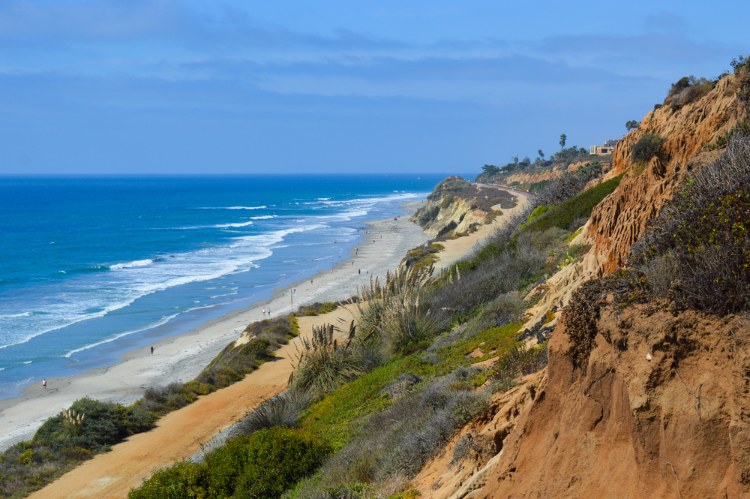 Since Torrey Pines Glideport is nearby, you can also watch the hang-gliders who take advantage of the area's strong winds to leap off the cliffs and soar above the water. You'll have to pay a high price to hang-glide yourself, but there's no cost to watch others perform tricks while your group relaxes on the beach.
Address: Torrey Preserve, CA 92037
Other Free or Cheap Attractions
Balboa Park
San Diego isn't all about the beaches, as impressive as they are. Balboa Park, often called the cultural heart of the city, contains 15 museums and almost 20 gardens. Although some of the museums charge an admission fee, most of the gardens are free, as are the walking and biking trails, the playgrounds, and the dog parks.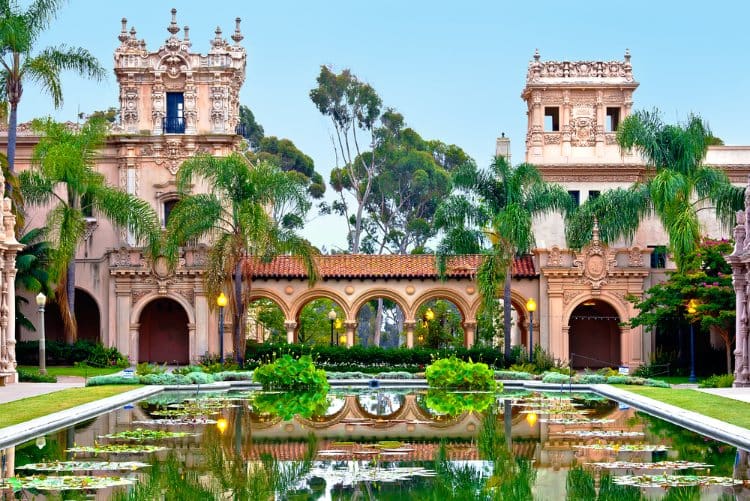 Balboa Park also provides a home for the Spreckels Organ, which was installed in 1914 and is one of the world's largest outdoor pipe organs. On Sundays at 2, you can catch a free organ concert that showcases a mix of classical music and show tunes.
Address: 1549 El Prado Study Room, San Diego, CA 92101
Chula Vista Elite Athlete Training Center
Designed for Olympic and Paralympic athletes, this 150-acre training center offers free self-guided tours that allow you to see the tracks, tennis courts, fields, and motocross courses where many U.S. Olympic and Paralympic athletes play. If you'd like a trained staff member to show your group around, just call ahead to find out when guided tours are available.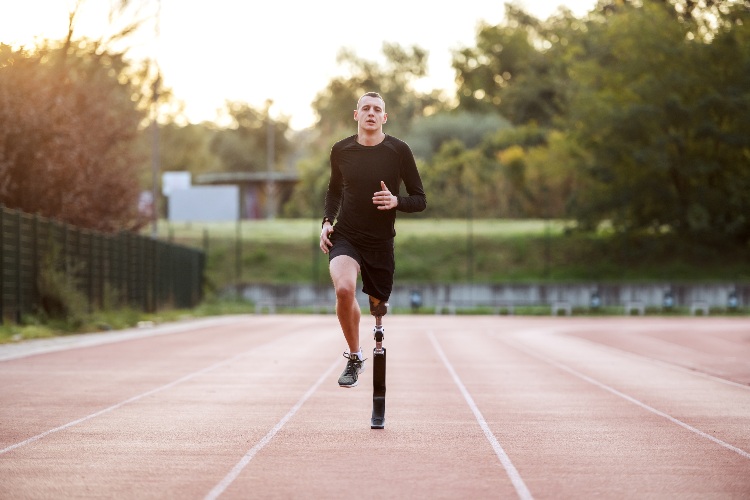 Chula Vista lies about 30 minutes from San Diego when there's no traffic, but there typically is traffic. Luckily, you can request free WiFi and TVs on your charter bus, so there's no need to be bored on your way there. Post your beach pictures to social media or watch your favorite Olympic-themed movie while you travel to the facility.
Address: 2800 Olympic Pkwy, Chula Vista, CA 91915
The Gaslamp Quarter
Spanning 16.5 blocks in downtown San Diego, The Gaslamp Quarter has earned a spot on the National Register of Historic Places thanks to its well-preserved Victorian-era buildings. Although the buildings themselves are historic, the boutiques, art galleries, and restaurants they contain are thoroughly modern, and many of the restaurants happily accommodate groups who've made advance reservations.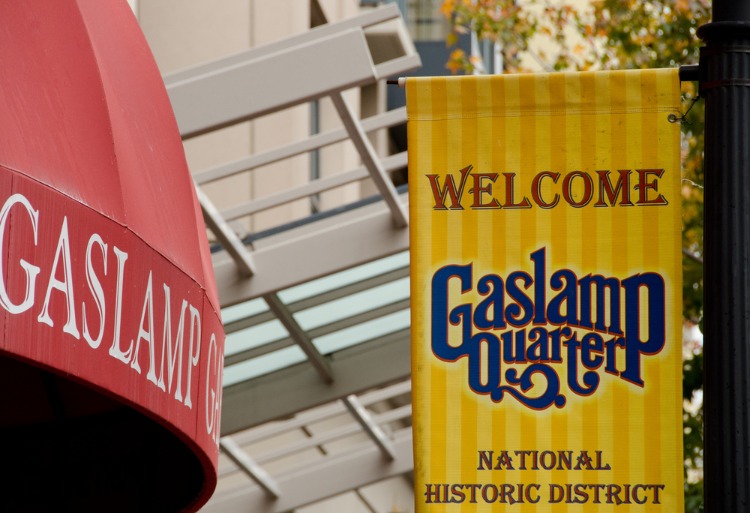 The Gaslamp Quarter is also famous for its rooftop bars. If you're planning a cocktail hour or private party, you can choose from an array of elegant venues with carefully crafted drinks, delicious food, and views of the ocean and Coronado Bridge.
Address: 868 Fourth Ave, San Diego, CA 92101
Mt. Soledad National Veterans Memorial
You can take a moment to honor veterans who've served in the U.S. military at this impressive monument. On top of Mt. Soledad, you'll find an enormous white cross surrounded by black granite plaques. The plaques contain the names of veterans who have served from the Revolutionary War to the present-day War on Terror.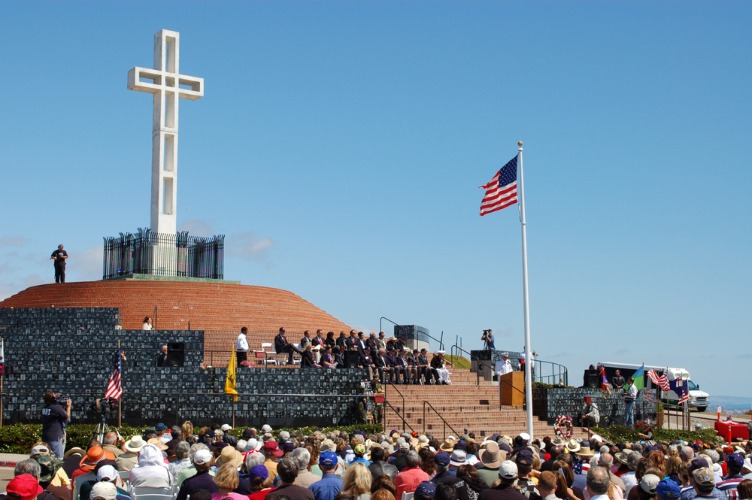 If your group is in town for Memorial Day or Veterans Day, you can attend the city's massive celebration at the monument. But don't worry if you're visiting at a time when there's no ceremony. You can still pay your respects and take in the majestic panoramic views of San Diego from the mountain's peak.
Address: 6905 La Jolla Scenic Dr S, La Jolla, CA 92037
Old Town San Diego
You can't visit San Diego without stopping by one of the oldest European settlements in California. Old Town contains stables, houses, a blacksmith shop, and a schoolhouse that all date back to the late eighteenth or early nineteenth century. Walking past the buildings is free, and some of the house tours are free as well, though others cost a small fee.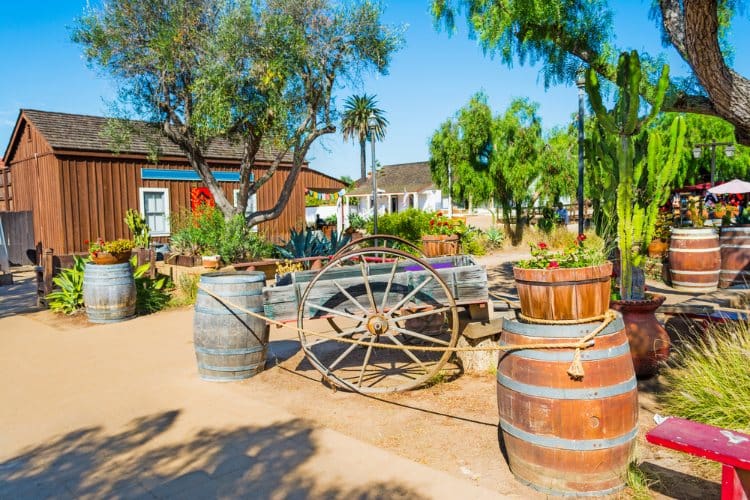 Once your group has finished touring historic homes like the McCoy and Whaley houses, you can head to the Old Town San Diego State Historic Park. This open-air museum features adobe houses and living-history exhibits where professional actors teach your group about life in the early 1800s.
Address: 4002 Wallace St, San Diego, CA 92110
San Diego Embarcadero
The San Diego Embarcadero is home to hundreds of ships, from historic ones like the USS Midway to modern-day yachts and cruise ships. The USS Midway Museum does charge an entrance fee (though the museum is super cool, and may be worth it!), but if you're looking for a completely free activity, it won't cost you anything to stroll past all of the ships.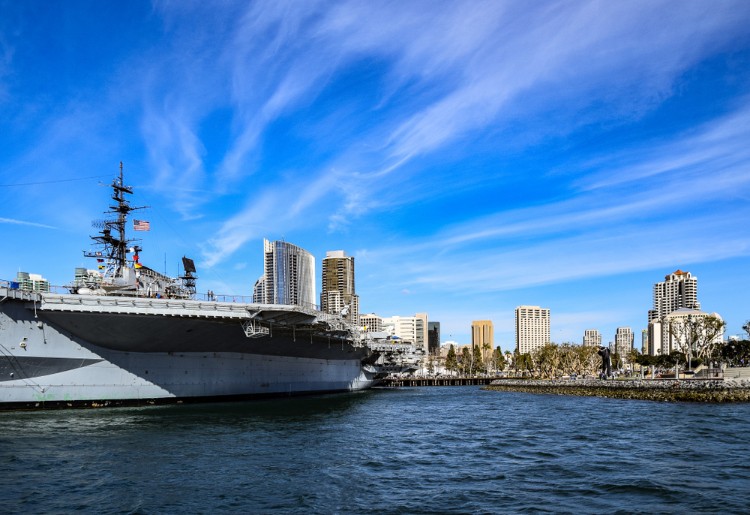 Want to make a day of it? Many restaurants and stores lie within easy walking distance of the Embarcadero. Ask your charter bus to drop you off near the dock so your tour group can see the boats and then go shopping at Seaport Village or eat at one of the many nearby restaurants.
Address: 990 N Harbor Dr, San Diego, CA 92101
Plan Your Budget-Conscious Trip to San Diego
Traveling to San Diego with a group can be expensive, but having fun once you get there doesn't have to be. Whether you want to spend days on San Diego's public beaches or stroll through historic neighborhoods like The Gaslamp Quarter and Old Town, Champion Charter Bus is here to help you get around the city. Charter buses are often less expensive per person than flights, so you can save on your transportation as well as your attractions. If you'd like to learn more and get a price quote, just give us a call at 619-629-0453 when you're ready to start planning your future travel.