Best Budget-Friendly Group Activities in Las Vegas
Between the dozens of casinos and never-ending schedule of shows, it's easy to rack up a big travel bill in Las Vegas. Groups who want the bright lights and glitz of Vegas without the need for a big budget still have options though. If you're traveling to Vegas with a group of friends or family and a tight wallet, we've compiled a list of top things to do for free (or pretty close to it).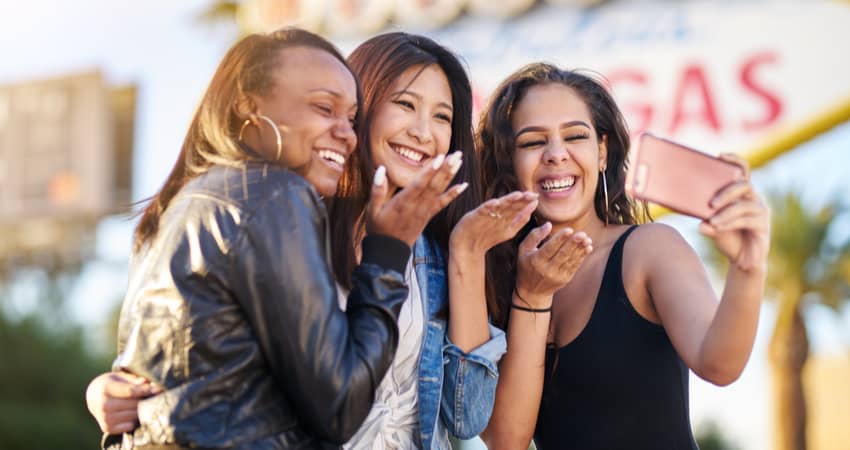 Large groups can simplify their Vegas trip with a private charter bus rental around town. Champion Charter Bus offers a variety of minibuses and motorcoaches for groups of all sizes traveling around Vegas. But isn't a charter bus expensive? When you break down the rental price per person, traveling by charter bus can actually be quite cost-efficient. Rather than organizing a caravan or being on a pre-scheduled tour bus, renting a private bus around Vegas will give your group added convenience and comfort. All you have to do is give Champion Charter Bus a call at any time 702-430-8311 and a rental rep will help you book a bus for your trip in no time.
Now let's hop right into the fun things you can do for little to nothing in Vegas!
Explore the Las Vegas Strip.
The Las Vegas Strip is an iconic stretch of South Las Vegas Boulevard lined with sights, hotels, and casinos. Although you'll need to pay to lodge, dine, and gamble along the Strip, it's completely free to walk or shuttle around the area. Exploring the Strip is a cheap, family-friendly option to kick off your Vegas visit. Plan a custom tour and have your charter bus driver shuttle your group between stops. Keep in mind that if you opt to shuttle between stops, you may have to organize parking at each location. Consider finding a central location like the LINQ Hotel Backlot on Albert Avenue to park your bus and walk between stops, if possible.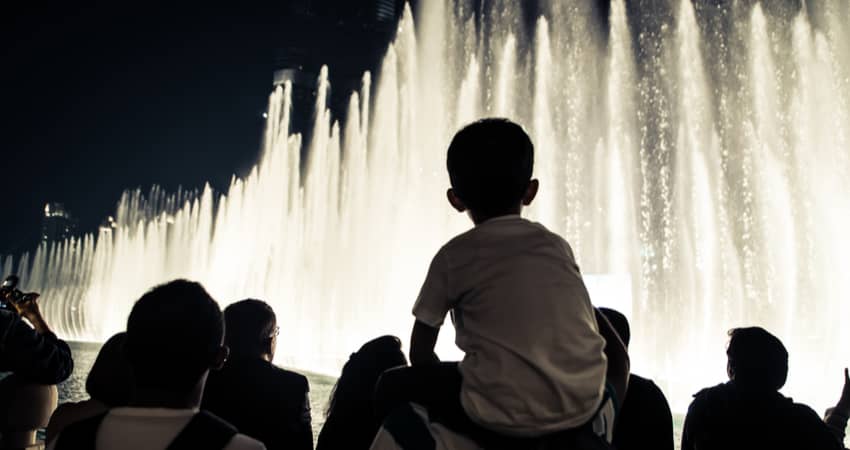 The Bellagio Fountains
Address: Bellagio Hotel & Casino, 3600 S Las Vegas Blvd, Las Vegas, NV 89109
These famous fountains put on an aquatic show featuring lights and music every 15 to 30 minutes.
The Mirage Volcano
Address: 3400 S Las Vegas Blvd, Las Vegas, NV 89109
The Mirage's man-made volcano erupts in a barrage of fire and sound effects every hour, on the hour starting at 6PM.
The Luxor Pyramid and Sphinx
Address: 3900 S Las Vegas Blvd, Las Vegas, NV 89119
This hotel and casino boast replicas of Egyptian wonders like a 30-story pyramid and a massive model of the Great Sphinx of Giza.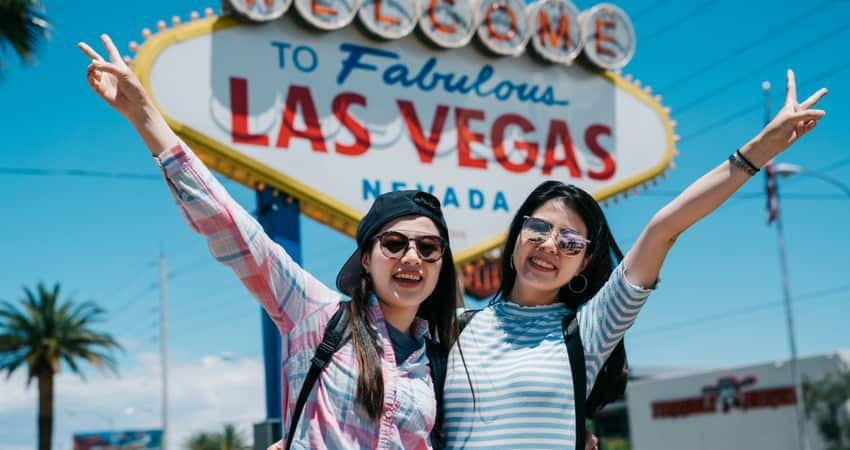 Take a photo op at the Las Vegas Sign.
Address:  5200 Las Vegas Blvd S, Las Vegas, NV 89119
You can't visit Sin City without seeing the "Welcome to Fabulous Las Vegas" Sign. The neon sign at the south end of the Strip has been the subject of thousands of postcards and tourist photos since 1959. One of the best things about visiting the sign is that it's absolutely free! Your group likely won't spend much time at this stop but it should absolutely be on your must-do list before you leave town. If you're planning to visit the sign on your way into Vegas, book a charter bus with amenities like WiFi to upload photos right as your trip kicks off.
Charter bus parking tip: The "Welcome to Fabulous Las Vegas" Sign has its own parking lot where it's completely free to park. A bus parking area is located on the right hand side at the end of the lot.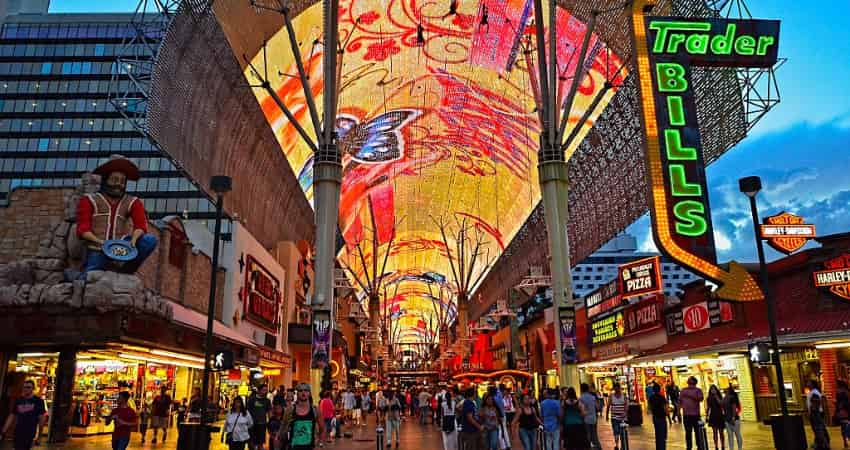 Catch a free show at Fremont Street Experience.
Address: Fremont St, Las Vegas, NV 89101
The Fremont Street Experience is an LED-canopied outdoor mall and is home to attractions like the historic Golden Nugget Casino and Hotel. Groups who want to gamble or catch a show away from the hustle and bustle of the Strip can definitely find plenty to do in this area of North Vegas. Along with its many casinos, hotels, and restaurants, the Fremont Street Experience offers free Viva Visions light shows and live music. Light shows on the LED canopy depend on the season but generally run every hour on the hour between 6PM and 1AM. Live DJs and bands often play across Fremont Street's outdoor stages but you'll have to check out the show calendar to see who's playing.
Charter bus parking tip: Most parking around Fremont Street is located in garages that can't accommodate oversized vehicles. Limited paid street parking is available behind the Golden Nugget. Additional paid parking can be found in the Carson Lot across Carson Avenue from the Fremont garage at 200 S Las Vegas Blvd Las Vegas, NV 89101.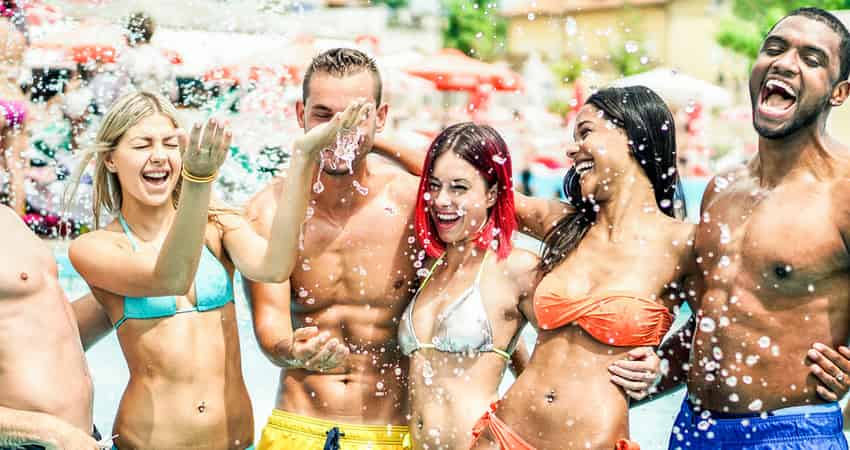 Join a pool party.
Las Vegas has no shortage of hotel resorts with pools that are perfect for kicking your heels up and soaking up the sun. Ideally, out-of-towners will be lodging at a hotel with a top-notch pool they'll be itching to relax in. However, popular hotels with party pools are often in high demand during busy travel seasons, so you may not be able to find rooms for your entire group. Don't worry, you can still find some amazing party pools with free or relatively inexpensive admission. Hours and pool policies do vary depending on the season, so be sure to call ahead to check with hotel staff.
Load up your charter bus with towels, pool gear, and check out one of the luxe pools in the heart of Vegas:
Influence at The LINQ
Address: 3535 S Las Vegas Blvd, Las Vegas, NV 89109
Phone: (702) 835-5713
Cost: Free admission, cabana and daybed rentals separate fees
Influence at The LINQ Hotel is the ultimate 21+ party pool and should be a stop on any bachelor or bachelorette trip, friends weekend, or adult birthday bash trip. Tuesday parties are reserved for locals and industry professionals, everyone else can access the pool Friday through Sunday.
Flamingo's Pools
Address: 3555 S Las Vegas Blvd, Las Vegas, NV 89109
Phone: (702) 697-2888
Cost: Free admission on Monday through Thursday only, cabana rentals separate fees
The Flamingo Las Vegas has two pools. GoPool is 21+ and open to non-guests for free during the week. The Beach Club Pool is family-friendly and open to guests of all ages.
Garden of the Gods at Caesars Palace
Address: 3570 S Las Vegas Blvd, Las Vegas, NV 89109
Phone: (702) 731-7280
Cost: Free for guest Caesars Palace guests, $20 admission for non-guests, cabana and daybed rentals separate
Okay, $20 isn't necessarily cheap but you do get access to a massive luxury pool complex for one fee. Garden of the Gods has seven pools, including a VIP pool, a family-friendly pool, and an adults-only pool. Additional fees may apply to enter VIP areas and for special events.
Elation Pool at The STRAT
Address: 2000 S Las Vegas Blvd South, Las Vegas, NV 89104
Phone: (702) 380-5119
Cost: $10 admission for non-guests, cabana and daybed rentals separate
Elation Pool is located on the 8th floor of The STRAT Hotel and is open to all ages. An adults-only pool can be found on the 25th floor of the hotel.
Charter bus parking tip: Oversized parking may not be available at every hotel for non-guests visiting for the pool. Have your driver drop everyone off at your hotel pool of choice and park at a centrally-located lot like the Albert Avenue lot behind the LINQ and Flamingo for $30.
Go for a hike.
Enjoying the great outdoors may not be what most visitors come to Vegas for. If you're on a  budget though, your group will be pleasantly surprised by the beautiful desert trails you can explore for a small fee. You'll need to drive a little ways out of town to visit nature areas but leave that up to your bus driver! Spend a day hiking the trails, snapping photos of the picturesque landscape, and having a great time with your group. After a long day of hiking, sit and relax in your bus's reclining seats and air conditioning as your driver handles the roads back.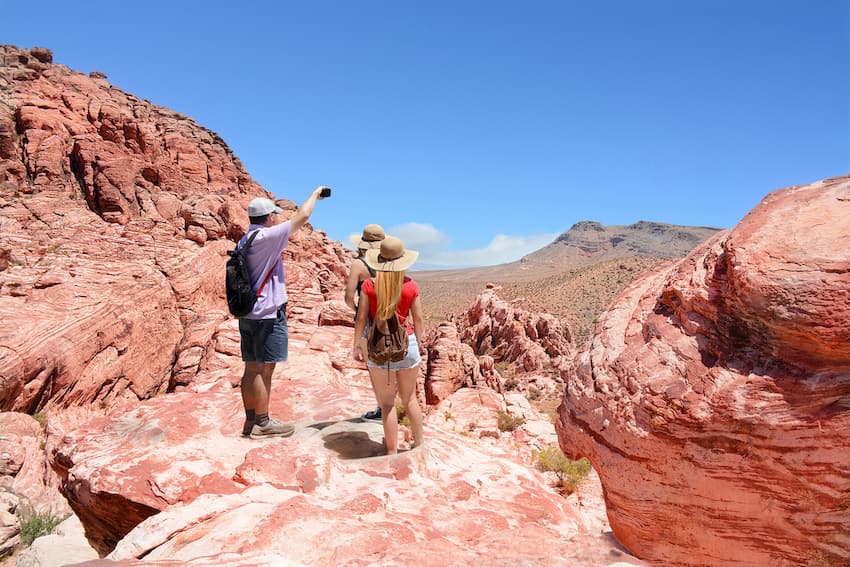 Red Rock Canyon National Conservation Area
Address: 1000 Scenic Loop Dr, Las Vegas, NV 89161
Distance from Vegas: 25 miles
Phone: (702) 515-5350
Cost: $15 per bus + $5 per person
Red Rock Canyon's name will make a lot of sense once you see the breathtaking rock formations across the park. The sprawling area has 31 trails varying in difficulty for everyone from beginners to advanced hikers. If you're traveling with passengers who have mobility concerns, opt to shuttle on your bus through the area's 13-mile scenic drive.
Lake Mead National Recreation Area
Address: 10 Lakeshore Rd, Boulder City, NV 89005
Distance from Vegas: 17 miles
Phone: (702) 293-8990
Cost: $60-150 per bus
Entrance to Lake Mead may seem pricey but it's actually quite affordable when you break it down per person. Minibuses with up to a 25-passenger capacity will be charged $60. Motorcoaches with a 27-passenger or more capacity will be charged $150. Keep in mind, the charge is per vehicle and not per person, so you'll be charged by how big your bus is regardless of how many people are on board. Once you're inside, enjoy hiking, canoeing, kayaking, fishing, scenic drives, or even tour the nearby Hoover Dam for an additional fee.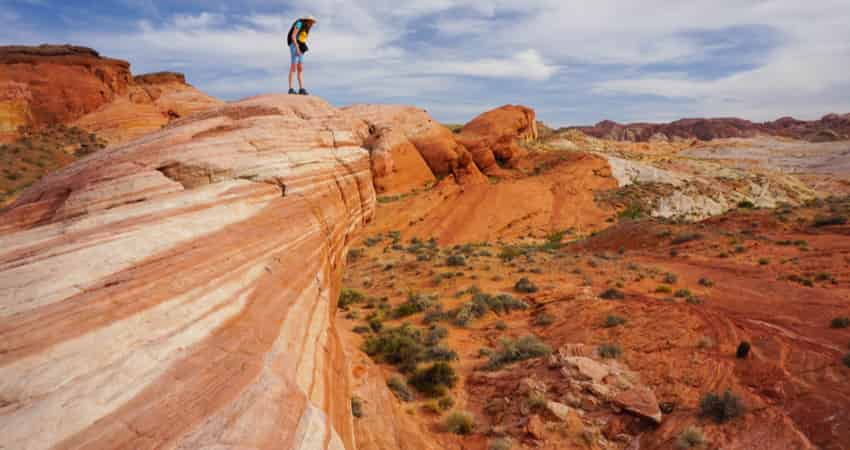 Valley of Fire State Park
Address: 29450 Valley of Fire Hwy, Overton, NV 89040
Distance from Vegas: 50 miles
Phone: (702) 397-2088
Cost: $2 per person per day (buses only)
Valley of Fire State Park is home to 11 trails and miles of unique Aztec sandstone formations and geological wonders. Some of the trails include Anasazi petroglyphs from as early as 300AD and rock formations that are over 150 million years old. It's the perfect place to get some exercise and learn a little natural history at the same time.
Explore Las Vegas with Champion Champion Charter Bus
Having a tight budget shouldn't keep groups from enjoying a trip to Las Vegas. You can focus on creating an itinerary for your trip and leave your transportation up to Champion Charter Bus. We can do our best to work with groups of all sizes with different budgets. Just give us a call at 702-430-8311 to talk with a rental rep about your Vegas trip. You'll get a no-obligation, personalized quote in just a few minutes!