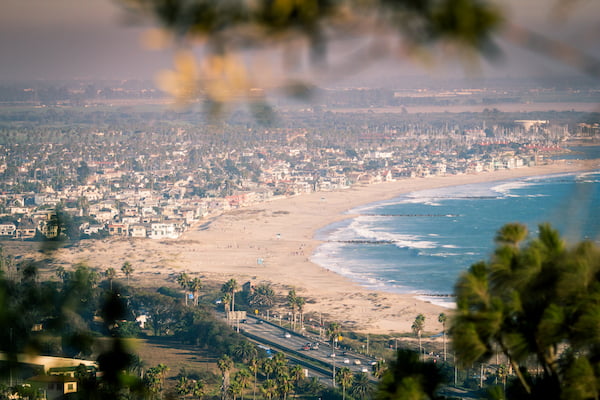 Welcome to Champion Charter Bus, your trusted source for reliable group transportation services throughout the United States. As an experienced charter bus company, we have had the privilege of witnessing the beauty and charm of countless destinations. Today, we invite you on a virtual journey through some of our favorite places to visit in the Western United States. From vibrant cities to picturesque coastal towns, these destinations offer a diverse range of experiences for every traveler. 
Anaheim: The Land of Enchantment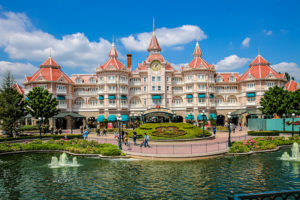 Located in sunny Southern California, Anaheim is a city filled with enchantment and wonder. Home to the iconic Disneyland Resort, this magical destination is a dream come true for both children and adults alike. Immerse yourself in the whimsical world of Disney characters, exhilarating rides, and live entertainment. And don't forget to explore Disney California Adventure Park for even more thrills!
Beyond the magic of Disneyland, Anaheim offers a vibrant dining and entertainment scene. Stroll along the lively Anaheim Packing District, a food lover's paradise featuring an array of gourmet eateries and artisanal shops. For sports enthusiasts, catch an exciting game at the Angel Stadium, home to the Los Angeles Angels. Anaheim truly has something for everyone.
We know there's a lot to see in Anaheim, so we let you craft your own itinerary allowing you to focus on what's important to your group and leave the driving to us. Give us a call at 1-844-693-9330 to get a free quote or learn more about our services and charter bus rental pricing.
Fresno: A Cultural Haven in Central California
Nestled in the heart of California's Central Valley, Fresno is a hidden gem brimming with cultural treasures. Immerse yourself in the rich heritage of the region at the Fresno Art Museum, which showcases an impressive collection of contemporary and modern art. Explore the captivating exhibits that celebrate the diverse cultures that have shaped the area.
Charter Bus Tip: Every group has unique needs and preferences, that's why Champion Charter Bus offers customizable itineraries, allowing you to plan additional stops or sightseeing activities before or after your visit to the Fresno Art Museum. Discuss your itinerary preferences with our customer service team to create a tailored trip.
For nature lovers, a visit to the nearby Yosemite National Park is a must. Marvel at the gigantic granite cliffs, cascading waterfalls, and breathtaking vistas. Save some time for a scenic hike and capture unforgettable moments in nature.
Santa Ana: Where History and Creativity Converge
Discover the vibrant city of Santa Ana, a cultural hub located in Orange County, California. Begin your journey at the historic downtown district, where beautifully preserved architecture transports you to another era. Explore the Bowers Museum, an institution dedicated to preserving and showcasing art and cultural heritage from around the world.
To any art enthusiasts, look no further than the Orange County Center for Contemporary Art, showcasing thought-provoking exhibits by local and international artists. And for a taste of nature's tranquility, visit Santiago Park, an oasis of greenery tucked into the heart of the city.
Long Beach: A Coastal Paradise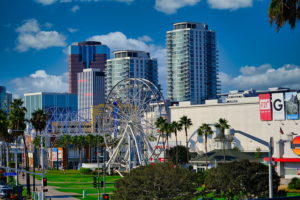 With its sun-kissed beaches, vibrant waterfront, and lively downtown scene, Long Beach offers a quintessential California experience. Take a leisurely stroll along the iconic Belmont Shore and soak up the relaxed beach atmosphere. Admire the stunning waterfront views and indulge in delectable seafood at one of the many waterfront restaurants.
History buffs will enjoy exploring the legendary Queen Mary, a retired ocean liner turned floating museum and hotel. Discover its rich history and fascinating exhibits, and perhaps even spend a night aboard this iconic vessel.
Denver: The Mile High City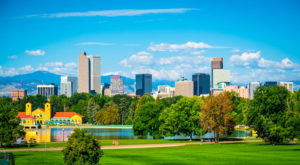 Nestled in the Rocky Mountains, Denver, Colorado, welcomes visitors with its blend of natural beauty and urban sophistication. Embark on a scenic drive through the breathtaking landscapes of the nearby Rocky Mountain National Park. From majestic peaks to pristine lakes, this natural wonderland offers endless opportunities for hiking, camping, and wildlife spotting.
Back in the city, explore the vibrant neighborhoods of LoDo (Lower Downtown) and RiNo (River North Art District), where art galleries, craft breweries, and eclectic eateries abound. Don't miss the chance to explore Denver's thriving cultural scene. The Denver Art Museum houses an extensive collection of artworks spanning various periods and cultures. From ancient artifacts to contemporary masterpieces, the museum offers a captivating journey through artistic expression.
Charter Bus Rental Tip: To avoid crowds and make your visit more enjoyable, consider scheduling your charter bus trip during off-peak hours. Weekdays and early mornings tend to be less busy, allowing you and your group to explore the Art exhibits with ease.
History enthusiasts will appreciate a visit to the Colorado State Capitol, where you can marvel at the stunning architecture and even climb to the dome's observation deck for panoramic views of the city. For a taste of the Old West, explore Larimer Square, a historic district lined with charming Victorian buildings, trendy boutiques, and award-winning restaurants.
Oceanside: Coastal Bliss in Southern California
Located in San Diego County, Oceanside is a coastal gem known for its pristine beaches, laid-back atmosphere, and charming pier. Enjoy the year-round mild climate as you soak up the sun, swim in the azure waters, or try your hand at surfing. The Oceanside Pier is a great spot to cast a fishing line or simply take a leisurely stroll while enjoying breathtaking ocean views.
For a touch of history, visit the California Surf Museum and delve into the rich heritage of California's surf culture. Explore the exhibitions that showcase vintage surfboards, iconic photographs, and memorabilia that pay homage to this beloved coastal pastime.
Modesto: A Cultural Oasis in the Central Valley
Nestled in California's fertile Central Valley, Modesto offers a unique blend of small-town charm and cultural attractions. Visit the McHenry Mansion, a beautifully restored Victorian-era home that offers a glimpse into Modesto's rich history. Explore the surrounding McHenry Museum to learn more about the region's agricultural heritage.
For an evening of entertainment, catch a show at the Gallo Center for the Arts, a state-of-the-art venue that hosts a wide range of performances, from Broadway shows to live concerts. And be sure to sample the local cuisine, as Modesto boasts a thriving farm-to-table dining scene that showcases the region's bountiful harvest.
Oxnard: Coastal Delights in Southern California
Situated along the coast of Southern California, Oxnard is a hidden coastal gem waiting to be explored. Bask in the sun at one of the city's pristine beaches, such as Silver Strand Beach or Oxnard State Beach. Indulge in water sports like kayaking, paddleboarding, or sailing, and savor the breathtaking ocean views.
Nature lovers can venture to the Channel Islands National Park, located just off the coast. This collection of pristine islands offers a sanctuary for unique wildlife, hiking trails with panoramic vistas, and opportunities for snorkeling and diving in crystal-clear waters.
Explore the historic Heritage Square in downtown Oxnard, where beautifully restored Victorian-era homes now house unique shops, boutiques, and restaurants. And don't forget to visit the Carnegie Art Museum, which showcases a diverse range of art exhibitions and cultural events throughout the year.
Plan Your Western US Trip with Champion Charter Bus
At Champion Charter Bus, we understand the importance of comfortable and reliable transportation when exploring these captivating destinations. Whether you're traveling with a small group or a large party, our network of charter bus and minibus rentals ensure that you can sit back, relax, and enjoy the journey as we take you to many incredible Western United States destinations.
Contact us today to start planning your next unforgettable trip to these incredible destinations. Let us be a part of your travel experience, ensuring a smooth and comfortable journey every step of the way.
Safe travels and happy exploring!