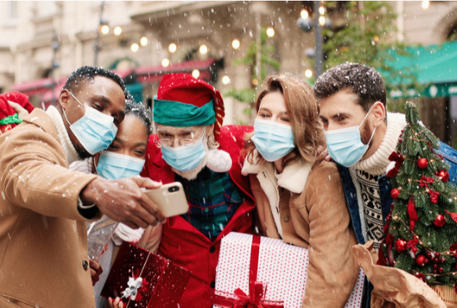 As the holiday season approaches again, many of us are eager to spend some time with our families and friends—but with Covid-19 procedures being so unpredictable, it's hard to determine what will be feasible come December. A safe bet may be an outdoor activity where everyone can stay socially distanced, which is why we've compiled a list of social-distance-friendly, holiday-themed activities everyone can safely enjoy in Denver!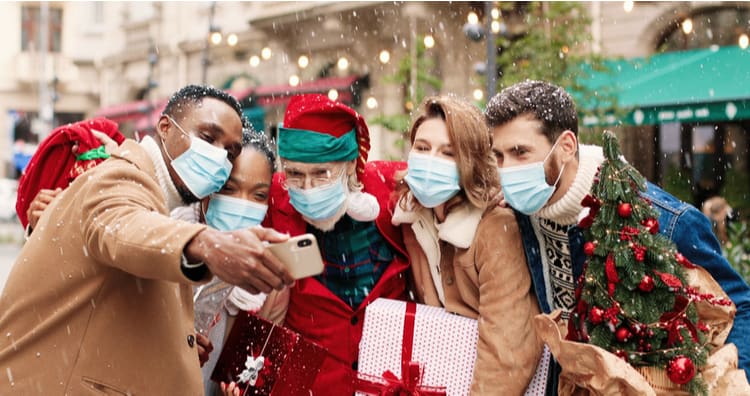 If you still need to travel as a group, we've got you there, too. Once you've rallied your established pod, you can book a private bus with plenty of COVID precautions in place. We at Champion Charter Bus can help you enforce mask mandates, perform temperature checks, and sanitize high-touch surfaces, all while you enjoy typical bus amenities like reclining seats, climate controls, WiFi, and more. Plus, your personal driver will be committed to your group's safety and will adhere to any safety guidelines you've put in place. Instead of picking designated drivers, you'll be able to kick back, enjoy the ride, and check out some of Denver's best holiday activities free of stress!
Here are a few of our suggestions for outdoor-only or socially-distanced holiday activities in Denver for the 2021 holiday:
Please note: All of the below listings plan to be open for business as of the time of this writing (August 2021). Please check with each business before securing your plans, as hours and regulations may change with the ongoing COVID-19 pandemic.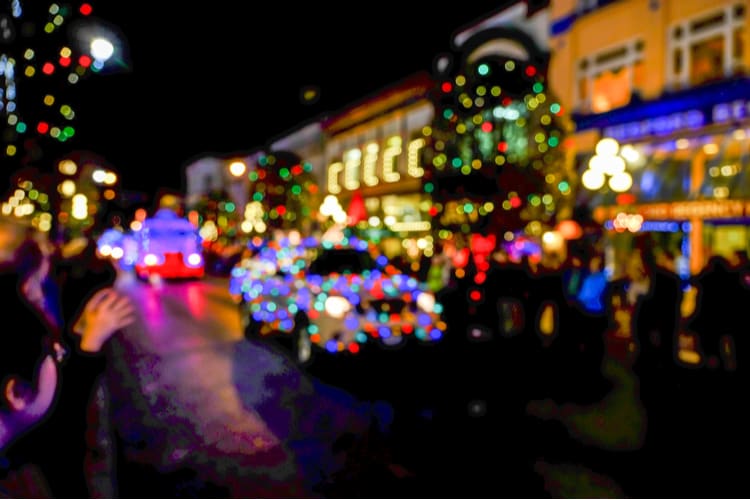 9News Parade of Lights
Address: Downtown Denver
Looking for a free way to enjoy some lights? In 2020, 9News extended their annual Parade of Lights into a multi-day holiday celebration and are expected to do a similar arrangement in 2021. If the 2020 setup continues, eight traditional floats that have previously been part of the parade will be on display from Denver Pavilions to Denver Union Station. Groups can take a socially-distanced walk between displays, or add a little scenic drive to their existing trip itinerary.
Charter bus parking: It may be difficult to find a parking space for your bus downtown, so if you'd like to walk through the light displays, you can ask your bus driver to drop you off near Denver Pavilions. Both sides of the block on Broadway between Colfax and 14th Avenue are often used as tour bus drop-off and pick-up points, available on a first-come, first-served basis. From there, you'll have a 5- to 10-minute walk to the Pavilions.
Holiday Lights Mini Golf
Address: Adventure Golf & Raceway: 9650 Sheridan Boulevard, Westminster, CO 80020
Phone: (303) 650-7587
With plenty of space to stay distanced, walk around, and practice your putting skills, Holiday Lights Mini Golf is a great way to get into the spirit of the holidays with family and friends while enjoying some fresh air. All three of the property's mini-golf courses will be packed with over 100,000 holiday-themed lights that create an immersive and beautiful backdrop. As of the 2021 holiday season, putting groups can be no larger than 4, s you can split up into smaller groups for a little healthy competition. Don't forget to pick up some burgers, fries, corn dogs, and even fried mac-n-cheese from the pit stop concessions after you've wrapped up.
In non-holiday times, you can book space for a group gathering of any size if you're planning a personal event or school trip. Group rates apply to groups of 10 or more when you book at 303-650-7596.
Charter bus parking: There's a large parking area right in front of Adventure Golf & Raceway. Be sure to check with the property before you bring your bus to make sure there will be enough space.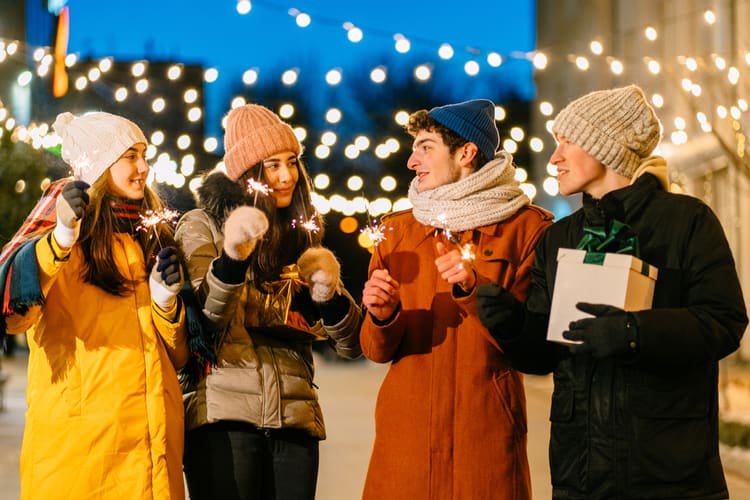 Snow Much Fun
Address: Boulder, CO Civic Area (near the Boulder Museum of Contemporary Art at 1750 13th St, Boulder, CO 80302)
Just a little ways up in Boulder, your group can find thousands of colorful LED lights across Boulder's Civic Area and throughout Downtown on Pearl Street. Themed light displays are likely to make an appearance, with past displays being styled as candy cane forests and gumdrop streets. And, of course, there will be snow. Your group can stroll to your heart's content while you take in the beautiful lights and enjoy a cup of hot chocolate.
Christmas at Gaylord Rockies Resort
Address: 6700 N Gaylord Rockies Blvd, Aurora, CO 80019
Phone: (720) 452-6900
Snow tubing, ice skating, scavenger hunts, and acres of displays with more than three million lights? Sign us up! During the holidays, the Gaylord Rockies Resort is decked-out with holiday cheer from top to bottom. Some highlights include pictures with Santa that are social-distancing friendly, ice skating, ice bumper cars, a merry-go-round, multiple dining options, and holiday decorations in every corner.
Many activities take place outside, while the resort's spacious interiors make it easy to maintain a safe distance from other groups. Check with the hotel before your trip to make sure you're up-to-date on their current safety measures.
If you're also planning any sort of company gathering or small convention at the Gaylord Rockies' attached convention center, contact us to learn more about bus rentals for corporate events!
Charter bus parking: Since it's also a convention center, the Gaylord Rockies Resort is no stranger to large groups. The resort's extensive parking lot will have plenty of space to park your charter bus (or buses).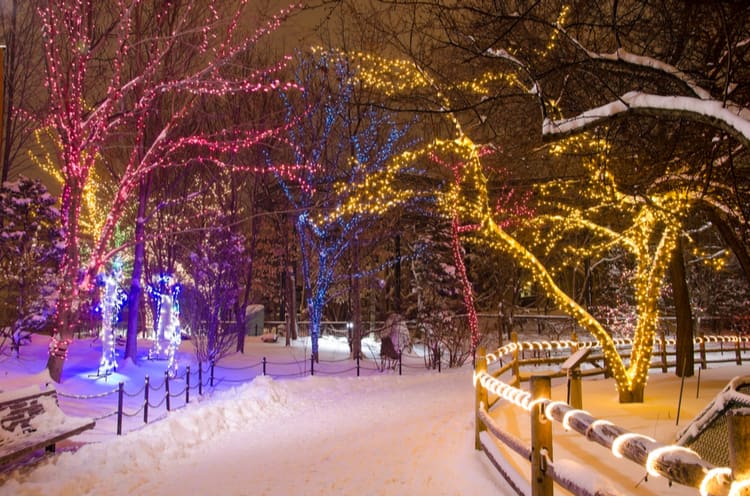 Trail of Lights at the Denver Botanic Gardens
Address: 1007 York St, Denver, CO 80206
Phone: (720) 865-3500
If you're a fan of magical lights draped among beautiful plant displays, the Trail of Lights at the Denver Botanic Gardens is for you. Hot beverages can be purchased to help keep you warm while you follow a path through beautiful light displays. Highlights include three-sided light tunnels, a children's play area with synchronized music, and even a singing Christmas tree! Timed, ticketed entries help keep the gardens from reaching capacity, and you'll be able to stay outside and safely distanced throughout your visit.
Charter bus parking: Before your visit, check with the Gardens to secure pickup, drop-off, and parking areas for your charter bus. Street parking may be available in Cheesman Park or Congress Park near posted signs.
Zoo Lights at the Denver Zoo
Address: 2300 Steele St, Denver, CO 80205
Phone: (720) 337-1400
If you'd rather spice up your light-viewing experience with some wild animal sightings, head out to the Denver Zoo for their Zoo Lights display! The Zoo will be covered in magical light displays, which guests can enjoy by following a marked, one-way path to discourage crowding and encourage social distancing. The zoo recommends visiting on a weeknight, as those tend to be less crowded.
Charter bus parking: There's an open surface lot east of the zoo's main entrance with space for your charter bus to park.
Book a Family Charter Bus for Your Holiday Events
Ready for a holiday-themed trek through Denver? Count on Champion Charter Bus to book the perfect bus for your group, complete with all necessary COVID safety precautions and additional amenities for your comfort. We're available 24 hours a day to answer any questions you may have about Denver bus rentals! Call 303-482-2792 to get a free, no-obligation bus rental quote today.