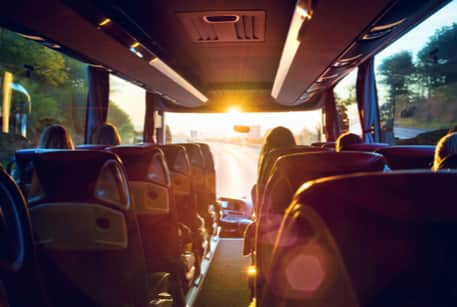 Renting a bus can be intimidating when you've never booked one before. What's the difference between a minibus and a charter bus? How much will a bus rental cost? Where can my bus rental travel? At Champion Charter Bus, we understand that you'll have lots of questions, but don't worry—we're here to help!
We service most major cities along the West Coast and neighboring states, so whether you're planning a private tour around Los Angeles or need a charter bus in Las Vegas for a casino trip, Champion will have safe and efficient transportation for you. As you consider your bus rental options and plan your West Coast trip, you can refer to this helpful rental guide.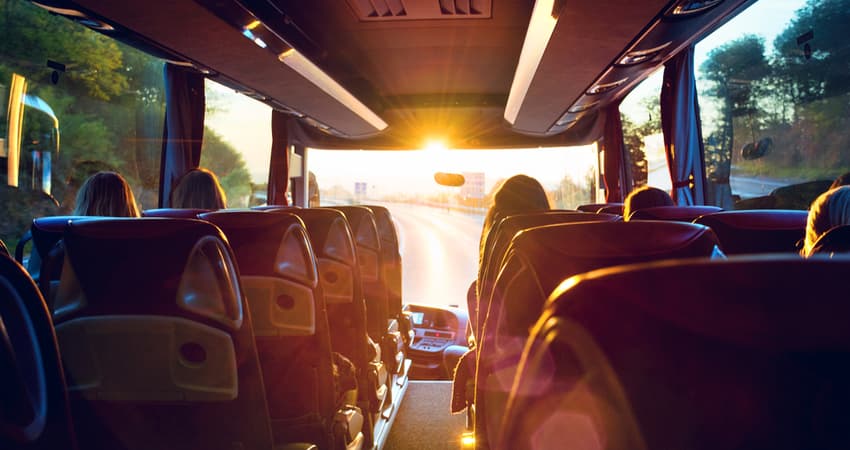 Charter Buses vs. Minibuses
One of the first steps in renting a bus is figuring out what type of vehicle may be best for your needs. The biggest questions to ask yourself are: how many people are in my group, and how many seats are on a charter bus? Minibuses come in a variety of sizes, including 18-, 20-, and 25-seat models. Full-sized charter buses have 56 seats on most models. There may be some variations in passenger capacity for ADA-accessible buses with modified spaces for wheelchairs.
Minibuses are usually best suited for:
Small groups
Private events like birthdays and bachelor/ette parties
Urban travel in large cities with crowded streets
Full-sized charter buses are usually best suited for:
Large groups
Events like business conventions, school field trips, and group tours
Long-distance trips
If you're unsure of what bus will be best for your group, a Champion Charter Bus rental rep can help you choose. You'll also have the option to build a fleet if your group is too big for one minibus or charter bus.
What to Expect on your Charter Bus
Now that you know the different sizes of vehicles available, you may be wondering what features you'll have onboard. Here are some features that come standard on some buses or can be requested to be on your rental:
A restroom (not available on smaller models of minibus)
WiFi
Power outlets
Leather, reclining seats
TVs equipped with DVD players
Climate controls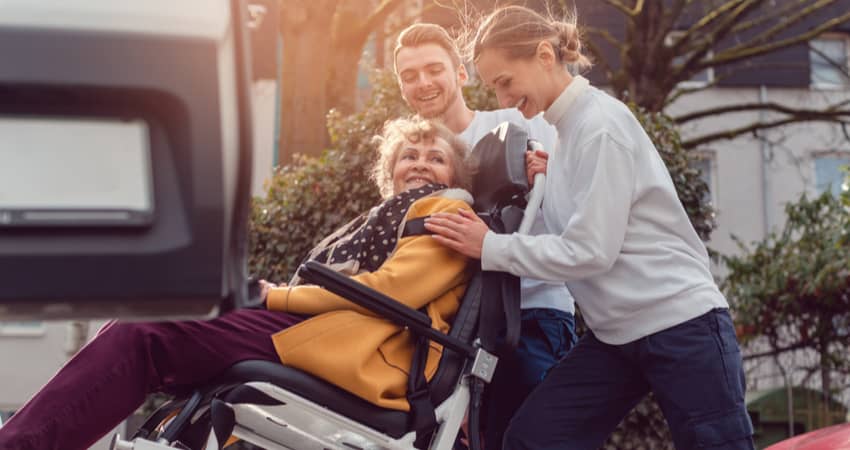 ADA-Accessible Bus Options
Champion Charter Bus can provide ADA-compliant transportation in any city with prior notice. Just let your reservation expert know what features you'll need on your bus and how your bus driver can help accommodate your mobility needs. An ADA-accessible bus can include the following features:
A wheelchair lift
Additional hand railings in the bus's cabin
Widened aisles for mobility devices
Specialized seats for passengers in wheelchairs who cannot transfer
The Bus Rental Process
So we know what features come on charter buses, but how do you rent a bus? To get the best price quote for a bus rental, you'll need to book as far in advance as possible. This is especially important in major cities during busier travel seasons like spring and summer. If you plan to travel during peak travel season, consider looking into transportation about 6 months in advance. Groups traveling during the off-season should start planning about 3 months out.
These are the steps you'll need to take to reserve a charter bus rental:
Start with a quote: Champion Charter Bus offers free, personalized quotes for every trip. Call 1-844-693-9330 with your itinerary and trip details for a quote.
Put down a deposit: If the price quote meets your budget, you'll just need to put down a deposit that's 30% of your trip total. This will secure your charter bus.
Get ready for your trip: Sit tight and tie up any loose ends for your trip. You'll just need to make sure your trip is paid in full one month before your travel date.
Check in with your group: Make sure everyone knows the details of your trip, including departure time and designated pickup location. Your reservation expert will check in with you the day before your trip to make sure everything is in order.
Charter Bus Rental Pricing
How much is all of this going to cost? Well, it depends. Bus rental pricing is based on many factors, which is why Champion Charter Bus personalizes every travel quote. Generally, bus rentals are quoted by the day, by the mile, or by the hour. Keep in mind that most trips, regardless of how they are priced, will require a 5-hour minimum. Your bus rental quote will include your driver's pay and the cost of your bus rental for the entirety of your trip.
Factors that are considered when building your quote include but are not limited to:
The distance and duration of your trip: Longer trips across farther distances will generally result in higher price quotes than short, in-town trips.
Departure and arrival city: Certain cities like San Francisco and Los Angeles attract larger numbers of travelers, which can drive higher demand and cost for bus rentals.
Travel season: Demand for bus rentals is usually much higher in spring and summer than in the off-season. Traveling during peak season can limit bus availability.
How far in advance you book: Charter bus availability may be limited if you wait too long to book. Booking your bus further in advance will help ensure you get the best price possible.
The model and size of bus: Larger buses tend to be more expensive than smaller models of minibuses.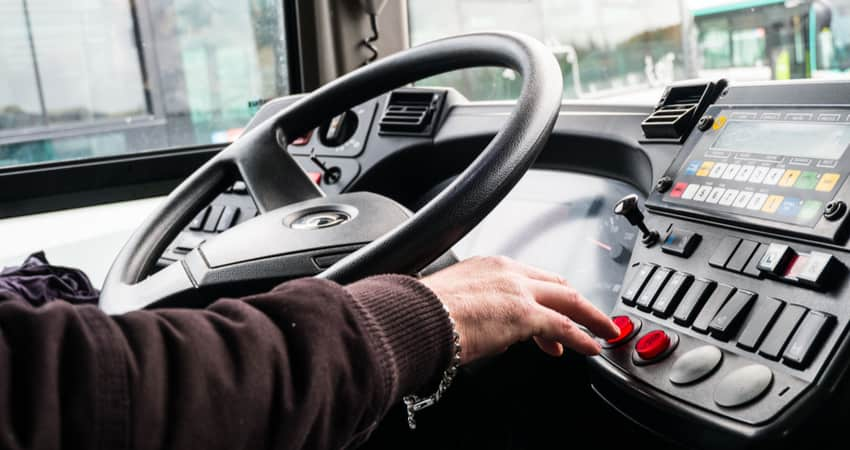 Champion Charter Bus quotes are all-inclusive, and you won't have to deal with any hidden fees. However, there are some costs out of our control that you should consider when booking your trip. Here are a few additional costs that you may incur when traveling:
Your driver's lodging arrangements: If you're planning a multi-day trip, you'll need to reserve a lodging arrangement for your driver. Bus drivers are required to rest for 8 hours after every 10 hours of driving.
Driver's tip: Tips are always appreciated to thank your driver for their hard work throughout your trip. A tip of 5-10% of your total trip cost is standard.
Parking and toll costs: You'll have to organize parking and pay for tolls and for your bus to park at your destination.
Still need some help understanding how bus rental pricing works? Check out these pricing examples to get an idea (though not a concrete cost) of how bus pricing breaks down:
Wedding Ceremony in Seattle
A Seattle couple is planning to get married at their large, local church and host a reception at Sodo Park. The couple both have big families, and they have a long guest list with 205 confirmed guests. With so many people attending, the couple is worried about guests dealing with parking, traffic, or getting lost between the church ceremony and reception venue. They call Champion Charter Bus to reserve 4 full-sized wedding shuttles to transport their guests. Their entire wedding service is scheduled to last 5 hours. The hourly rate for a full-sized bus is usually about $165 per vehicle. The venue offers free parking for weekend services.
4 full-sized charter bus rentals for 5 hours: $3,300 ($165 x 4 buses x 5 hours)
Tip (4 drivers): $350 or $87.50 per driver
Total: $3,650
Private Group Tour in Los Angeles
An international tour group is flying into LAX for a tour of the city. The group of 22 tourists plans to spend 7 days in LA. They book a 25-passenger minibus to pick them up at the airport and transfer them to their hotel, restaurants, and popular attractions. A minibus in Los Angeles usually runs around $1,165 per day, and the group will pay for the driver's lodging as well as overnight parking for their bus.
Minibus rental for 7 days: $8,155
Lodging for the driver (6 nights): $540
Overnight parking for the bus (6 nights): $420
Driver tip: $407
Total: $9,522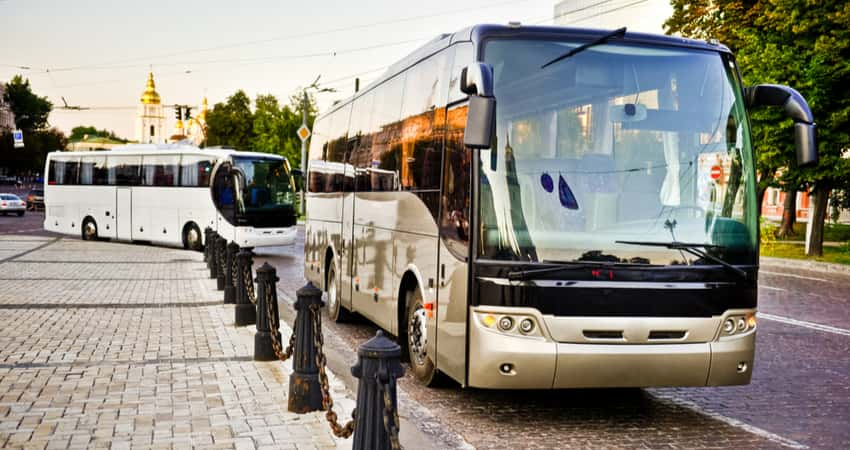 Frequently Asked Questions
We've covered the basics of renting a bus, but we understand that you may have more specific questions about our group travel options. The easiest way to get your questions answered and to get a free quote is by calling the rental team 24/7 at 1-844-693-9330. If you don't have time to call, the frequently asked questions found below may have some helpful answers for you.
Do charter buses have seatbelts?
Newer bus models made after 2016 will have seatbelts. Older models are not guaranteed to have 3-point safety belts. Regardless of age, all buses are fully inspected, well-maintained, and meet both federal and local safety standards.
Are pets allowed on board?
Unfortunately, pets are not often allowed on board. However, registered service animals are permitted.
Are passengers allowed to eat and drink on the bus? What about alcoholic beverages?
Food and drinks are allowed on charter buses, but be sure to clean up after your group. A cleaning fee may be charged for any messes left in the cabin. Alcohol may be permitted onboard with a prior inquiry. Just be sure to let your reservation specialist know that you'd like to drink on your bus.
Can I drive my charter bus if I have a CDL license?
No. Only your fully-licensed driver will be allowed to operate your charter bus rental.
Reserve Transportation with Champion Charter Bus
The Champion Charter Bus team is available around the clock to answer any additional questions for your group trip around the Western United States. We'll get you in a minibus or charter bus rental that's exactly what you need for the road. Call 702-430-8311 for your personalized quote!