A Group Guide to Outdoor Dining in Phoenix
Phoenix may be a desert town, but that doesn't mean dining al fresco is out of the question—even in the summertime! From upscale patios with umbrellas and sparkling lights to casual spots with outdoor games and craft brews, there are plenty of spaces in the city to enjoy a nice meal outside with your favorite people.
Keep reading to learn more about Phoenix's outdoor dining scene. And if your group needs a ride to your next private outdoor dining experience, give Champion Charter Bus a call at 480-257-7734. We'll connect you to a Phoenix bus rental so that every guest arrives right on time to your dinner reservations and has a reliable DD at the end of the night.
Now let's dig in!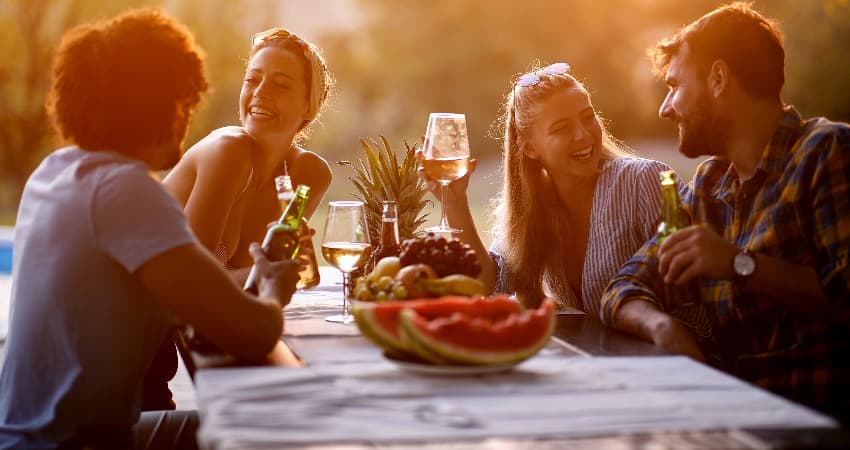 The Vig Uptown
Address: 6015 N 16th St, Phoenix, AZ 85014
This Madison Village gem markets itself as an upscale neighborhood tavern—with Bocce ball, corn hole, live music, and stacks of Trivial Pursuit cards at each table to pass the time with while you wait for your food.
Speaking of food, diners can expect a casual meal to match the atmosphere. Pick and choose from the variety of vegan and gluten-free options, or dig into popular bar favorites like fish tacos and lamb burgers. If your crowd is interested in drinks, complement the meal with a Mandarin Cooler (Absolut mandarin vodka, rosemary simple syrup, lemon juice, sparkling wine, and cranberry juice).
Luci's at the Orchard
Address: 7100 N 12th St building 2, Phoenix, AZ 85020
Unfortunately, as of the time of this writing, Luci's has temporarily suspended catering and venue buy-outs due to the pandemic. In the meantime, though, smaller groups can drop by with a dinner party to enjoy farm-to-table plates and a family-friendly atmosphere.
While the adults are enjoying green chile burgers, Tuscan kale salads with herb goat cheese, or one of the alcoholic ice cream floats, your kids can splash around and cool off at the splash pad right next to the outdoor dining area.
Different Pointe of View
Address: 11111 N 7th St, Phoenix, AZ 85020
Looking to splurge for a special occasion—like a rehearsal dinner or a corporate celebration? This restaurant atop the Pointe Hilton Tapatio Cliffs Resort offers some of the most sophisticated outdoor dining experiences in town. Treat your dinner party to the stunning desert views and crisp North mountain air these tiered patios offer, and everyone can watch the sunset with a plate full of elevated dishes like braised chicken and lobster bisque.
As one of the top high-end eateries in Phoenix, Different Pointe is no stranger to hosting elegant events. Whether you need to rent the entire facility for a grand wedding reception or want to host a semi-private dinner in the Terrace Room, get in touch with the on-site event planner by calling 602-870-8188 to request a dance floor, a custom dining and drink menu, and other customizable amenities to make your personalized event one they won't soon forget.
Phoenix bus rental tip: For evening events where alcohol will be served, we recommend booking a minibus shuttle to transport dinner guests to and from the restaurant. That way, a professional driver will be your designated driver for the night and no one has to worry about having that extra drink before they leave!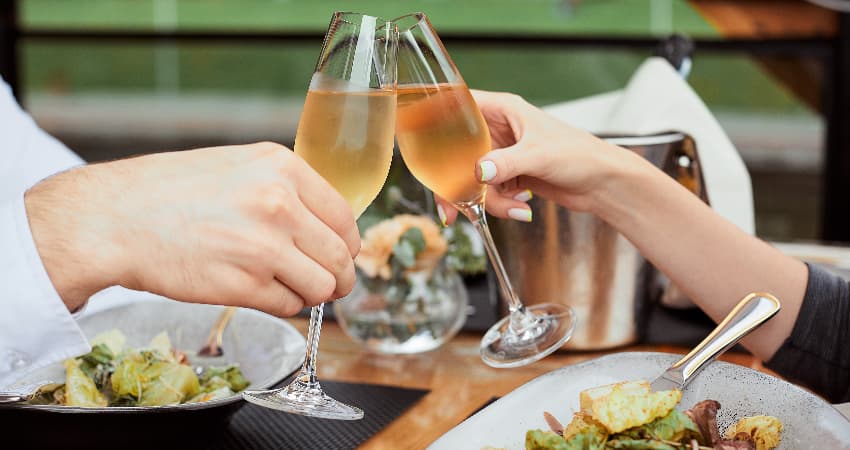 Lon's at the Hermosa Inn
Address: 5532 N Palo Cristi Rd, Paradise Valley, AZ 85253
Enjoy the scenery and laid-back feel of a European villa—without leaving Phoenix! Hermosa Inn's onsite restaurant provides gorgeous mountain views framed by colorful flowers and a vintage fountain for visitors who want a romantic meal outdoors.
Dine on classic dishes made with innovative twists like Himalayan salt-seared ahi tuna and lobster tempura, all seasoned with herbs plucked from the restaurant's onsite garden. Or, if you're feeling a little adventurous, sample from the weekly Chef's Tasting Menu—an expert sommelier will always be on hand to recommend the ideal wine pairings for each week's new dishes.
For private events, Lon's can host up to 12 guests at the rustic trestle table in the Wine Cellar room—complete with 1890's Chicago brick walls and reclaimed beams and trusses throughout. Time your visit right and your group may even be able to drop in on one of the restaurant's regular events, such as cooking classes, fall and spring harvest dinners, and an elegant annual champagne dinner.
Joe's Real BBQ
Address: 301 N Gilbert Rd, Gilbert, AZ 85234
There are plenty of comfortable dining patios in Gilbert's Heritage District, but few are as beloved as the local favorite. Inside this historic former grocery store, you'll find a cafeteria-style service, Texas-inspired barbecue, and homemade root beer on tap.
Step outside and push together some of the picnic tables, and you'll have the perfect laid-back atmosphere to compliment your BBQ plates. This family-friendly space offers plenty of shady trees to rest under, a big lawn for kids to run around on, and a corn hole set up for a little friendly competition after lunch.
Chelsea's Kitchen
Address: 5040 N 40th St, Phoenix, AZ 85018
String lights, cozy seating, a festive atmosphere year-round—what more could you ask for in a casual outdoor dining space? This popular Arcadia haunt offers all of the above, plus cool breezes from the irrigation canal that runs along the patio. The space also features an open-air bar, a mix of high and low tables, and a fireplace at its heart.
While you're taking in the scenery, your group can enjoy comfortable eats that compliment the ambiance. Homemade tortillas, short ribs, tacos, burgers, red velvet cake, white sangria—Chelsea's selection of feel-good food and drink is sure to make for a cozy evening with friends.
The two patio venues here are both available to rent for large and small gatherings and events. The patio out front can accommodate 30 seated guests, and the back patio can seat 100. Besides the casual dining spaces, Chelsea's offers valet parking and flexible menu options for group dining experiences reserved here.
House of Tricks
Address: 114 E 7th St, Tempe, AZ 85281
If your Phoenix group craves a little privacy for their lunch or dinner together, House of Tricks can provide the intimate and secluded dining experience you're looking for. Outside this remodeled cottage, you'll find plenty of outdoor seating under a shady canopy of trees—a romantic spot for outdoor get-togethers. (Don't forget to check out the goldfish-filled pond and the plentiful gardens maintained by the owner's mother!) From the large patio areas, you can dine on menu favorites like a mixed green salad with chicken, or even the grilled salmon with crispy risotto cake.
Phoenix bus rental tip: Looking to give your college hopefuls a well-rounded experience of what life may be like at their future alma mater? Check out the local restaurant scene around their favorite campuses! House of Tricks is located just a few blocks from Arizona State University, making it an ideal dinner stop after a campus tour. Just let your charter bus driver know you'd rather be picked up from the restaurant than the admissions office, and the Champion Charter Bus team can make it happen!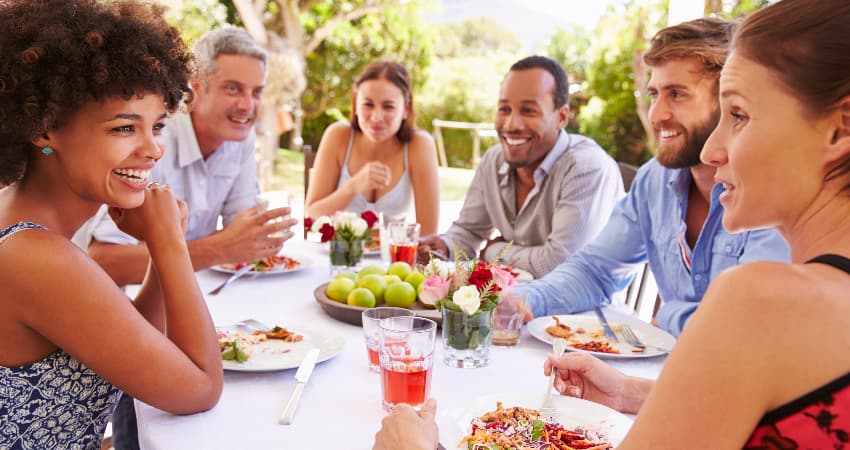 Cibo
Address: 603 N 5th Ave, Phoenix, AZ 85003
Just walking by it, first-time guests may think this unassuming house is someone's private home. Think again! While the space looks small from the outside, out back you'll find two spacious patios with plenty of shade and tree cover to stay cool even on the summer's hotter days. Gather around the fire pit and enjoy fan-favorites like signature wood-fired pizzas, bread dipped in Italian-imported burrata, and the Nutella and strawberry crepe. And if your group wants to save a little cash, drop by on a weekday between 3 and 6 p.m.—happy hour specials include small plates for less than $6 and glasses of wine for less than $4.
Plan Your Outdoor Dining Experience in Phoenix
Whether it's a long-awaited family reunion or an annual company get-together, Champion Charter Bus can ensure your Phoenix dining plans go off without a hitch. Treat your dinner guests to comfortable onboard amenities like free WiFi, reclining seats, and panoramic windows so they can scroll, nap, or window-watch to their heart's content—arriving at your restaurant of choice refreshed and relaxed.
Give us a call at 480-257-7734 today to learn how renting a bus in Phoenix can ease your group travels, and we'll offer a free, no-obligation quote tailored to your transportation needs!