Group Guide to Visiting the Most Beautiful Destinations on the West Coast (Part 1—California)
Some may say that the West Coast is the Best Coast, and with all the region's beautiful destinations—I may be inclined to agree. Even as an East Coast native myself, the West Coast has so many breathtaking landmarks that it's easy to understand why so many people love it.
If you're looking for a group adventure, the West Coast has plenty to offer. Organize a group tour of the entire coast, or, if you're West Coast natives, plan a day trip for your group of friends, students, work team, or community organization. Build an itinerary to the West Coast's most beautiful destinations and leave the transportation up to Champion Charter Bus. Instead of putting miles on a personal vehicle or traveling in an uncomfortable school bus in warm coastal weather, why not rent a charter bus instead? Champion offers minibuses and full-size charter buses in West Coast cities for all types of events. Call 1-844-693-9330 to chat with a Champion Charter Bus rep about renting a bus on the West Coast.
California has hundreds of attractions to visit, but don't worry — I'll be covering Washington and Oregon in part two of this blog.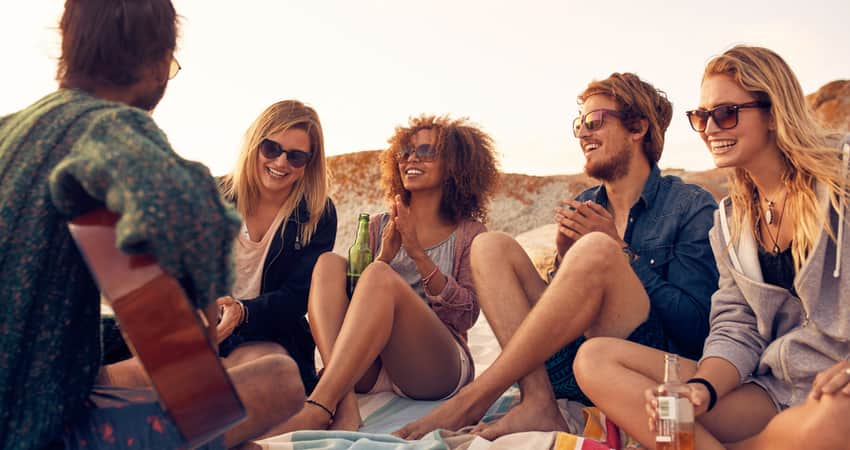 California
California is so big that I had to split it into two sections. Northern and Southern Cali both have beautiful spots, but the state is so large that you'll need a comfy ride to explore them all. Hop on your charter bus rental with plush reclining seats and climate controls as your pro driver shuttles you across The Golden State.
Northern California
Golden Gate Bridge
The Golden Gate Bridge is one of the most recognizable landmarks in San Francisco. The famous crimson suspension bridge is among Northern California's busiest tourist attractions. Visit the bridge to learn about its history and snap photos of fog rolling across the bay. One of the best ways to see the bridge is by walking along the pedestrian sidewalk. If you don't want to make the 1.7-mile walk, just have your driver shuttle your group to the welcome center and across the bridge.
Free walking bridge tours are offered by San Francisco City Guides twice a week and are open to the public.
Golden Gate Bridge Welcome Center address: Golden Gate Bridge, Coastal Trail, San Francisco, CA 94129
Phone: (415) 426-5220
Charter bus parking: 6 bus parking stalls can be found at the Southeast Side Visitor Parking Lot.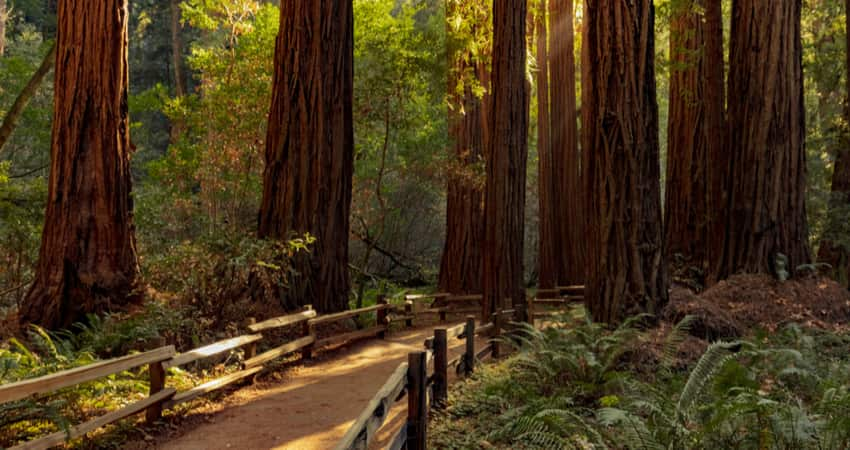 Muir Woods National Monument
Home to some of the oldest and tallest coastal redwood trees in the region, Muir Woods National Monument is one of the best hiking locations near San Francisco. Walk among the awe-inspiring landscape and marvel at towering 1,200-year-old trees. Muir Woods has 9 hikes that are suitable for all visitors, including hikes with accessible boardwalks for guests with strollers or traveling with mobility devices.
School groups should make advanced reservations by calling (415) 388-2596. Other large groups should call (415) 388-7368 to make a reservation and purchase tickets in advance.
Address: 1 Muir Woods Rd, Mill Valley, CA 94941
Phone: (415) 561-2850
Charter bus parking: Parking is always notably difficult at Muir Woods National Monument, so guests traveling by charter bus will have a hard time organizing parking. Vehicles over 30 to 35 feet are prohibited on certain roads. Guests traveling by full-size charter bus will need to utilize the Muir Woods Shuttle after parking off-site, while visitors in minibuses can reserve advanced parking online.
Yosemite National Park
Yosemite is one of the busiest parks in the U.S. National Park System. The famed park is nestled in California's Sierra Nevada Mountains, just under a 3-hour drive from Sacramento.  Yosemite is massive, and exploring every inch of the breathtaking park is nearly impossible. So if you're only visiting for a day, be sure to see highlights like the iconic Yosemite glacial valley, Half Dome and El Capitan rock formations, Yosemite Falls 2,425-foot waterfall, and Glacier Point vista.
Group admission to Yosemite is by vehicle capacity for oversized groups. Depending on your group size, admission ranges from $35 to $300. A variety of guided group tour options can be reserved through the National Park Service rangers, the Yosemite Conservancy, and Yosemite Hospitality.
Yosemite Valley Visitor Center address: 9035 Village Dr, Yosemite Valley, CA 95389
Phone: (209) 372-0200
Charter bus parking: Multiple parking lots can be found throughout Yosemite. Oversize vehicles like charter buses can park at the Curry Village parking or at Yosemite Falls parking. Be sure to get there as early as possible since lots fill up quickly, especially during peak spring and summer travel seasons.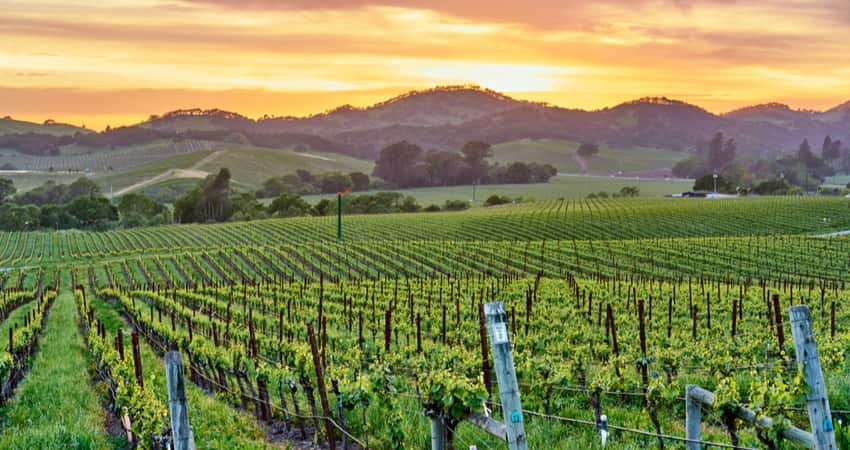 Napa Valley
Wine? Wine! Okay, there's much more to Napa Valley than just wine. The region is filled with gorgeous views of the rolling hills just north of San Francisco. Not only is Napa Valley home to more than 375 wineries, but it is also home to a variety of scenic hikes, quaint small businesses, and plenty of restaurants with views of the beautiful gentle hills.
Napa Valley Welcome Center address: 1300 1st St #313 Napa, CA 94559
Phone: (707) 251-5895
Charter bus parking: Parking in Napa Valley will fully depend on what you plan to do during your day. If you're vineyard and winery hopping, you'll need to organize reservations and parking with each establishment.
Southern California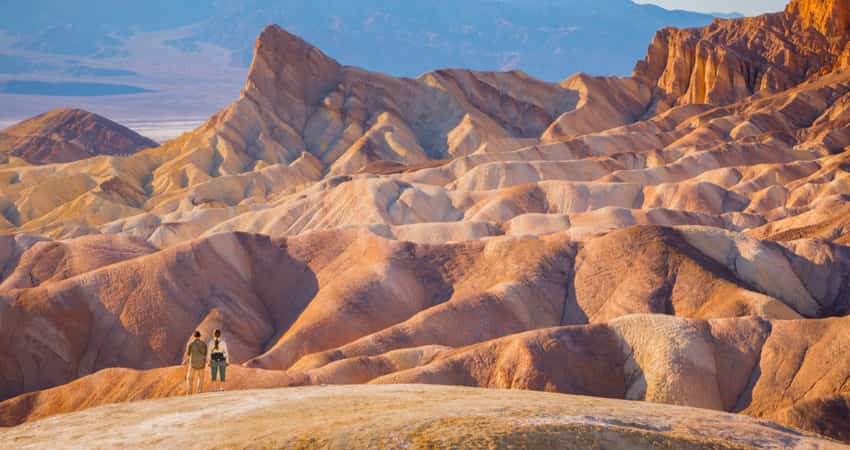 Death Valley National Park
Death Valley may not sound like the most inviting place, but the breathtaking desert landscape surely won't disappoint. This popular national park sits near the California-Nevada border and is considered the hottest place on Earth. No seriously, it's really that hot—the highest recorded air temperature in known history was recorded at Furnace Creek in 1913 at a whopping 134°F. It's an easy day trip from Las Vegas or a slightly farther trek from Los Angeles. Like most other national parks, you'll have a tough time seeing everything. So prioritize highlights like visiting Zabriskie Point, Badwater Basin, and the Mesquite Flat Sand Dunes and hiking to Dante's View.
Admission to Death Valley for oversize vehicles starts at $100. Educational groups and other large groups can reserve a ranger-led program in advance. Check the park's calendar to see what programs will be available during your visit.
GPS Address: 328 Greenland Blvd., Death Valley, CA 92328
Note: GPS services are notoriously unreliable in remote regions like Death Valley. The GPS address provided is for the Death Valley Post Office, which is one of the easiest landmarks to find near the visitor center.
Furnace Creek Visitor Center phone: (760) 786-3200
Charter bus parking: Bus parking can be found at Furnace Creek Visitor Center. If you're traveling to other areas in the park, there will be minimal parking available for your bus.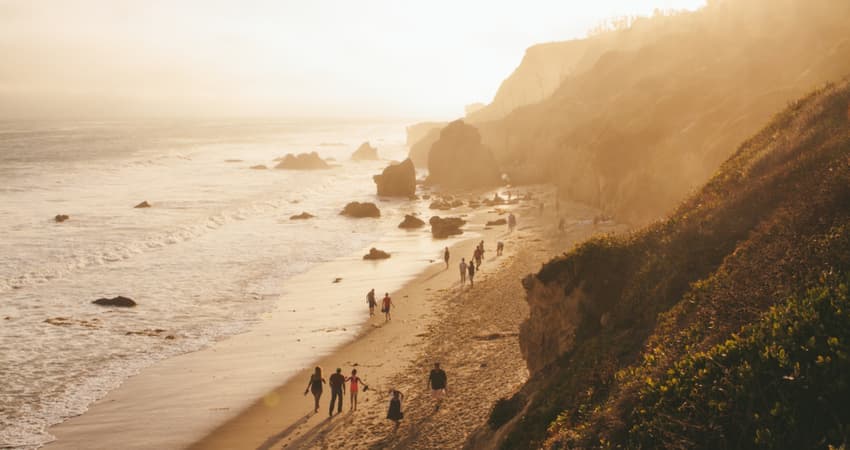 El Matador Beach
Malibu is home to several of So Cal's most beautiful beaches, and El Matador is hailed as one of the best. El Matador Beach is surrounded by stunning natural rock formations and seaside caves that are a must-see during sunset. Soak up some sunshine and snap photos of El Matador's unique seaside views. Just so you know, you'll have to climb a steep staircase to access the beach. So you may want to skip this stop if anyone in your group has mobility concerns.
Address: 32350 Pacific Coast Hwy, Malibu, CA 90265
Phone: (818) 880-0363
Charter bus parking: A free parking lot is available at the top of the cliffs above the beach.
Balboa Park
Balboa Park is San Diego's most popular green space. The famous park is home to top attractions like the San Diego Zoo and Japanese Friendship Garden. Part of what makes Balboa Park so special is the architecture! The park was the site of the 1915-16 Panama–California Exposition and the 1935-36 California Pacific International Exposition. These major world fairs left behind stunning architectural landmarks like the Spreckels Organ Pavilion and Botanical Building. Fun fact: the Panama–California Exposition buildings were the first major instances of Spanish Colonial Revival architecture in the United States.
Visiting the park is completely free, but you may need to pay separate admission fees at museums and gardens.
Balboa Park Visitor Center address: 1549 El Prado, San Diego, CA 92101
Phone: (619) 239-0512
Charter bus parking: A paid lot with designated parking spaces for buses can be found at Inspiration Point near The Veterans Museum.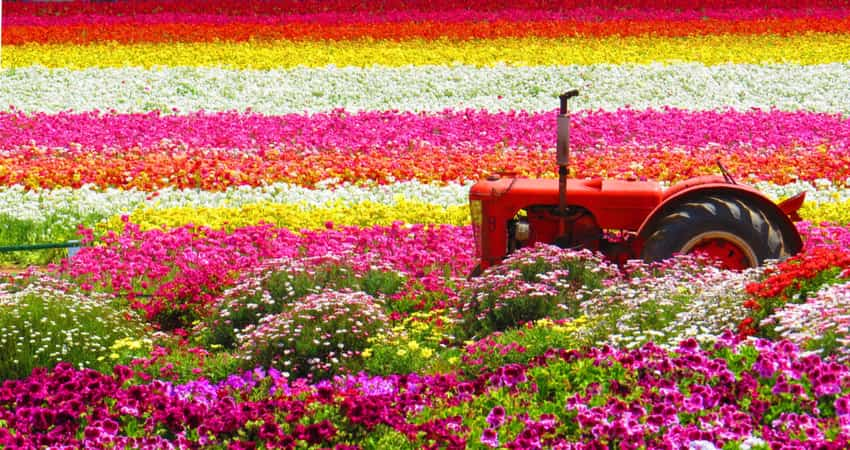 Carlsbad Ranch Flower Fields
The Flower Fields are located just a few miles north of San Diego in the city of Carlsbad and are a busy seasonal attraction in spring. The lush 50-acre field is filled with rows of bright blooming flowers. This massive field began when local grower Lucas Gage started planting Ranunculus seeds 85 years ago. Today, the fields are home to thousands of Ranunculus flowers that are in full bloom six to eight weeks of the year. The ranch also has an orchid greenhouse, an aviary, and additional activities like berry picking, tractor tours, and a grass maze.
Tickets must be purchased in advance and are $20 for adults, $10 for children ages 3-10, and $18 for seniors over 60. Children under the age of 2 are free. Education programs are also available for Pre-K-3rd-grade students.
Address: 5704 Paseo Del Norte, Carlsbad, CA 92008
Phone: (760) 431-0352
Charter bus parking: Parking at the ranch is free but fills up quickly. Overflow lots are available on packed days.
Travel the West Coast with Champion Charter Bus
With so many beautiful locations to visit in California, planning a group trip can be overwhelming. That's why you can leave the group transportation up to Champion Charter Bus! Call 1-844-693-9330 to get a free, personalized rental quote at any time! Be sure to check back next week to read Part Two of this group travel guide about gorgeous destinations in Washington and Oregon to add to your West Coast itinerary.