A Group Traveler's Guide to Los Angeles Beaches
What's the first thing that comes to mind when you think of Los Angeles? Apart from the jam-packed 405 and the occasional smog warning, there is a certain upside to the city. Since it's in close proximity to the Pacific Coast, it has access to beautiful stretches of beaches that extend as far as the eye can see. From the bustling, colorful rush of Santa Monica Beach, to the romantic sunset views at El Matador Beach, you can always find the right seaside spot to match your mood. 
Whether you're in town for a last-minute corporate event, your best friend's wedding, a momentous sports game or an out-of-town field trip, there's only one way you can make the most of your West Coast trip. Once your event is over, gather your group and head on over to the beach for a midday dose of good ol' sunshine. The best way to do this without spending an exorbitant amount of money on gas is to travel with your group on a private bus rental—which is where we come in.
Champion Charter Bus provides group bus rentals to any beach of your choice in and around the Greater Los Angeles area. Our 24/7 group transportation service gives you the flexibility to rent a private shuttle any time you want (late night rendezvous are highly encouraged). The best part is, even if your group consists of as few as 18 people, to as many as 56, we can pair you with the right charter bus or minibus to get you to the beach in no time. Gone are the days of trying to squeeze 5 people in the backseat of your car. Instead, focus on plush, individual reclining seats in your very own private bus rental. Along with the climate-controlled interior and access to free wireless internet, we can't think of a better way to start and complete your journey.
If you're looking to put together a stress-free beach trip, check out our list of stunning beaches below for some much-needed inspiration, or simply contact our team at 310-295-9547 to get started today.
Santa Monica Beach
Address: Santa Monica, CA 90401
Trip duration from Los Angeles to Santa Monica Beach: ~35 mins
Parking: There are 8 parking lots located next to Santa Monica Beach, with the option of on street parking. Most lots are open from sunrise to sunset and usually cost $6 to $15 per day. 
If this is your first time in LA, then slap Santa Monica Beach onto your itinerary. Yes it's brimming with tourists and locals, and yes it's noisy, but it's the perfect place to visit if you're looking to tan in the sun and enjoy a quick beer or two with your best buds. Even if your bus rental drops you by the beach, don't be afraid to venture out to the Santa Monica Pier, which is just two mins away. Known as the iconic hotspot for all international travellers, it's positively brimming with entertaining things for your group. The pier has 7 restaurants, followed by the Pacific Park amusement park (home of the iconic carousel), the Heal the Bay Aquarium, the Looff Hippodrome Carousel, and the Playland Arcade to name a few. Feel free to shop at the street side boutiques and stalls, or grab a bite at the concession stands that are brimming with beachy food. 
Looking to get some exercise? Consider biking down the Marvin Braude Beach Trail, also known as "The Strand." Instead of renting a bike, go the budget-friendly route and store your own on your private bus rental.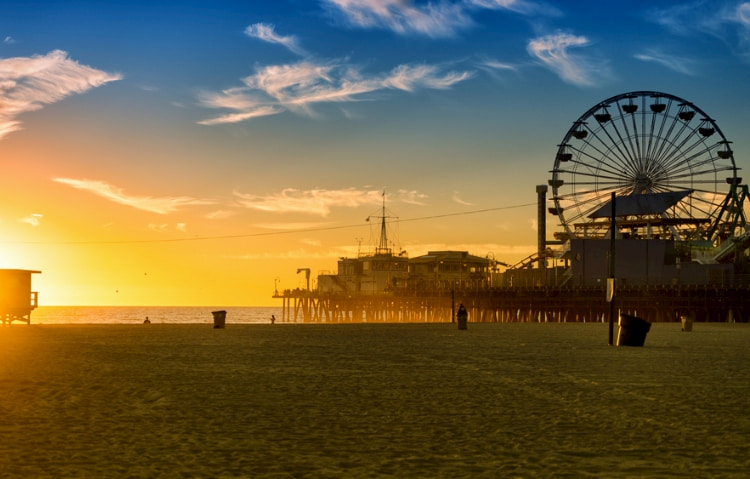 Hermosa Beach
Address: Los Angeles County, CA 90254
Trip duration from Los Angeles to Hermosa Beach: ~43 mins
Parking: There are 4 lots that offer metered or pay-by-space parking by the beach. Designated as Lots A, B, C and D, they offer varying fees and cut-off times.
As its namesake implies, Hermosa Beach is nothing short of beautiful. Located right next to Redondo and Manhattan Beach, it's surrounded by expensive beachside homes, upscale restaurants and posh bars. The beach itself hosts an endless stretch of white sand, that's perfect for an impromptu volleyball tournament with your group, or if it's getting too hot, consider cooling off in the ocean water. If you're more of a beach admirer, grab a cocktail at The Strand House and enjoy the ocean front views from their balcony, or shop at one of many joints in Pier Plaza.
If you stick around until sunset, your bus driver can snap several photos of your group by the insta-worthy coast line—or take it up a notch and store professional camera equipment on your bus to capture a time-lapse of your day.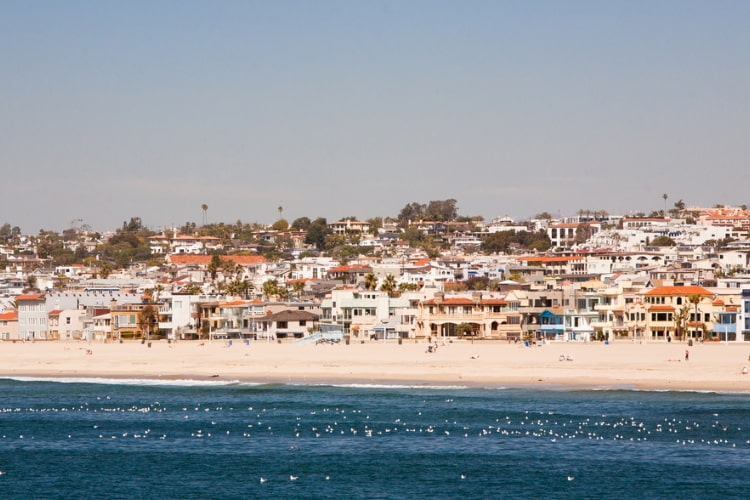 El Matador State Beach
Address: 32350 Pacific Coast Hwy, Malibu, CA 90265
Trip duration from Los Angeles to El Matador State Beach: ~1hr 3 mins
Parking: There is 1 designated parking lot near the beach. Fees start off at $8 but vary during federal holidays.
Ever seen the classic Disney animated film "The Little Mermaid"? Well, El Matador State Beach resembles the beach where Ariel meets Prince Eric. From the towering rocky cliffs to the massive sea caves surrounding the area, it is definitely more secluded than most beaches in the Greater Los Angeles region. It can be accessed by taking a set of stairs down to the beach, so be cautious when walking down with a large group. If you're an avid yogi, then indulging in a vinyasa session by the beach might be a fun activity for your group to do. Pack a bag of your yoga equipment, props and mats and store it in the overhead bus cabins, where they'll be safely secured. The romantic ambience at the beach coupled with the crashing waves beats any "ocean sounds" soundtrack. When you're done, your bus driver will be waiting for you at the top of the cliff, ready to take your rejuvenated group back home.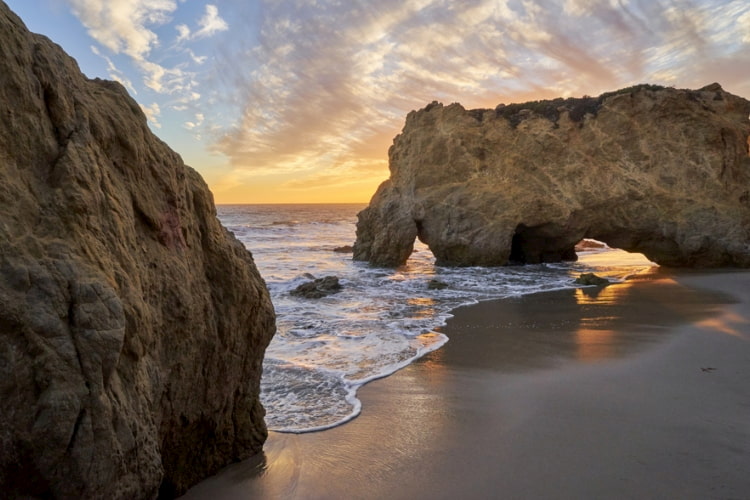 Venice Beach
Address: 1800 Ocean Front Walk, Venice, CA 90291
Trip duration from Los Angeles to Venice Beach: ~37 mins
Parking: There are 3 public parking lots that are open from 6 am until midnight. Costs vary according to the season.
From athletic bikers to mystical palm readers, there is no end to the interesting people you can meet at Venice Beach. It is the embodiment of the boho SoCal aesthetic, with the most apparent one being Harry Perry, the renowned guitar player on roller blades. Walk or skate with your group along the beach boardwalk where you can window shop or eat quick meals as you stroll through, or simply tan by the ocean where you can people-watch to your heart's content. There is also a recreation center where your group can play a variety of sports, ranging from basketball to working out at the Muscle Beach gym.
Don't be overwhelmed by the amount of activities or shopping options available, because your bus rental can easily store your combined haul at the end of the day.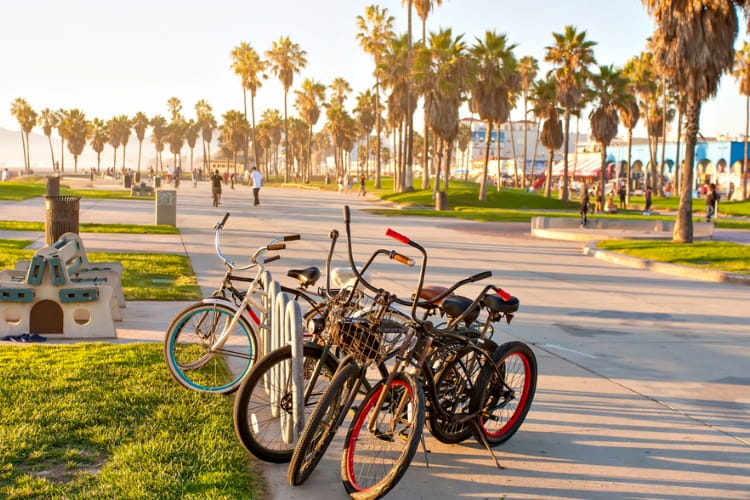 Zuma Beach 
Address: Malibu, CA 90265
Trip duration from Los Angeles to Zuma Beach: ~1hr 4 mins
Parking: There are around 12 parking lots with plenty of space to leave your vehicles. They are usually open from sunrise until sunset.
Home to a large group of surfers, Zuma Beach is the ultimate spot to be to if you want to catch brilliant waves into the sunset. The beach is famous for its rough, crashing riptides, which is why the ocean is usually littered with surfers, swimmers and boogie boarders on any given day. Your group can partake in water spots, or if it gets too crowded, you can visit the Point Dume State Marine Conservation Area. Located just eight mins away, look closely, because you may catch a glimpse of dolphins, whales and sea lions poking their heads through the ocean water.
Done surfing for the day? If you can't find an easily accessible toilet to tidy up in, use the one on your bus rental. It's clean, germ-free and you can get the privacy you need.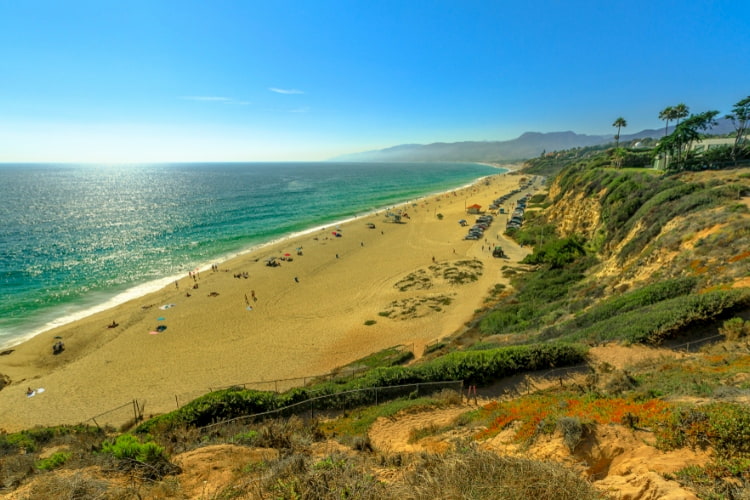 Prepping for the Beach with Champion Charter Bus
Don't make beach planning more complicated than it needs to be. All you need to do is grab a pair of flip flops, a crate of wine spritzers, and rent a private shuttle with Champion Charter Bus. Our extensive network of bus rentals makes it possible for us to drop you to any location on the West Coast. From San Diego to Santa Monica, San Francisco and San Jose, no city is too far for us. Give us a call at 310-295-9547 for a free, no-obligation trip rental quote!