Whether it's Halloween time or you're interested in spooky spots year-round, the Denver area has plenty to offer by way of haunted locations. If you're a group of friends interested in the paranormal, a private tour of haunted Colorado locations can be a fun way to spend a weekend vacation, birthday celebration, or another special occasion.
As you plan your spooky group trip around Denver and surrounding towns, consider booking a ride with Champion Charter Bus. Having a group transportation option is one of the easiest ways to travel on a private tour of the area's best haunts. Rent a minibus or charter bus to easily hop between Denver's haunted locations or even shuttle out of town to spots around Colorado Springs and Estes Park. Leave the transportation up to Champion Charter Bus and travel with a professional driver behind the wheel! Craft your itinerary of haunted locations and give us a call at 303-482-2792 to learn more about our services and charter bus rental pricing. Our team will make sure you travel with ease to these spooky destinations: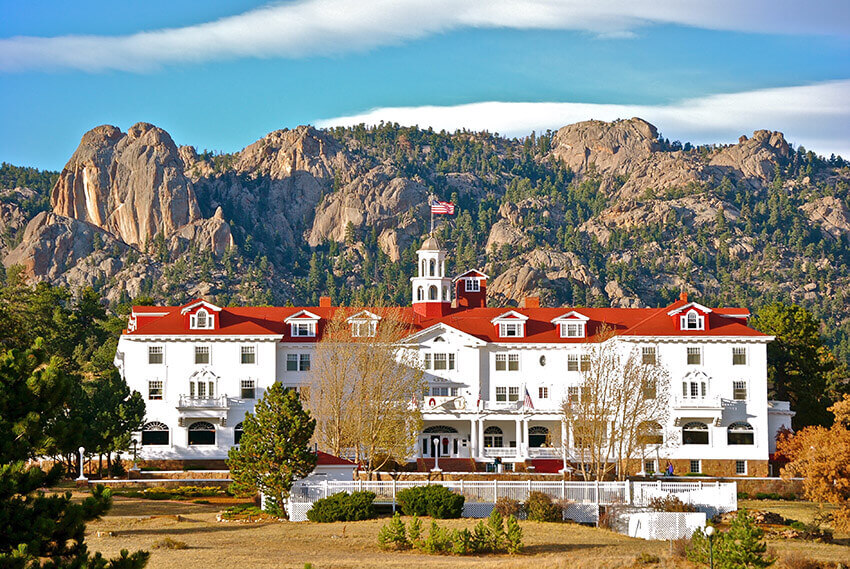 The Stanley Hotel
Address: 333 E Wonderview Ave, Estes Park, CO 80517
Phone: (970) 577-4000
Although the Stanley Hotel isn't located in Denver (it's in Estes Park about a 1.5-hour drive,) we can't discuss haunted locations without giving it a shout-out. The Stanley Hotel inspired Stephen King's famed book and blockbuster horror film, The Shining. After watching The Shining, you'd think this Colonial Revival-style hotel has a tragic history of death and darkness. Well, it doesn't. It just happens to have attracted paranormal activity. The hotel has seen thousands of guests and staff over more than a century, with a few returning to The Stanley after passing.
Room 217 is considered The Stanley's most haunted location and is where King stayed during his initial visit to the hotel. It's said Room 217 is haunted by Elizabeth Wilson, the hotel's former head housekeeper who nearly died in the room during a 1911 explosion. Guests in Room 217 have reported items moving on their own, lights flickering, feeling cold forces even during warm months, and having terrifying nightmares. Additional hauntings include hearing the ghost of founder Flora Stanley playing the piano in the concert Hall, hearing children's laughter in Room 401, and seeing an apparition of a cowboy in Room 428. (Don't worry, guests have said that he's friendly!)
Since The Stanley is a stone's throw from Rocky Mountain National Park, it's the perfect location if you're looking for your fill of the paranormal and the great outdoors. Book rooms for your group, hit park trails during the day, and take a spooky hotel tour during the evening.
Charter bus rental tip: A charter bus rental is a comfortable and convenient way to travel from Denver to Estes Park. You'll have a designated private ride once you're there and won't need to worry about catching a shuttle to and from Rocky Mountain National Park. If you're planning to lodge at The Stanley, Be sure to inquire about oversized parking options when you book your rooms.
The Oxford Hotel
Address: 1600 17th St, Denver, CO 80202
Phone: (303) 628-5400
The Oxford Hotel is Denver's oldest boutique hotel and is located in the trendy LoDo neighborhood. Unlike The Stanley, The Oxford has a few skeletons in its luxury closets. Not literally, but there is a dark history haunting the hotel. In 1898, Florence Montague killed her lover before taking her own life in Room 320. Today, this room is considered one of the most paranormally active places in the storied hotel. Guests have reported having sheets ripped off of them in the night and seeing a ghostly figure of a woman standing at the foot of their beds.
The Cruise Room is currently The Oxford's award-winning cocktail bar but was once a Prohibition-Era speakeasy. Several guests and staff have reported seeing a man wearing a dated postal worker uniform at the bar. He's usually seen sitting and having a beer before disappearing. According to city records, a postal worker in the 1930s was found dead on his Christmastime route. It was said that he stopped to have a drink at The Cruise Room shortly before embarking on his route.
Unlike The Stanley, The Oxford doesn't offer spooky tours. However, The Cruise Room is open to the public. Stop by the former speakeasy for artfully crafted cocktails, bites to eat, and maybe a run-in with the hotel's famous ghosts.
Charter bus rental tip: If you plan to lodge at The Oxford, keep in mind there's a $47/night overnight parking fee for cars. Groups traveling by charter bus will likely need to find alternative parking options. Visitors just planning to have a drink or meal at the hotel will need to secure street parking for a charter bus.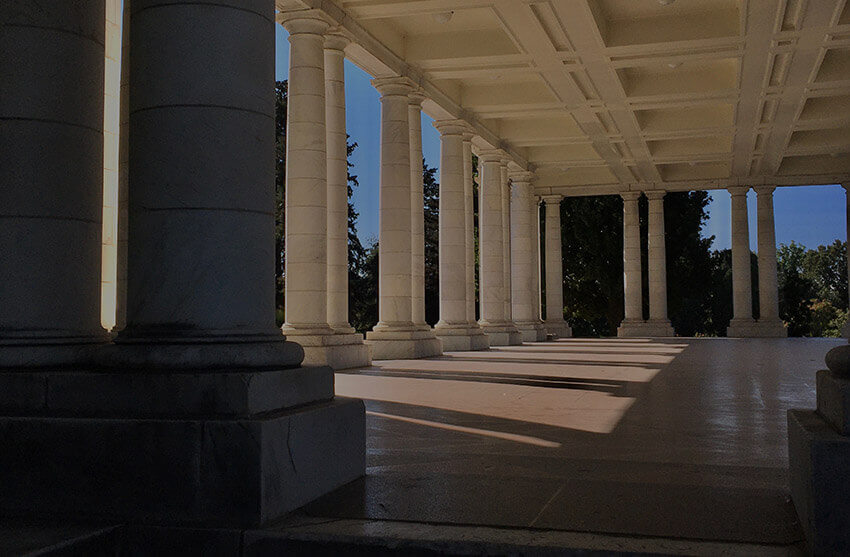 Cheesman Park
Address: 1599 E 8th Ave, Denver, CO
Phone: (720) 913-1311
Cheesman Park is one of Denver's most popular greenspaces but it's also one of the city's most haunted locations. Well, it's just a park, what could be spooky about that? According to records, there are an estimated 3,000 bodies buried beneath the park. You read that right, the park was built on top of a cemetery. Mount Prospect Cemetery was opened in 1859 and was a garden-style cemetery that was a popular place for locals to walk or picnic.
As years passed, Mount Prospect became run down and city officials thought it would be better off as a full-blown park. There was a problem though, the city would have to move more than 5,000 coffins. Over a few years, it's estimated only about 1,700 bodies were moved to other graveyards. Unfortunately, many of the people resting in Mount Prospect were forgotten and construction for Cheesman Park started in 1898. Today, evening park goers have reported seeing ghostly apparitions, hearing the sounds of women singing, and feeling unexplainable dread or sadness.
Charter bus rental tip: Parking around Cheesman can be tough and is primarily found on the street. Finding space for oversized parking may be exceptionally difficult, so you'll likely want to have your charter bus driver drop your group off directly at the park before finding street parking. If you're interested in killing some additional time around Cheesman, head over to the Denver Botanic Gardens. Your charter bus driver won't need to move to park your bus and they can just pick up your group near the gardens at the end of your visit.
The Molly Brown House Museum
Address: 1340 Pennsylvania St, Denver, CO 80203
Phone: (303) 832-4092
Denver's Molly Brown House Museum is one example of hauntings not always stemming from a catastrophic tragedy. Margaret "Molly" Brown was one of the first class survivors of the RMS Titanic. Molly was a major player in helping during the ship's evacuation and organizing resources for other survivors. Brown also helped lead relief organizing efforts during World War I and even ran for a seat in the U.S. Senate before women were even allowed to vote. Needless to say, Molly Brown was an icon in Denver.
Molly and her husband JJ lived in the unique Pennsylvania Street home until their eventual separation and respective deaths. Today, the home is a museum and it's said that Molly and JJ never truly left. Visitors and staff have reported smelling cigar smoke in the home, which is strictly a non-smoking museum. JJ Brown was a heavy smoker and it's thought he still sits in the  home enjoying a cigar from time to time. Sightings of shadowy figures and a woman wearing a Victorian dress while rearranging furniture have been reported.
Charter bus rental tip: Since the museum is in a residential home, parking options are limited to on the street. Your charter bus driver can drop your group off at the museum before parking in designated areas on the east or west side of the Colorado Capitol building.

Museum of Colorado Prisons
Address: 201 N 1st St, Cañon City, CO 81212
Phone: (719) 269-3015
Hotels and homes are spooky but there's something exceptionally creepy about prisons and jails. Again, the Museum of Colorado Prisons isn't in Denver but it's one of the eeriest haunted locations in the state. The museum is located 2.5 hours south of Denver in Cañon City, just past Colorado Springs. If you're out-of-towners planning a group vacation or private tour of Colorado, you should already spend some time outside of Denver—so definitely head down south for hiking in Colorado Springs and spooky history in  Cañon City!
The Museum of Colorado Prisons is housed in a former state women's prison and serves to preserve and exhibit the history of Colorado's Prison System. The prison was established in 1935 as a women's facility to nearby men's Colorado Territorial Penitentiary. The Colorado Territorial Penitentiary was established in 1871 and still operates today as the oldest prison in the state. Between the women's and men's facilities, the Museum of Colorado Prisons has a dark, storied history of dangerous inmates, equally as dangerous staff, executions, and riots. Museum exhibits are already eerie on their own with artifacts like a once-working gas chamber and the last noose used for executions by hanging.
After seeing thousands of prisoners between the two facilities, it's only likely a few people have lingered over the years. Visitors have reported hearing disembodied voices and unexplained screams, feeling cold spots in windowless areas, and smelling tobacco in rooms that haven't seen cigarettes in decades. If your group is exceptionally brave, the museum offers public and private overnight paranormal experiences for ghost hunters.
Charter bus rental tip: The museum has a private parking area for guests. Groups traveling in a charter bus should consider submitting a group reservation form ahead of time. Be sure to note that you're traveling by charter bus on your form.
Book a Spooky Group Trip Around Denver
Ready to get scared in or around Denver? It's okay to say no, we understand. But when you do get up the courage, a Champion Charter Bus representative is available 24/7 to help you book transportation for a group trip filled with scares! Call 303-482-2792 to get a free, no-obligation quote for a Denver charter bus rental.