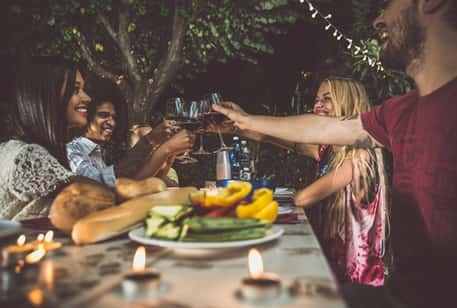 With such beautiful weather year-round, it's no surprise there are hundreds of patio restaurants throughout Los Angeles. From upscale fine dining restaurants to casual eateries, LA has outdoor dining spaces for every budget, taste in cuisines, and group size. If you need to book an outdoor space for a wedding rehearsal dinner, company holiday party, or a private birthday dinner—you'll have plenty of venues to choose from in LA.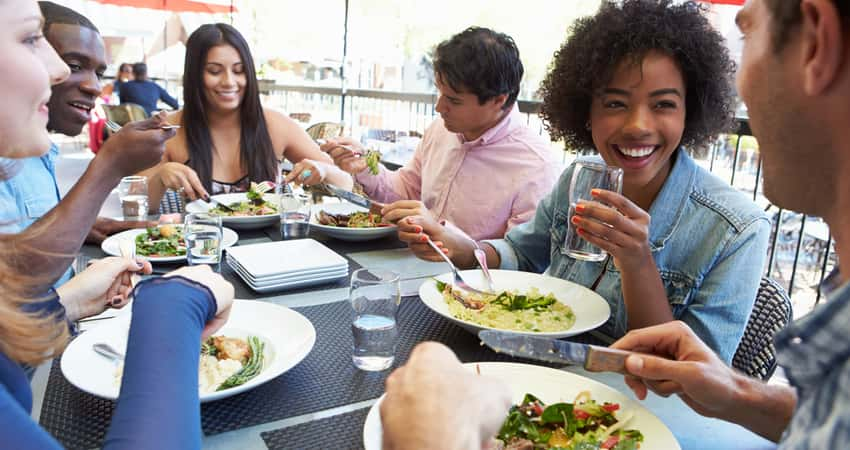 If you're worried about how everyone will get to your dining event, leave the transportation up to Champion Charter Bus. A minibus or charter bus rental will keep your dinner running smoothly since guests won't have to worry about parking or stressful LA traffic. Call 310-295-9547 to rent a bus in LA for your special dining outing!
Spago Beverly Hills
Beverly Hills
Address: 176 N Canon Dr, Beverly Hills, CA 90210
Phone: 310-385-0880
Opened by celebrity chef Wolfgang Puck, Spago is the perfect spot for a swanky business dinner or celebration. Spago's world-renowned cuisine features creative California food like spicy tuna tartare, smoked salmon pizza, and veal chops. The upscale restaurant also has a variety of wines for all tastes. Spago's massive 6,500-square foot outdoor dining space is called L'extérieur and can accommodate up to 200 guests for large private parties.
Charter bus rental parking: Street parking and valet parking is available at Spago, but if you're traveling by charter bus–your driver can drop your group off! When you reserve your table or private dining event, notify the restaurant of your drop-off before your charter bus driver finds metered street parking on N Cannon Dr or N Crescent Dr.
Ballast Point Brewing Long Beach
Long Beach
Address: 110 N Marina Dr, Long Beach, CA 90803
Phone: 562-296-4470
Beers with a view? Sounds great! Ballast Point is a brewery based in San Diego and has tasting rooms around the U.S. If you've already rented a San Diego bus to see the original location, consider visiting the Long Beach location for a new experience. The Long Beach tasting room is a beautiful oceanfront location that's popular for casual social events like happy hours, birthdays, and team-building lunches. Groups of 20 or more can book a private dining space out on the spacious Pacicifc front patio. Grab a flight of brews and bites like truffle fries and steak nachos.
Charter bus rental parking: Ballast Point gets exceptionally packed on weekends and even later in the evening on weekdays. Your driver likely won't be able to park in the on-site lot if you're visiting on a busy day. Additional parking lots can be found surrounding the marina where your driver may be able to organize parking.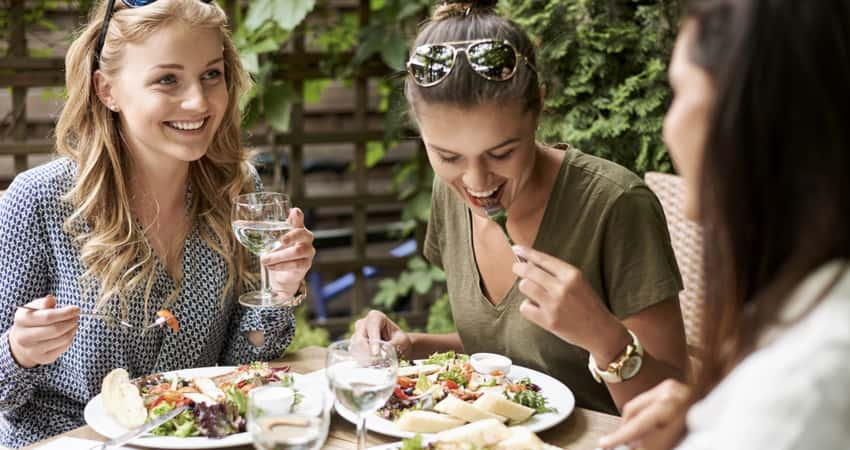 A.O.C. Wine Bar and Restaurant
Beverly Grove
Address: 8700 W 3rd St, Los Angeles, CA 90048
Phone: 310-859-9859
A.O.C. serves up Californian-Mediterranean cuisine in a quaint courtyard-style patio and outdoor garden. It's a popular brunch spot with items like Spanish fried chicken and waffles, vanilla bean french toast, and A.O.C. open-faced brioche sandwich. Private dining events can be organized in the outdoor garden for up to 70 guests. Wine lovers will find 50 wines available by the glass and over 300 bottles of wine to choose from for your table.
Charter bus rental parking: Valet parking is available at A.O.C. but groups traveling by charter bus will need to organize street parking. Plenty of street parking can be found on W 3rd Street and Alden Drive.
Redbird
DTLA
Address: 114 E 2nd St, Los Angeles, CA 90012
Phone: 213-788-1191
Redbird sits in the heart outside of Downtown Los Angeles and has a chic dining room alongside a cozy garden patio. This New American restaurant is housed inside of the historic rectory building of the gorgeous Vibiana cathedral. Redbird's garden space can be rented out for private events like weddings, rehearsal dinners, and cocktail parties for up to 96 guests.  Enjoy inventive dinner entrees like red wattle pork chops and smoked barbecue tofu or have a brunch with lamb belly hash or burrata salad.
Charter bus rental parking: Redbird offers valet parking for personal vehicles and an affordable public lot is a short walk away. However, oversized vehicles may not be able to use this lot. Street parking can be found nearby on E 2nd Street and S Main Street.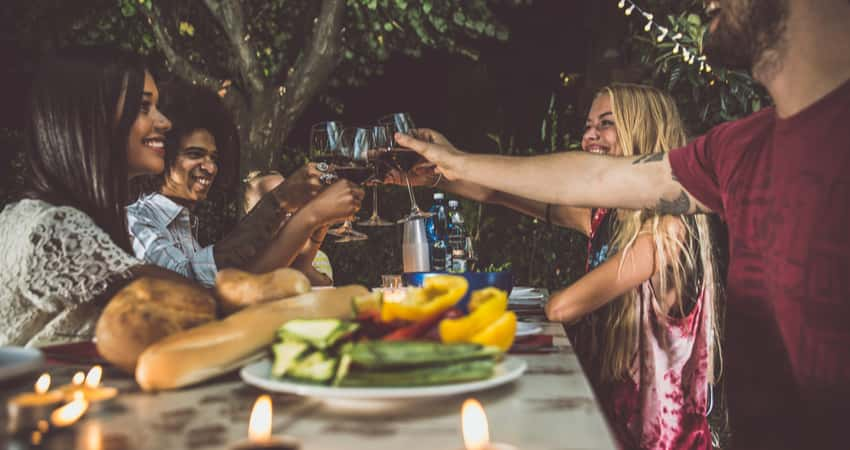 Bacari W 3rd
West Hollywood
Address: 8030 W 3rd St #3/4, Los Angeles, CA 90048
Phone: 323-452-9149
If you want to be transported to a quaint Mediterranean town, the Bacari W 3rd dining space is where you'll want to plan an event. The Venetian-style beautiful courtyard is shaded by a gorgeous tree canopy and is a wonderful location for small-to-medium-size private dining parties. The menu is inspired by Italian and Mediterranean cuisine, offering savory dishes like grilled octopus, ricotta and beet gnocchi, and stuffed mushrooms.
Charter bus rental parking: Street parking can be tough to find in the area but some spots are available on S Laurel Avenue and farther down W 3rd Street. Just be sure to remind your driver to be cautious when parking on nearby residential roads.
1 Pico
Santa Monica
Address: 1 Pico Blvd, Santa Monica, CA 90405
Phone: 310-587-1717
Seafood restaurants are a dime a dozen in southern California, but 1 Pico offers upscale beachfront ambiance and a tasty seafood menu just a short distance from the famous Santa Monica Pier. Enjoy coastal cuisine for brunch or dinner on the restaurant's sunny, umbrella-covered patio. Reservations can be made online for large groups or through the Shutters on the Beach concierge if you're lodging in Santa Monica. Popular dishes include lobster BLT, grilled sea bass, ahi tuna risotto croquettes, and raw oysters.
Charter bus rental parking: Since 1 Pico is located in the Shutters on the Beach hotel, self-parking is limited and most guests utilize valet parking. Public street parking can be found on Bay Street and Ocean Avenue for oversized vehicles.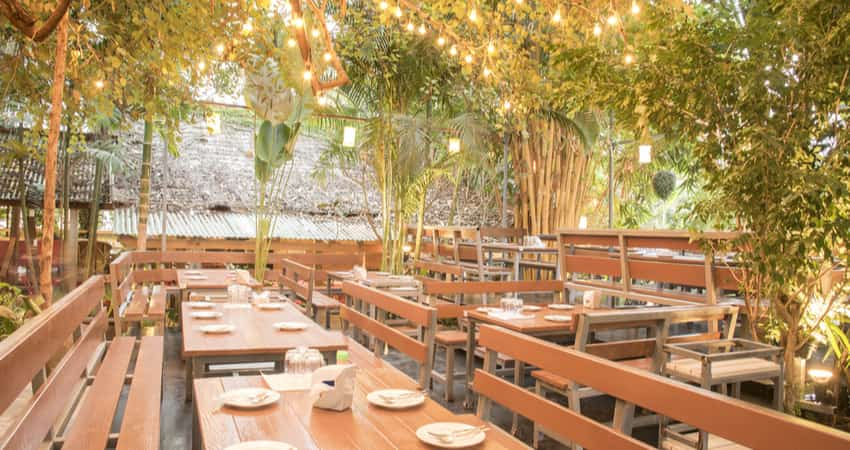 Alta
West Adams
Address: 5359 W Adams Blvd, Los Angeles, CA 90016
Phone: 323-571-4999
This West Adams eatery offers delicious soul food like cornbread with honey butter, oxtails, shrimp and grits, and fried chicken. The restaurant has a beautiful garden-style patio with picnic tables that are perfect for groups looking for a quaint brunch with cocktails. The Adams Wine & Coffee Shop is also right next door where you can find a large selection of wine produced by women and people of color. Alta offers online reservations and may occasionally offer private event options with inquiries in advance.
Charter bus rental parking: West Adams is a busy neighborhood and the only parking available at Alta is along the street. Some parking can be found on W Adams Boulevard, S Burnside Avenue, and S Dunsmuir Avenue.
Idle Hour
North Hollywood
Address: 4824 Vineland Ave, Los Angeles, CA 91601
Phone: 818-980-5604
Although Idle Hour is a cocktail lounge, this famed establishment offers private dining event space rentals in its famed building and spacious outdoor patio. The historic building was established in 1941 as an ode to programmatic or novelty architecture.  It's a unique venue for any type of event and guests can enjoy inventive cocktails with bites like buffalo cauliflower and sloppy joe tater tots for lunch or dinner. Planning a brunch event instead? Order bottomless mimosas with cinnamon french toast crunch or biscuits with gravy.
Charter bus rental parking: Idle Hour does not have its own parking lot but street parking can be found right out front on Vineland Avenue and Peach Grove Street.
Dine At Los Angeles's Beautiful Patio Restaurants
Plan your big happy hour with friends, wedding rehearsal dinner, or company social outing at one of LA's many outdoor venues. As you plan your event, don't stress about the transportation. Champion Charter Bus can serve as your built-in DD for a fun brunch or give your employees a smooth ride to happy hour. Give the Champion Charter Bus team a call at 310-295-9547 to get a personalized rental quote for your dining event!