5 Ways to Celebrate Mother's Day in Los Angeles
Outstanding mothers should be celebrated every day, but on Mother's Day, they deserve something extra special. With its diverse restaurants, entertainment venues, beaches, and parks, Los Angeles is an amazing place to celebrate with Mom.
If you're planning a Mother's Day event with your big family, community group, or religious organization, Champion Charter Bus can take care of your group transportation in Los Angeles with a personal motorcoach. Need a few ideas on where to plan your outing with Mom? We've compiled some group-friendly ideas to add to your Mother's Day itinerary.
How to Get Around with a Group
Once you have your Mother's Day itinerary built out, give us a call at 310-295-9547 to take care of the group transportation. You don't want anyone in your group worrying about getting between locations on a day about relaxation and enjoyment. Treat your group of moms to a private minibus for your Los Angeles Mother's Day celebration.
Champion Charter Bus services major cities like Los Angeles and San Diego, as well as smaller areas like Beverly Hills, Santa Monica, and Long Beach. Wherever your group trip takes you around California, we'll have your transportation covered.
1.   Have a Delicious Brunch.
There are few things LA loves more than brunch. The city's best brunch locations can already get quite crowded on weekends. Add Mother's Day on the calendar and you'll have a tough time finding a table without a reservation. Be sure to make your group reservation (when possible) well in advance and inquire about private dining options if you have a large group.
Renting a charter bus for your brunch group can help you cut down on parking hassles at busy restaurants. Rather than parking several cars, you can reserve one compact yet comfortable minibus for your brunch.
For moms who like casual comfort food: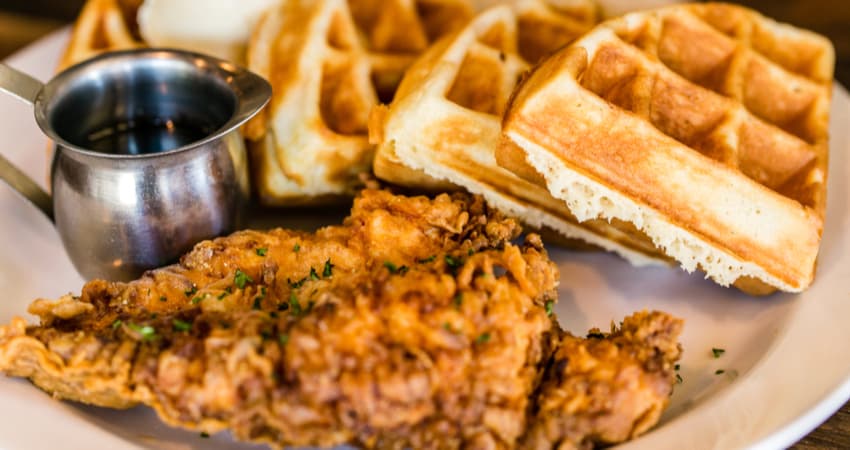 Messhall
Address: 4500 Los Feliz Blvd, Los Angeles, CA 90027
Phone: (323) 660-6377
Brunch in a military mess hall may sound a little offbeat, but don't worry, Messhall Kitchen won't have you and Mom running drills. The loosely military-themed menu includes everything from classic Belgain waffles and French toast to their campfire Benedict and chilaquiles verde. Along with tasty food and brunch cocktails, Messhall has a spacious patio for large groups to enjoy the (hopefully) sunny weather.
Met Her at a Bar
Address: 759 S La Brea Ave, Los Angeles, CA 90036
Phone: (323) 847-5013
You can't go wrong with chicken and waffles or avocado toast at this popular Mid-Wilshire brunch spot. This cafe is on the smaller side, but medium-sized groups can still find accommodations if you arrive early enough. The delectable sweet and savory all-day brunch options are well worth any wait.
Pann's Restaurant
Address: 6710 La Tijera Blvd, Los Angeles, CA 90045
Phone: (323) 776-3770
Pann's is really a blast from the past. The retro diner is located in Westchester and has been a local breakfast favorite since 1958. If your mom is a no-frills type of gal, Pann's is the perfect place for breakfast classics like country-fried steak, French toast, and fluffy omelettes. With amazing comfort food and great customer service, you can't go wrong with a Mother's Day brunch at Pann's.
For moms who like trendy yet classy restaurants: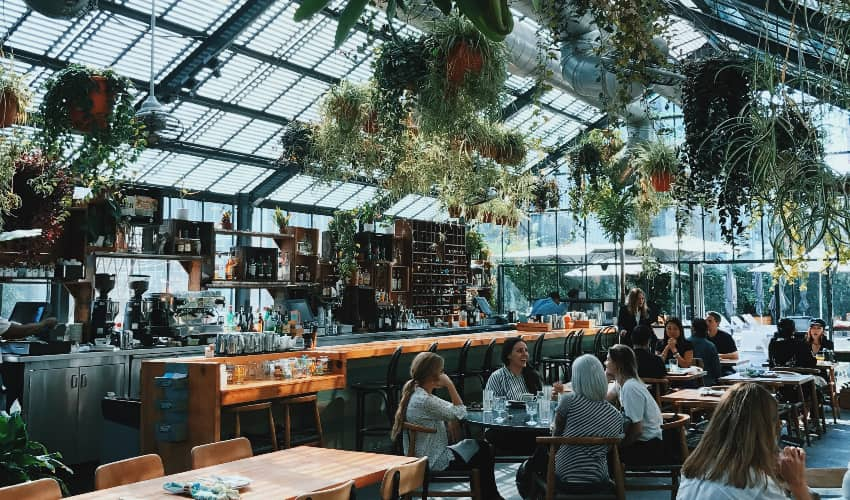 Openaire image courtesy of Kayleigh Harrington on
Unsplash
.
République
Address: 624 South La Brea Ave, Los Angeles, CA 90036
Phone: (310) 362-6115
It's impossible to talk about brunch in LA without mentioning République. The restaurant serves modern French fare and is attached to a bakery and cafe that serves award-winning pastries. République is located in a historic building developed by Charlie Chaplin and Roy Seldon Price in 1928, now boasting high ceilings, long communal tables, and rustic exposed bricks. Enjoy elevated brunch items like brioche French toast and shakshuka. If you have a large group, be sure to inquire about their private dining options.
Openaire
Address: 3515 Wilshire Blvd, Fl 2, Los Angeles, CA 90010
Phone: (213) 814-3651
Openaire is located on the second floor of the Line Hotel in Koreatown and is probably one of the most Instagram-able locations on this list (For hip, cool moms, y'know?) This New American restaurant is essentially a giant greenhouse filled with dozens of beautiful hanging plants. On top of the cool atmosphere, Openaire has some killer food. Grab bottomless mimosas and chow down on cornflake French toast, eggs benny, and Korean fried chicken.
Redbird
Address: 114 E 2nd St, Los Angeles, CA 90012
Phone: (213) 788-1191
If you're looking for amazing food in an elegant and historic space, Redbird is the place for your Mother's Day group outing. The restaurant is located in the Cathedral of Saint Vibiana and is a popular event space for wedding events and private social gatherings. Their brunch includes diverse, upscale offerings like Basque cooked eggs, congee, and lobster carbonara alongside simple favorites like blueberry pancakes and cornmeal waffles. There are several private event spaces at Redbird that would be beautiful venues for Mother's Day dining.
For moms who have a diverse palate: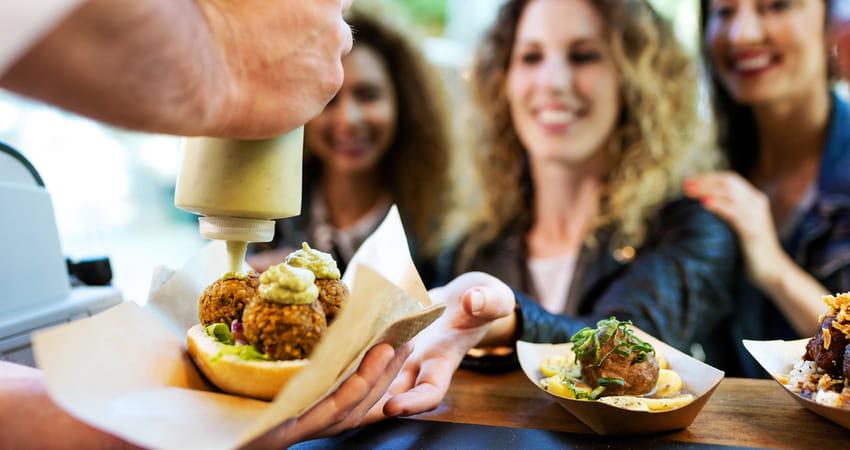 Smorgasburg LA
Address: 777 S. Alameda St, Los Angeles, CA 90021
Not sure what type of food your group may want? Well, give them a little bit of everything! Smorgasburg LA takes place every Sunday (perfect for Mother's Day) and has any and every type of food your mom could want. Dozens of local businesses set up food trucks and pop-up tents at Smorgasburg, giving visitors a well-rounded LA dining experience. You can't really make a reservation at Smorgasburg, but there are plenty of large tables for big groups.
2.   Book a Group Spa Day.
Getting your nails done isn't for everyone–that's only reasonable. But a spa day with a massage or aesthetic services could be a nice treat for a hard-working group of moms. Many spas across Los Angeles run Mother's Day specials, and some have packages for group visits. Keep in mind that some spas give very personalized services on a small scale, so they may not be able to accommodate large groups. Just be sure to do some research before booking your spa day.
Locations like Blossoms Spa Hollywood and Trilogy Spa Manhattan Beach have spa party packages that can be customized to your group's needs. You can add on services like deep-tissue massages, body scrubs, and facial treatments.
Looking for a full-blown spa getaway? Consider booking services at top-tier spas like the Terranea Resort in Rancho Palos Verdes. Champion Charter Bus will make sure everyone has a stress-free ride to and from a relaxing spa day anywhere in Southern California.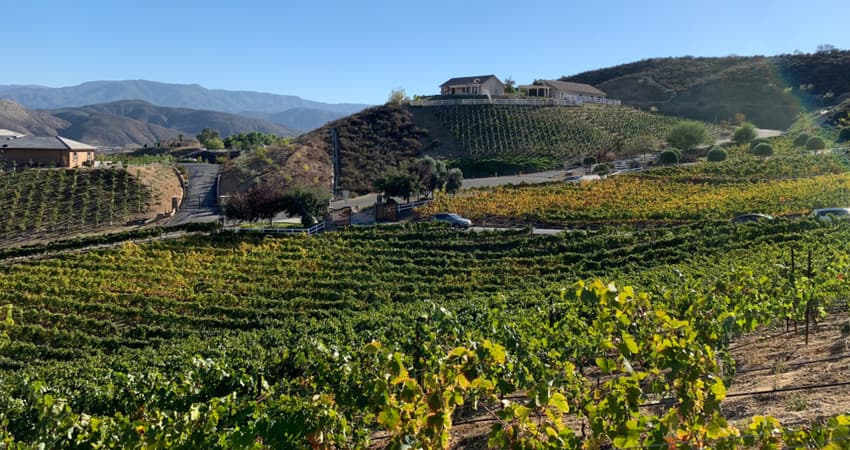 3.   Explore South Coast Wine Country
Sure, Napa and Sonoma are the wine countries to visit, but those regions are quite a hike from LA. If a multi-day trip is in the works for your Mother's Day outing, a visit to Sonoma or Napa would be a marvelous idea. When you book group transportation with Champion Charter Bus, it doesn't matter the distance, duration, or destination of your trip. Our rental team works with your schedule to provide the smoothest group travel experience possible. Here's a fun tip: you'll also have a built-in DD for your wine tour!
Multi-day trips aren't always doable, so consider booking a Mother's Day tour around South Coast wine country instead. South Coast refers to the area between Los Angeles County and San Diego, including the Temecula Valley wine region. Book your charter bus and plan your own private tour around one (or a few) of South Coast's vineyards and wineries.
Not sure which winery to visit? Try one of these popular SoCal wine spots!
South Coast Winery Resort & Spa
Address: 34843 Rancho California Rd, Temecula, CA 92591
Phone: (951) 566-4622
This Temecula Valley winery has a beautiful tasting room and patio surrounded by acres of picturesque vineyards. Walk among the vines, taste a wide selection of wines—South Coast Winery has several award-winning reds—or even book a day at the resort spa. Private tastings and tours are available for groups of 8 or more. Just email winetours@wineresort.com to make a reservation.
Wilson Creek Winery
Address: 35960 Rancho California Rd, Temecula, CA 92591
Phone: (951) 699-9463
Fans of sparkling wines should make visiting Wilson Creek Winery a priority. Their popular flavored sparkling wines include everything from chocolate to yuzu lemon. Groups of 15 or more can book a variety of private events like tastings, food pairings, and tours of the grounds. Are you and your mom a little competitive? Team up for a grape-stomping or sangria-making competition. (It also makes a great team-building exercise for businesses, community organizations, or really any team!)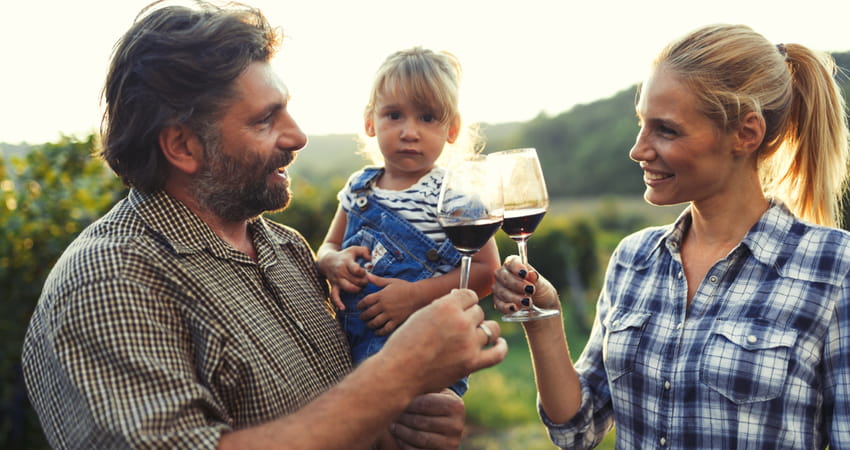 Bernardo Winery
Address: 13330 Paseo Del Verano Norte, San Diego, CA 92128
Phone: (858) 487-1866
Bernardo Winery has a small but high-quality selection of red and white wines. It's a little off the beaten path–it's located north of metro San Diego–but it's a top winery to visit for large groups who want to be among smaller crowds. Private tour and tasting packages are available for groups with 8 to 24 people. The winery also runs a chocolate shop, offering chocolate and wine pairings alongside classic meat and cheese boards.
Orfila Vineyards and Winery
Address: 13455 San Pasqual Rd, Escondido, CA 92025
Phone: (760) 738-6500
Treating your mom to wine with mountain views sounds like a spectacular way to spend Mother's Day. Orfila's lush vineyards and tasting room are accented by a backdrop of the San Pasqual Valley landscape. A one-hour tour and tasting is available for groups of 15 or more. Sit outside, take in the view, and sample a variety of award-winning red wines. Visiting groups of 8 or more will need to make a reservation by calling (760) 738-6500 x 314.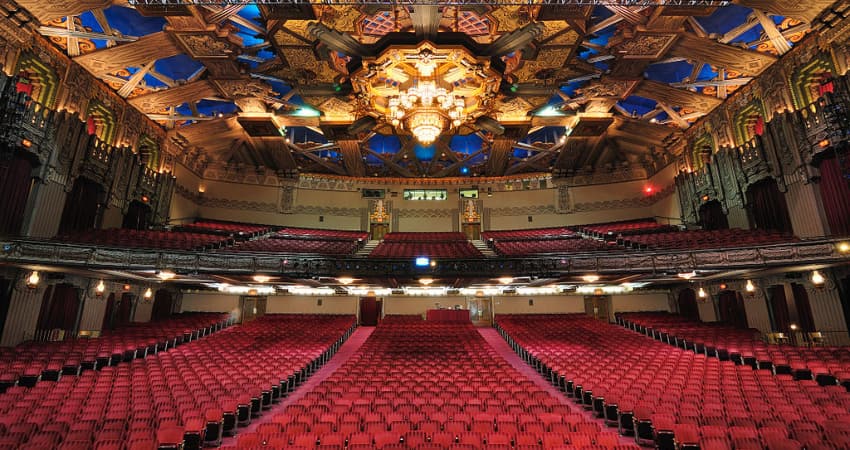 Pantages Theatre image courtesy of
Wikimedia Commons
.
4.   Catch a Performance.
Supporting the arts is a wonderful way to bond during Mother's Day. Los Angeles has a thriving performing arts scene, and you're sure to find an assortment of productions running on any given weekend. Many theatres in Downtown LA have discounted group rates for events. The group minimum varies by venue, and the pricing is fully dependent on the show.
The historic Pantages Theatre and nearby Dolby Theatre are the venues to take your group of Broadway lovers. Both theatres are managed by Broadway in LA, presenting hits like Grease, Rent, Hamilton, and The Lion King. Group sales must be requested ahead of time and cannot be purchased at the door.
Is your group more in the mood for a concert? The Los Angeles Music Center has four major performance venues, including the world-renowned Walt Disney Music Hall, that have group packages for most performances. Attend an LA Philharmonic Orchestra concert at the Music Hall or catch a contemporary musical like Dear Evan Hansen at Ahmanson Theatre. Group minimums at LA Music Center venues range from 10 to 15 people.
Driving around Downtown LA is already quite difficult. Coordinating a group trip to an LA performance venue can be even more difficult with a large group in several cars. Reserve a minibus with Champion Charter Bus to treat your Mother's Day group like VIPs for the day.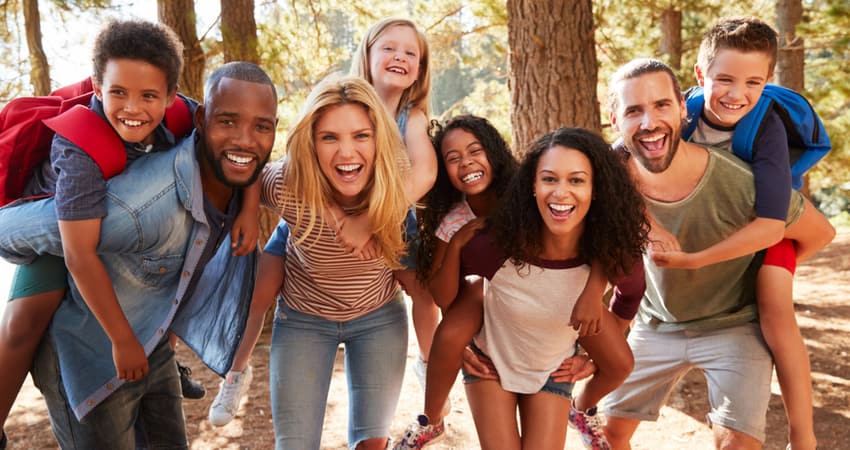 5.   Take a hike!
Get some fresh air and enjoy the Cali sun with a group hike. The trails you choose don't have to be intense if your group isn't full of avid hikers. Los Angeles has several areas for beginners and moderate-level hikers. Pack up your minibus with snacks, water bottles, and any exercise gear like yoga mats for a relaxing stretch break.
Groups with older travelers who may not be in hiking shape (both elders and kids may not be too keen on some hikes) can still find plenty of accessible attractions in the LA area's green spaces. Venture up to the Griffith Observatory to appreciate views of the park and city, or visit the Mount Wilson Observatory at the San Gabriel Mountains' highest peak.
Mount Hollywood Trail
Mount Hollywood in Griffith Park is an easy hike for Angelenos that don't want to stray too far from home. There are a couple of trailheads, so you can make the hike as short as one mile or as long as five. It's a heavily trafficked route but is a great hiking option for classic LA views of the Hollywood Sign.
Eaton Canyon Falls Trail
Hop on over to Pasadena for scenic views of a 44-foot waterfall and wading pools near the San Gabriel Mountains. Getting to the waterfall will take you through a 3.5-mile loop with lovely mountain views. The terrain is a little rockier than Mount Hollywood but still easily doable for beginners who take their time.
Sam Merrill Trail to Echo Mountain
Not too far from Eaton Canyon, this trail is around 2.5 miles and includes sweeping views of the mountainous landscape. This trail can get crowded, but watching the sunset beyond the mountain peaks may be worth tackling the crowds.
Escondido Falls Trail
Escondido Canyon Park is just off the waterfront in Malibu, making it a wonderful place to hike and get a breath of fresh coastal air. The Escondido Falls Trail is an easy, 4.2-mile hike lined with wildflowers and ends in a stunning waterfall. Be sure to wear water-resistant shoes (or a pair you're not too fond of), as this trail has a few creeks that you'll need to cross.
Mom Deserves a Private Ride
Ready to get your Mother's Day trip started? Build your group itinerary and book your transportation with Champion Charter Bus. Your group celebration will have a dedicated team of professionals handling your trip. Call 310-295-9547 to get a rental quote and reserve a minibus for your Mother's Day out in Los Angeles.